Slim Jim Step-On Containers
+ Add to Quote Request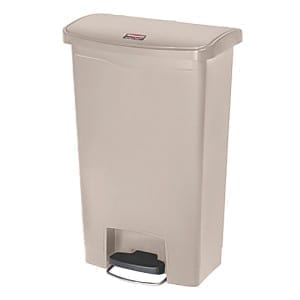 Slim Jim Step-On Containers are a great waste management solution! Featuring a slimmer and more manageable design, their construction makes them easy to use, maintain and operate. With contoured edges, soft closing lids and high durability, these containers excel compliance standards and meet workplace requirements.
The Slim Jim profile is what makes these bins so unique. They can virtually fit into any location, maximising space efficiency with a small footprint. Their engineered build makes them a perfectly sized solution for a number of facilities.
Additional Information
Increase safety in the workplace with Slim Jim Containers!
The epitome of safety, Slim Jim Step-On Containers ensure operator and workplace well-being as they fit into the tightest spaces and improve environment aesthetics.  Their quiet and controlled lid minimises noise to enhance user satisfaction and its foot pedal ensures hands-free sanitary waste management.  It also meets relevant environmental and safety standards due to its diverse design.
It's not your average waste container – it has so much more!
The Slim Jim Step-On Containers are engineered to be extremely easy to use.  They feature a long list of benefits including liner cinches, liner retainer bands and dual stream options.  They're highly intuitive and they reduce manual effort and time.  Available in a variety of colours and sizes, these bins are suitable for a number of working environments.
Features:
Slim profile fits into tight spaces
Small footprint
Internal hinge design prevents wall damage
Quiet and controlled lid that reduces noise
Foot pedal clearance for easy access and operation
Liner cinch securely holds poly liners
Smooth surfaces for easy maintenance
Contoured edges allow the unit to be easily cleaned
Optional dual stream rigid liner simplifies sorting and makes recycling quick and easy
Rigid liners are optionally available
Available in Front Step or End Step versions, depending on your requirements
A variety of colours available – white, beige, red, yellow, green, blue, grey and black
Fingerprint resistant stainless steel options available
A variety of sizes are available
Meets environmental and safety standards
Factory mutual certified ensures fire safety for regulatory compliance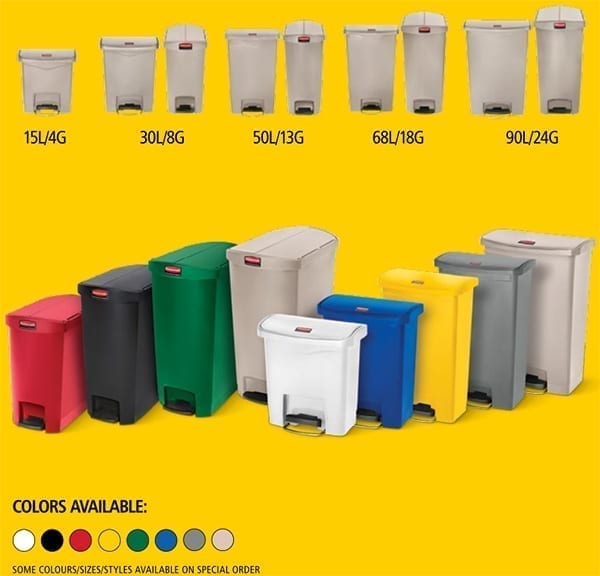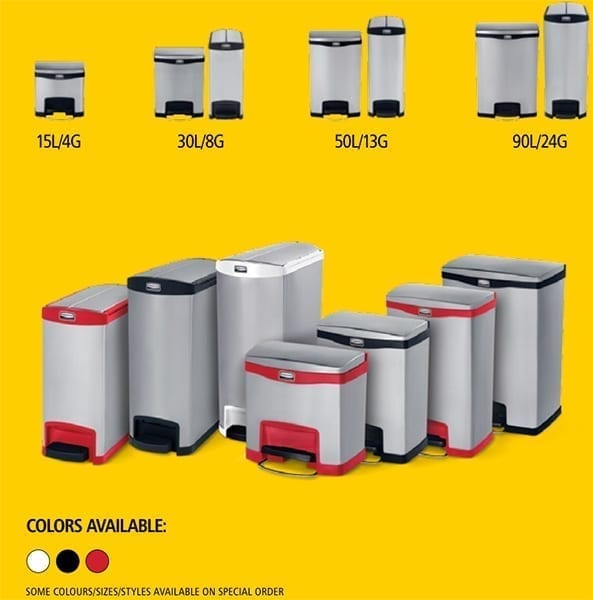 These containers are available in either plastic resin or stainless steel version.
Need to know more?
Ask our sales facilitators for details or view our brochure above.  Alternatively, see more of our waste management range!
Click the PDF button to learn more.
Product Variations
| | | | | |
| --- | --- | --- | --- | --- |
| | Front step 15litres White Resin | M1883554 | | |
| | Front step 30litres White Resin | M1883555 | | |
| | Front step 50litres White Resin | M1883557 | | |
| | Front step 68litres White Resin | M1883559 | | |
| | Front step 90litre White Resin | M1883561 | | |
| | End step 30litres White Resin | M1883556 | | |
| | End step 50litre White Resin | M1883558 | | |
| | End step 90litres White Resin | M1883562 | | |