PowerFlex Expandable Conveyors
+ Add to Quote Request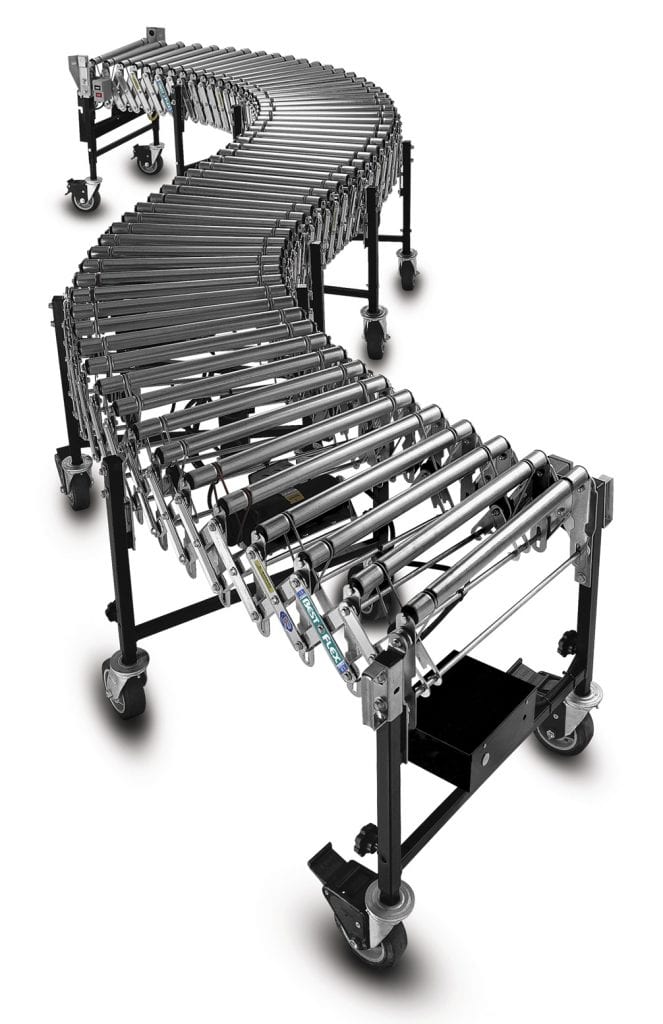 PowerFlex Expandable Conveyors assist with the loading and unloading of products. Commonly used at distribution centres, packaging, mobile assembly lines, and shipping/receiving centres, they easily handle goods over long distances. Cartons are able to follow the twists and turns of the conveyor path without the need for engineered curves.
Featuring heavy-duty 38 mm diameter rollers, the Powerflex has great durability. It switches on/off at both ends of the conveyor and supports 150 kg load capacity (per linear metre, level). Additionally, the conveyor has an adjustable height that ranges between 800 – 1100 mm. It has multiple 0.09 kW, 240 V drive motors, a variable line speed (0 to 36m/min) and is able to perform 300 starts/stop cycles per hour.
When needed, the PowerFlex rolls into position thanks to its swivel castors (150 mm x 50 mm). The castor brakes can lock both the wheel and swivel simultaneously so the conveyor is secured when in use.
Additional Information
Easy loading and unloading with PowerFlex!
PowerFlex is a powered, flexible and expandable conveyor belt. It can be adjusted in height between 800 – 1100 mm. These conveyors are also available in 450 mm, 600 mm and 750 mm conveyor widths. Customisable lengths can be arranged to meet specific applications.
Features: 
Continuous Duty Multiple Drive Motors – line speed is adjustable from 0-36 metres per minute; start/stop cycle powers 300 times per hour; on/off switches at both ends of the conveyor; with durable drive motor.
Self Tracking – cartons follow the turns of the conveyor path without using engineered curves.
Adjustable Height – adjustable locking bolts raise and lower the conveyor to bed height.
Square Tubing Legs – heavy-duty square tubing legs for longer service life.
Efficient Rollers – heavy-duty 38 mm rollers on 12 mm axles ensure greater durability.
Side Plates – 38 mm; aluminium alloy construction features a ribbed design for added strength; assembled with bolts and locknuts.
Castors with Brakes – 150 mm x 50 mm swivel castors roll easily; castor brakes lock wheels in place while the conveyor is in use.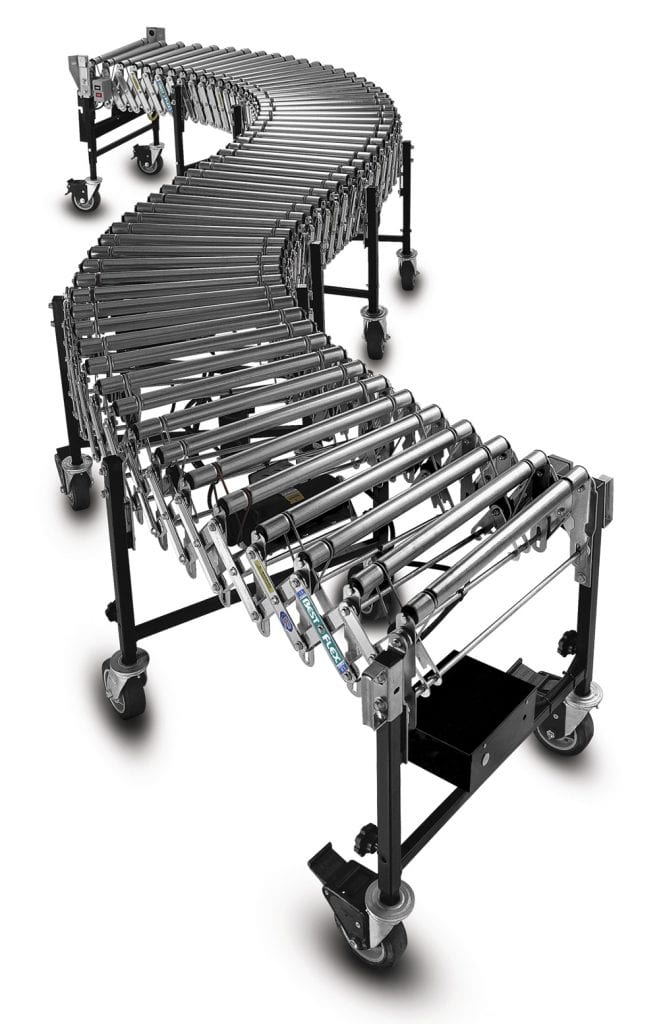 Specifications: 
Model
Width
Standard Lengths (Compacted to Expanded)
Leg Sets Per Unit
Roller Axle Centres (Extended)
Approx. Shipping Weight
CPFR1812
450 mm
1.2 m – 3.7 m
5
127 mm
145 kg
CPFR1824
2.4 m – 7.3 m
8
288 kg
CPFR1836
3.7 m – 11 m
11
431 kg
CPFR1848
4.9 m – 14.6 m
14
574 kg
CPFR2412
600 mm
1.2 m – 3.7 m
5
170 kg
CPFR2424
2.4 m – 7.3 m
8
338 kg
CPFR2436
3.7 m – 11 m
11
508 kg
CPFR2448
4.9 m – 14.6 m
14
676 kg
CPFR3012
750 mm
1.2 m – 3.7 m
5
195 kg
CPFR3024
2.4 m – 7.3 m
8
390 kg
CPFR3036
3.7 m – 11 m
11
583 kg
CPFR3048
4.9 m – 14.6 m
14
778 kg
Please Note: 
Adjustable Height – standard adjustable height is between 800 mm to 1100 mm. An optional 200 mm castor adds 25 mm to conveyor height to make a new adjustable height range of 82 mm to 1125 mm.
Axle Centres – when expanded, the distance between axle centre is 127 mm. Optional 76 mm and 102 mm axle centres are available. Optional axle centres affect compacted conveyor length.
Extended Lengths – PowerFlex conveyors are available in any length. If you need a customised solution please contact one of our Sales Representatives.
Optional performance options are available to enhance the PowerFlex operation. These include super-optic electronics, zero-pressure accumulation, electronic package stop, indexing, heavy-duty roller connectors, axle centres, larger 200 mm swivel castors and a heavy-duty dump table.
Require an alternative handling solution? 
View our BestFlex Expandable Gravity Conveyor.
Click the PDF button to learn more.
Product Variations
| | | | | |
| --- | --- | --- | --- | --- |
| | Powered Flexible Roller Conveyor 450 wide x 1220 -3700mm | CPFR1812 | | |
| | Powered Flexible Roller Conveyor 450 wide x 2400 – 7320mm | CPFR1824 | | |
| | Powered Flexible Roller Conveyor 450 wide x 3700 – 109700mm | CPFR1836 | | |
| | Powered Flexible Roller Conveyor 450 wide x 4900 – 14600mm | CPFR1848 | | |
| | Powered Flexible Roller Conveyor 600 wide x 1220 – 3660mm | CPFR2412 | | |
| | Powered Flexible Roller Conveyor 600 wide x 2400 – 7320mm | CPFR2424 | | |
| | Powered Flexible Roller Conveyor 600 wide x 3700 – 10970mm | CPFR2436 | | |
| | Powered Flexible Roller Conveyor 600 wide x 4900 – 14600mm | CPFR2448 | | |
| | Powered Flexible Roller Conveyor 750 wide x 1220 – 3660mm | CPFR3012 | | |
| | Powered Flexible Roller Conveyor 750 wide x 2400 – 7320mm | CPFR3024 | | |
| | Powered Flexible Roller Conveyor 750 wide x 3700 – 11000mm | CPFR3036 | | |
| | Powered Flexible Roller Conveyor 750 wide x 4900 – 14600mm | CPFR3048 | | |