Extendaflex Expandable and Flexible Conveyor
+ Add to Quote Request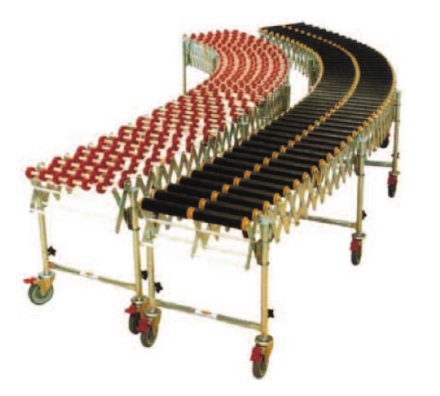 Extendaflex conveyors are mobile, flexible, extendable conveyors that can be easily arranged for moving goods in warehouse and storage applications as well as loading or unloading vehicles or shipping containers. Available with a choice of plastic or steel skate wheels or plastic tube rollers, all models are designed to ensure self-tracking of the cargo.
All conveyors extend to a maximum length of 7500mm with height adjustable legs. The leg sets are fitted with swivel castors for mobility and alternating castors are fitted with a foot locking brake. Each conveyor can be fitted with an optional joining link to connect to another Extendaflex. This allows you to connect multiple units together and create whatever length you require! It is also possible to fit a carton stop to prevent the product from rolling off the end. This carton stop folds away when not needed or when using a joining link.
Choose skate wheels for products with a smooth base or conveyor rollers for products with an irregular base. The standard models are supplied with a zinc-plated finish with the option to supply in stainless steel construction. All skate wheels and conveyor rollers are 50mm in diameter.
Extendaflex conveyors are made in Australia and assembled to meet your order. For this reason, it is possible for us to create custom lengths and widths without impacting the supply time.
The loading capacity of 5 leg units is 150 kg per metre, the 7 leg units are 200 kg per metre and the 8 leg units are 250 kg per metre.
Also, view our range of Cobra expanding conveyors.
Product Variations
Image
Description
Product Code
Price (excl. GST)

Extendaflex Flexible Conveyor
Plastic roller 350mm wide
5 legs – 1 roller per shaft

CER31

Extendaflex Flexible Conveyor
Plastic roller 350mm wide
7 legs – 1 roller per shaft

CER31H

Extendaflex Flexible Conveyor
Plastic roller 350mm wide
5 legs – 2 rollers per shaft

CER32

Extendaflex Flexible Conveyor
Plastic roller 350mm wide
7 legs – 2 rollers per shaft

CER32H

Extendaflex Flexible Conveyor
Plastic roller 450mm wide
5 legs – 2 rollers

CER42

Extendaflex Flexible Conveyor
Plastic roller 450mm wide
7 legs – 2 rollers per shaft

CER42H

Extendaflex Flexible Conveyor
Plastic roller 610mm wide
5 legs – 2 rollers per shaft

CER62

Extendaflex Flexible Conveyor
Plastic roller 610mm wide
7 legs – 2 rollers per shaft

CER62H

Extendaflex Flexible Conveyor
Plastic roller 610mm wide
7 legs – 2 rollers per shaft

CER63H

Extendaflex Flexible Conveyor
Plastic skate wheel 350mm wide
5 legs – 5 wheels per shaft

CES35

Extendaflex Flexible Conveyor
Plastic skate wheel 350mm wide
7 legs – 5 wheels per shaft

CES35H

Extendaflex Flexible Conveyor
Plastic skate wheel 460mm wide
5 legs – 6 wheels per shaft

CES46

Extendaflex Flexible Conveyor
Plastic skate wheel 460mm wide
7 legs – 6 wheels per shaft

CES46H

Extendaflex Flexible Conveyor
Plastic skate wheel 610mm wide
5 legs – 8 skates

CES68

Extendaflex Flexible Conveyor
Plastic skate wheel 610mm wide
7 legs -8 skates

CES68H

Extendaflex Flexible Conveyor
Steel skate wheel 350mm wide
5 legs – 5 wheels per shaft

CSS35

Extendaflex Flexible Conveyor
Steel skate wheel 350mm wide
7 legs – 5 wheels per shaft

CSS35H

Extendaflex Flexible Conveyor
Steel skate wheel 460mm wide
5 legs – 6 wheels per shaft

CSS46

Extendaflex Flexible Conveyor
Steel skate wheel 460mm wide
7 legs – 6 wheels per shaft

CSS46H

Extendaflex Flexible Conveyor
Steel skate wheel 460mm wide 8800mm long
8 legs – 6 wheels per shaft

CSS46HD

Extendaflex Flexible Conveyor
Steel skate wheel 610mm wide
5 legs – 8 wheels per shaft

CSS68

Extendaflex Flexible Conveyor
Steel skate wheel 610mm wide
7 legs – 8 wheels per shaft

CSS68H

Extendaflex Flexible Conveyor
Steel skate wheel 610mm wide 8800mm long
8 legs – 8 wheels per shaft

CSS68HD

Extendaflex Flexible Conveyor
Plastic roller 350mm wide
Stainless Steel – 5 legs – 1 roller per shaft

CER31-SS

Extendaflex Flexible Conveyor
Plastic roller 350mm wide
Stainless Steel – 5 legs – 2 rollers per shaft

CER32-SS

Extendaflex Flexible Conveyor
Plastic roller 350mm wide
Stainless Steel – 7 legs – 2 rollers per shaft

CER32H-SS

Extendaflex Flexible Conveyor
Plastic roller 450mm wide
Stainless Steel – 5 legs – 2 rollers per shaft

CER42-SS

Extendaflex Flexible Conveyor
Plastic roller 450mm wide
Stainless Steel – 7 legs – 2 rollers per shaft

CER42H-SS

Extendaflex Flexible Conveyor
Plastic roller 610mm wide
Stainless Steel – 5 legs – 2 rollers per shaft

CER62-SS

Extendaflex Flexible Conveyor
Plastic roller 610mm wide
Stainless Steel – 7 legs – 2 rollers per shaft

CER62H-SS

Extendaflex Flexible Conveyor
Plastic skate wheel 350mm wide
Stainless Steel – 5 legs – 5 wheels per shaft

CES35-SS

Extendaflex Flexible Conveyor
Plastic skate wheel 350mm wide
Stainless Steel – 7 legs – 5 wheels per shaft

CES35H-SS

Extendaflex Flexible Conveyor
Plastic skate wheel 460mm wide
Stainless Steel – 5 legs – 6 wheels per shaft

CES46-SS

Extendaflex Flexible Conveyor
Plastic skate wheel 460mm wide
Stainless Steel – 7 legs – 6 wheels per shaft

CES46H-SS

Extendaflex Flexible Conveyor
Plastic skate wheel 610mm wide
Stainless Steel – 5 legs – 8 skates

CES68-SS

Extendaflex Flexible Conveyor
Plastic skate wheel 610mm wide
Stainless Steel – 7 legs – 8 skates

CES68H-SS