Pallet Hooks / Pallet Forks
+ Add to Quote Request
Pallet Hooks are ideal for overhead lifting tasks. They reduce manual strains and injury risks, saving organisations in time and money, whilst improving productivity and efficiency.  These units allow materials (of different sizes and weights) to be easily transported, thanks to their durable construction that boasts incredible strength.
Our Pallet Hooks are ideal to lift palletised goods by crane.  They are used extensively on trucks carrying products such as bricks, cement and roof tiles. Load balancing is carried out either manually or automatically, altering the position of the lifting ring to suit the centre of gravity of the load.  Each model has been designed in accordance with Australian Standard AS1418.1 and there is a wide range available to suit a variety of applications.  
Additional Information
Pallet Hooks are a perfect solution for a number of industries needing to move goods of different heights and sizes.  Each model has been designed to handle goods safely when being lifted by an overhead crane.
Four models to choose from!
LCHM2000 – Economy Pallet Hook
The LCHM2000 adjusts manually to suit different height and widths.  This device is adopted extensively in transport and construction industries.  To balance the load, simply move the lifting ring and use the handle between positions.  If using a truck mounted crane, the operator doesn't need to manually move the ring as they can reposition the crane (altering the load balance).
Specifications:
Working Load Limit (WLL) – 2000kg
Tine Size – 100 x 40 x 1050mm, clear tine length.
Load Centre – 600mm
Unit Weight – 242kg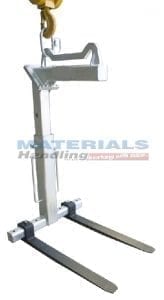 LPHA2000 – Automatic Self-Levelling Pallet Hook
The LPHA2000 Pallet Hook is an innovative device that self balances and automatically lifts to the correct position, thanks to its internal spring mechanism.  This ensures its easy to use and it can maintain fork tines horizontally.  Its steel construction delivers strength and high performance, all with little maintenance required.  Fork tines can be adjusted to 315mm, 595mm or 875mm centres.  The pallet hook is zinc plated.
Specifications:
Safe Working Load (SWL) – 2000kg
Load Centre – 600mm
Unit Weight – 196kg
Note – Only loads exceeding 250kg should be lifted with this type of Pallet Hook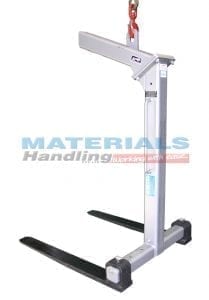 LPHD2200 – Adjustable Pallet Hook
The LPHD2200 Pallet Hook has six manually variable fork positions for balancing the load.  Its robust and durable construction offers maximum strength, yet the unit is still incredibly lightweight.  Easy to use and little maintenance required, this model features variable height and adjustable fork tine widths for ideal overhead lifting requirements.  Its finished in a zinc plated design.
Specifications:
Safe Working Load (SWL) – 2200kg
Load Centre – 600mm
Unit Weight – 215kg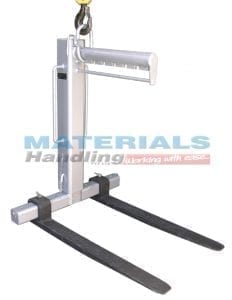 LPHN – Adjustable Pallet Hook
The LPHN Pallet Hook boasts the strongest lifting capacity, handling heavy loads with ease.  It has been designed with fully adjustable tines, making this device extremely versatile.  The load is balanced via its moveable lifting rings, available with six positions.  This Pallet Hook is finished in enamel paint.
Specifications:
Safe Working Load (SWL) – 4500kg
Load Centre – 600mm
Unit Weight – 456kg
Tines are fully adjustable
View more of our range and discover a product right for your activity.
Product Variations
| | | | | |
| --- | --- | --- | --- | --- |
| | Adjustable Pallet Hook 2T | LCHM2000 | | |
| | Automatic Self-Levelling Pallet Hook 2T | LPHA2000 | | |
| | Adjustable Pallet Hook 2.2T | LPHD2200 | | |
| | Adjustable Pallet Hook 4.5T | LPHN | | |
| | Wide Load Pallet Hook | MCHW150 | | |
| | Automatic Self-Levelling Pallet Hook 2T | MPHA2000 | | |