Rooftop Walkway Systems On-Trak
+ Add to Quote Request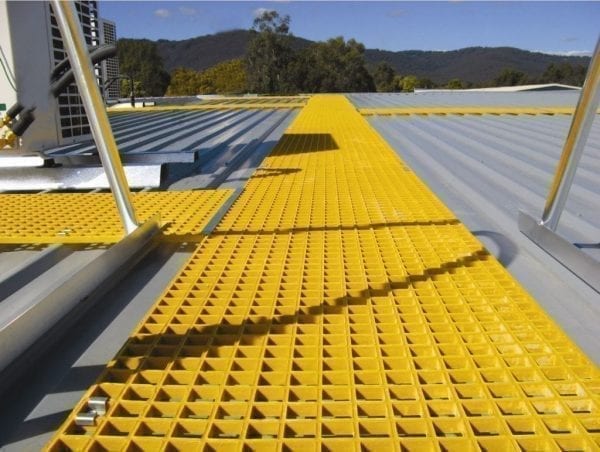 Our On-Trak Walkway Systems are a flexible way to improve safety on roofs and decks. As a total defence solution, they provide specified walkways in slippery, uneven and wet environments.  On-Trak is great when used near plant equipment, over fragile grounds and up high on building tops to prevent fall risks.
The unique construction of this walkway includes a non-slip and multi-directional grid. Utilising TrakTite Mounting Grips, the surface doesn't penetrate any ground. Made from reinforced fibre, it's non-conductive – meaning, there is no galvanic reaction between the roof deck and walkway.
Combine the talents of On-Trak Wakway Systems with Sentry Guardrails for the ultimate working at heights solution.
Additional Information
Improve your safety when walking on uneven surfaces with On-Trak Walkway Systems!
On-Trak is a slip-resistant fibre walkway system for safe work on roof areas. With a lightweight and non-corrosive design, these walkways provide maintenance free protection for many personnel. They provide sure footing for slippery and uneven surface. Their multi-directional non-slip surface ensures this and its unique design allows it to be installed quickly on site.
Lightweight with simple and quick installation.
Non-corrosive, fire retardant and maintenance free.
Non-metallic and non-conductive properties.
Reduced number of penetrations – no support battens required.
Advanced, multi-directional non-slip surface, which minimises the risk of slipping.
Cost-effective solution with roof deck protection.
Improves worker safety.
Ideal for slippery,wet or uneven surfaces.
Safety yellow high visibility finish or grey to minimise visual impact.
Reinforced fibre construction.
Combine On-Trak Walkway Systems with Sentry Guardrails!
For a perfect working at heights safety system, combine the benefits of On-Trak with Sentry Guardrails. Sentry ensures personnel are protected from edges and heights, by providing a secure and robust rail to prevent falls. These systems can also segregate machinery and valuable plant equipment.
Click the PDF button to learn more.