Access Platforms – Mobile LIFT-MAN
+ Add to Quote Request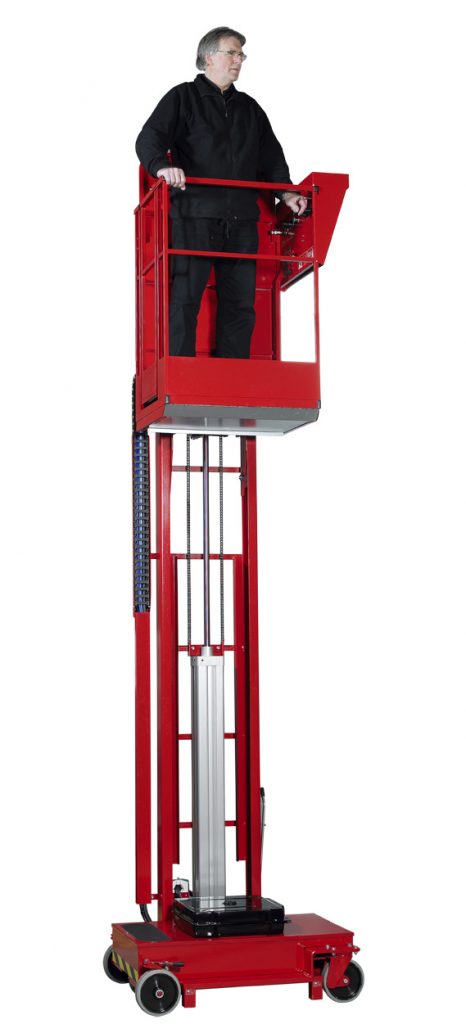 No matter the height and no matter the position, the LIFT-MAN will get you where you need to go. This personnel mobile access platform is designed to assist workplace operations and promote greater efficiency and productivity.
Operating entirely pneumatically, this device is perfect in small areas and booths where the distance between the object and the wall is small. With the LIFT-MAN, you go up and so do your operations, improving productivity and increasing workplace safety.
This device is designed to assist operators in access to their workpieces inside a spray booth. The device is operated entirely from compressed air. The mobile access platform, with self-centring steering and driving function, is independent of the platform up/down function. The LIFT-MAN™ inhabits a small working space, so it is compact and easy to manoeuvre. The control panel and air supply points are incorporated inside the basket of the operator. We supply and deliver these units fully assembled and ready for use.
There is also a new  LIFT-MAN™ folding version. The folding function enables passage through lower doors etc. See the PDF below.
LIFT-MAN™ access platform is the perfect partner for the WALL-MAN® device. Masking, sanding, repair jobs and sign-writing/decal application are usual LIFT-MAN™ tasks. Both the WALL-MAN® and LIFT-MAN™ are simple to function and improve productivity in the workplace – they can save time by up to 50%.
Additional Information
The original access platform
The LIFT-MAN is typically used in booths where buses, commercial vehicles, trucks or trams are painted or where preparation (sanding, masking, etc.) takes place. As a pneumatic access platform, it connects via compressed air and its hose and reel allow the unit to travel freely inside. This operation keeps costs low.
Increased Safety
Increasing efficiency when working is one thing, but increasing safety is a whole other invaluable benefit. The pneumatic personnel mobile access platform is designed to ensure the safety of all workers and complies to standard Occupational Health and Safety requirements and regulations. 
The fully enclosed operator cage, fail safe operating mode, lack of ignition and stable platform all add up to the safest personnel platform on the market. 
Mobile and Compact Design
This mobile access platform is easy to move and simple to manoeuvre even in tight work areas. Driveable at any height, the controls are designed to be logical and intuitive. Your operators will find driving this platform highly satisfying and extremely productive. Designed with practicality in mind, it offers an industry-leading design to maximise compactness without compromising on safety or functionality.
Self-Centring Steering
With a self-centring steering and independent driving functionality, the operator can control the cage to move up and down with ease. This further extends to right/left and forward/backward motions at the same time. As such, the access platform is made from top to toe with practicality and ease of use as top priorities. The platform is even still manually moveable when not connected to an air supply point. 
A platform full of compressed air
This device is operated entirely from compressed air, allowing usage in all types of working space environments, whether or not there are explosive or hazardous materials close by. No gas, no flammable materials, no risk. The control panel, onboard air hose reel and air supply points are subtly incorporated inside the basket of the operator.
A personnel mobile access platform ready to go from the get go
The LIFT-MAN is made for the workplace and designed to ensure that your team will enjoy comfortable working conditions. Our team helps supply and deliver these units to you, and all mobile platform units are fully, 100% assembled. As soon as your platform is delivered it'll be ready for immediate usage. 
Save time on a range of applications 
The LIFT-MAN Pneumatic Personnel Mobile Access Platform allows for an extensive increase in workplace efficiency and productivity.Reduce the time it takes your team to complete the job by up to 50%! Get twice as much done thanks to our mobile platform. 
The wide range of jobs and projects you can use the personnel mobile access platform for includes but is not limited to:
Masking

Sanding

Repair jobs

Signwriting

Decal application

Painting

Surfacing

Sand blasting

Spray painting
Low Maintenance and reliability
The last thing you want from your access platform is to be spending time, money and energy on intensive maintenance. The robust and reliable LIFT-MAN requires low maintenance and will save you costs down the line. It shouldn't cost an arm and a leg to operate a personnel access platform.
The compact LIFT-MAN provides high level productivity with low associated operation costs.
Comprising only standard components, this reliable platform offers long term investment value both in its initial durability and the ease and affordability of component replacement. 
Why choose our personnel mobile access platform?
If an increase in workplace safety, productivity, mobility and efficiency weren't enough, our LIFT-MAN access platform will help you simplify your working day. It is already used by hundreds of companies across all industries and throughout 30 countries.
Specifications
Lifting Height – Platform Height 2750 mm; Work Height 4750 mm

Lifting Controls – Hand-lever valve in cage

Driving Controls – Foot pedal on cage floor

Steering Controls – Hand lever valve in cage

Air supply – Min. 6 bar, min. 350 l/minute supplied via a hose on a self-retracting reel in the base. A compressed air outlet for air tools is provided in the cage.
Introducing the LIFT-MAN™ Fold
The all new LIFT-MAN folding platform version is here. Featuring a folding function, it allows passage through lower doors thanks to an ingenious engineering and structural design. This optional design has been specially developed for offshore & oil/gas installations, chemical plants and electrical and mechanical departments. Its foldable mast ensures the lift transports through narrow passages and the unit moves inside a platform or building. The Liftman Fold is specially made for Offshore installations, Petroleum and Chemical industries 
The LIFT-MAN Fold offers better safety for the operator when working at elevated heights, as well as a foldable functionality. It still features the same flexibility as the original design, and occupies little floor space. Download the PDF for more information. 
Need another solution? Check out our WALL-MAN® 
The LIFT-MAN™ access platform is the perfect partner to the WALL-MAN® device. 
This pneumatic access platform complements the LIFT-MAN by offering increased utility and safe work accessibility. Both platform products reflect industry leading designs to support safe work environments and ergonomic movements during use.
Leave your floor space free for usage without comprising high access work.
Working with Materials Handling
As one of the largest distributors of manual handling equipment and solutions, including mobile access platforms, when you choose Materials Handling you're working with the best in the industry.
Our turnkey solutions are designed to suit the specific requirements of our individual customers and we love working with organisations to help improve workplace functionality.
Our extensive catalogue of aerial work platforms include everything from rough terrain scissor lifts to self-propelled articulating booms.
We'd be happy to have a chat with you and your team to discuss the perfect equipment and solution to suit your needs.
Product Specifications:
Lifting Height:  Platform Height 2750mm; Work height 4750mm
Lifting Controls:  Hand-lever valve in cage
Driving Controls:  Foot pedal on cage floor
Steering Controls:  Hand lever valve in cage
Air supply:  Min. 6 bar, min. 350 l/minute supplied via a hose on a self-retracting reel in the base. A compressed air outlet for air tools is provided in the cage.
We recommend you also preview our WALL-MAN® pneumatic access platform as well. These products are a reflection of our support for safe and ergonomic work environments. They provide access to a complete work area, whilst leaving majority of the floor space free for other use.
Click the PDF button to learn more.
Product Variations
| | | | | |
| --- | --- | --- | --- | --- |
| | LIFTMAN Folding access platform | D125F | | |
| | LIFTMAN pneumatic access platform | D125S | | |