LIFT-MAN™ – Pneumatic Personnel Access Platform-Mobile
+ Add to Quote Request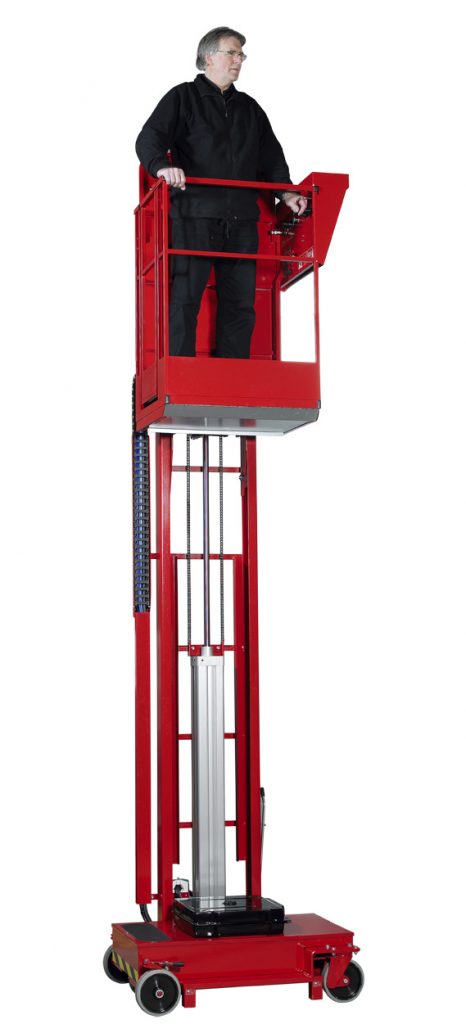 This device is designed to assist operators access to their work piece inside a spray booth. The device is operated entirely from compressed air. The mobile access platform, with self-centring steering and driving function is independent of platform up/down function. The LIFT-MAN™ inhabits a small working space, so it is compact and easy to manoeuvre. Control panel and air supply points are incorporated inside the basket of the operator. We supply and deliver these units fully assembled and ready for use.
There is also a new  LIFT-MAN™ folding version. The folding function enables passage through lower doors etc. See the PDF below.
LIFT-MAN™ access platform is the perfect partner to the WALL-MAN® device. Masking, sanding, repair jobs and sign-writing/decal application are usual LIFT-MAN™ tasks. Both the WALL-MAN® and LIFT-MAN™ are simple to function and improve productivity in the workplace – they can save time by up to 50%.
Additional Information
Product Specifications:
Lifting Height:  Platform Height 2750mm; Work height 4750mm
Lifting Controls:  Hand-lever valve in cage
Driving Controls:  Foot pedal on cage floor
Steering Controls:  Hand lever valve in cage
Air supply:  Min. 6 bar, min. 350 l/minute supplied via a hose on a self-retracting reel in the base. A compressed air outlet for air tools is provided in the cage.
We recommend you also preview our WALL-MAN® pneumatic access platform as well. These products are a reflection of our support for safe and ergonomic work environments. They provide access to a complete work area, whilst leaving majority of the floor space free for other use.
Click the PDF button to learn more.