Access Platforms – Mobile WALL-MAN
+ Add to Quote Request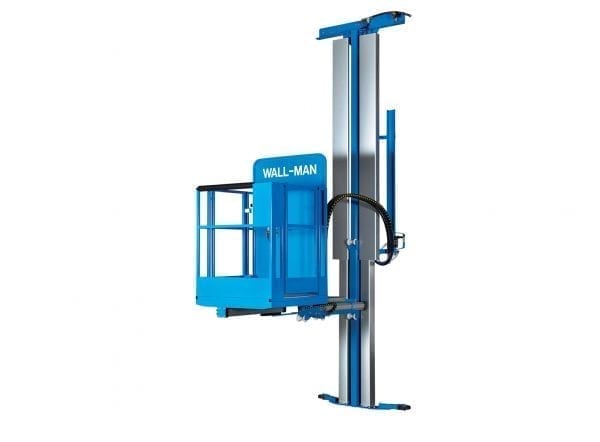 WALL-MAN ® platforms are pneumatically operated access systems. They feature three-dimensional controls (up/down, left/right, in/out) and improve the safety and efficiency during many applications where easy height access is required. This includes welding, inspection, painting, masking, sand-blasting, etc.
The WALL-MAN ® Pneumatic Personnel Access Platform increases productivity, operator safety and is a cost-effective solution to many tasks. These devices are ideal for hazardous and flammable environments. Two models are available, including the standard model for 1 person per platform and the XL model for 2 persons per platform. Installation is simple and little maintenance is required.
Additional Information
The WALL-MAN ® is an optimal safety solution for height access!
One area where the WALL-MAN ® unit can be fully utilised is paint spray booths. If mounted on side-walls, the WALL-MAN ® can increase access for the entire work space and ultimately leave the floor free. This is an optimal working position as it improves the finish quality and decreases worker fatigue or strain injuries. Transfer efficiency is increased and over-spray in spray booths is reduced.
This product is suitable for a number of industries including:
Commercial vehicles, trucks, light rail manufacturing and body shops

Bus, transit authorities, coach and repair shops

Rail industry (including rail repairs)

Earth-moving equipment

Agriculture equipment (paint shops)

Aircraft, aerospace and defence industries (i.e., ground equipment and helicopters)

Other options where safe working heights is essential
The main advantages of the WALL-MAN ® are:
Improved working environments that are safer and more productive

Ideal for hazardous and flammable environments

Entirely pneumatically operated

Cost effective solution with improved and quality finishes (i.e., paint spray booths example)

Can be mounted on the wall for three-dimensional movement and no-contact operation

Payload of 150 kg (1 person + 1 equipment) and 250 kg (2 persons & equipment) for XL model.

Working area of 6.5 m from floor, 2.5 m from wall

Simple installation

Controls and air supply points included inside the cage, with safety operation and devices.
We also recommend our LIFT-MAN™ as a companion to the WALL-MAN ®. This unit is fully movable, without tracks which make it incredibly easy to manoeuvre into any working position.
Click the PDF button to learn more.