Dimensioning System iDimension PWD Pallet Weighing
+ Add to Quote Request

Easily dimension pallets in under two seconds! The iDimension PWD System is an expert pallet weighing and dimensioning system, providing shippers with the information they need to identify the correct freight class and size quickly. It also helps to reduce the risk of potential non-compliance fees carriers can expose.
The iDimension PWD features a straightforward operation that's simple to use. It can be loaded with a forklift or side-loaded with a pallet jack and optional ramps. The system includes a 1.52 x 1.52 m, 2500 kg capacity floor scale with built-in forklift bumper guards, a weight indicator, a USB-connected touchscreen display and an overhead dimensioning system. It can measure pallets up to 1.82 m and package as small as 15.2 cm. 
The device also features a range of great innovative integrations, which make it a state-of-the-art, intuitive system. Optional accessories and parts are also available.
Additional Information
An expert pallet dimensioner and scale system!
The iDimension PWD is a versatile unit that conveniently measures objects on a pallet and readies them for shipping. This helps in reducing freight costs by accurately providing correct dimensions and information. When using the device, simply place the pallet on the floor scale and trigger the PWD. In less than two seconds, the iDimension PWD measures and provides dimensions, weight and images.
The iDimension PWD is designed to easily transfer images and dimensions to a network, simplifying claims processes. Built with a web service interface, it offers simple integration using configurable capture definitions through HTTP requests, status checking and XML parsing. With a range of great features and optional accessories, this is an incredible system that is essential in any environment with a high turnover of shipped goods and products. Its innovative design and high technological capabilities make it an intelligent solution.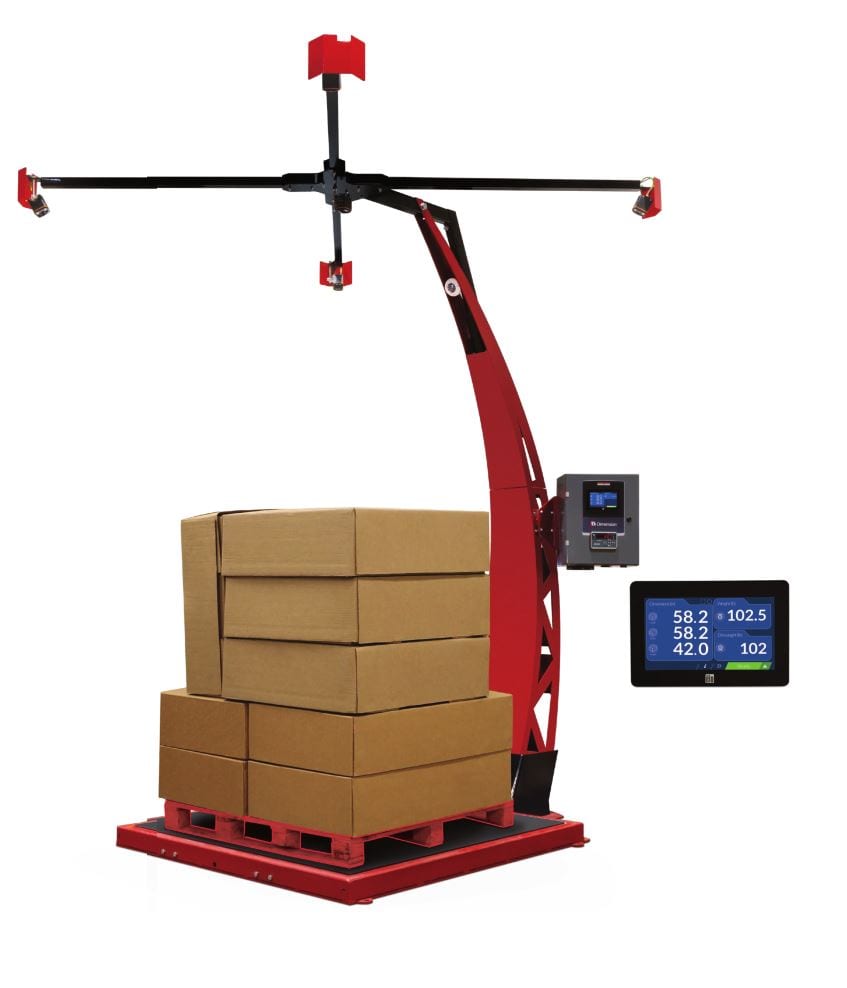 Features: 
Straight-forward operation that's easy to use.
Loaded via forklift or with a pallet jack and optional access ramps.
Operates in less than two seconds – measures and provides dimensions, also taking a digital image of the item with its optional high-resolution camera.
Versatile in use and capable of measuring pallets up to 1.82 m cubed or packages as small as 152 mm.

For non-Legal Trade applications, it can measure objects on a pallet by excluding their length and width and subtracting the known pallet height.

Easy Network Integration and simplifies processes.
Quick and simple to install – takes less than a day to be set up, configured and put to work.
Customise your pallet weighing solution!
The iDimension PWD can be equipped with very clever and intuitive accessories, which increases the system even further.
Opt-in with a High-Resolution Camera that captures an image of each piece of freight to provide proof of condition to simplify the freight damage claim process. Produces a 2.4 mm colour image at 2688 x 1606 pixels.
A Wired or Wireless Barcode Scanner can help to manually trigger the iDimension PWD

 

to dimension and add barcode text data into web service API.

As mentioned before, Optional Access Ramps that are one or two side-mounted ramps provide access for pallet jacks.
An Overhead 5th Sensor increases performance when dimensioning highly reflective and IR-sensitive pallet shrink-wrap material and small protrusions located on top of freight pallets.
Optional Software Programs like iDimension Software Suite help store data and images transfer data to ERP and WMS systems. QubeVu Desktop for use as a software keyboard wedge, transferring weight and dimensions to the connected terminal.
Finally, Software Maintenance and Support, is annual software maintenance, extended warranty and 24/7 factory technical support available.
Think this is innovative? View the entire range!
Continue browsing our interesting array of iDimension and Weighing products, and grab a great solution!
Click the PDF button to learn more.
Product Variations
Image
Description
Product Code
Price (excl. GST)

iDimension PWD Pallet Weighing and Dimensioning System
with 1.52 x 1.52m 2500kg capacity floor scale weigh indicator and USB touchscreen display

199318

Software – Webserver database collection and integration program
Add the software only if you are not at ease with collecting the data straight from the API which is also possible. The software just makes it easier.

175812

QuickScan QD2131 KBW USB Wand Emulation RS-232 with USB cable

176307

PWD Pallet jack ramp
Hardware install & mounting kit

199665