Housekeeping Trolleys
+ Add to Quote Request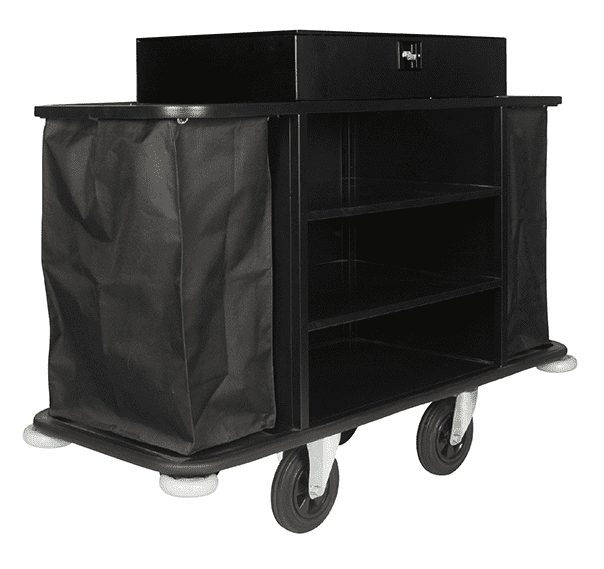 Our Housekeeping Carts are a significant piece of equipment for a number of service duties. Featuring a durable and lightweight design, these devices are highly functional and one of the most robust models on the market. Each cart has an extensive life cycle and is much lighter than other cheap versions.
Alternatively known as a 'Maids Cart', these units have incredible storage capabilities and are easy to push. Compared to rivals, our Housekeeping Carts have non-marking, anti-skid castors that have unique roller bearings for easier manoeuvrability.
These carts come in a range of sizes to meet various workplace requirements. Available in primrose or black, alternative colours can be customised by special order. Various styles of linen bags are also available for laundering purposes.
Additional Information
Our Housekeeping Carts are the most functional on the market!
They easily service guest rooms and attend rooms with their organisational and storage capabilities. Acting as a giant toolbox, they can be stocked with everything required for housekeeping duties. Developed as a complete workstation, these carts allow any operator to complete their job quickly and efficiently. Their stainless steel construction makes them easy to clean and maintain. They are also equipped with a number of safety features, including lock top boxes, deep top trays and metal designs, for extra security and longevity in your organisation.
Housekeeping Cart Specifications: 
Lock Top Box
D Buffer offers 360 degree protection and reduces wall damage
Fully welded steel construction
Greater storage capacity
Anti-skid, non-marking castors, with roller bearings
Easy rolling and less push effort
Durable and easy to clean
Deep top tray for amenities
Able to carry 2 bags easily
Dimensions – 1445 (L) x 570 (W) x 1140(H) mm
Colours – Black (BWHH23DB) or Primrose (BWHH23D)
Customised sizes, designs and colours are available
Continue browsing the rest of our Housekeeping Trolleys range!
Find a great manual handling solution and continue searching our other trolleys and devices.
Product Variations
Image
Description
Product Code
Price (excl. GST)

Housekeeping Carts (5 Star) Black
with Lock Top Box

BWHH23DB

Housekeeping Carts (5 Star) Primrose
with Lock Top Box

BWHH23D