Heavy Duty Industrial Cupboards
+ Add to Quote Request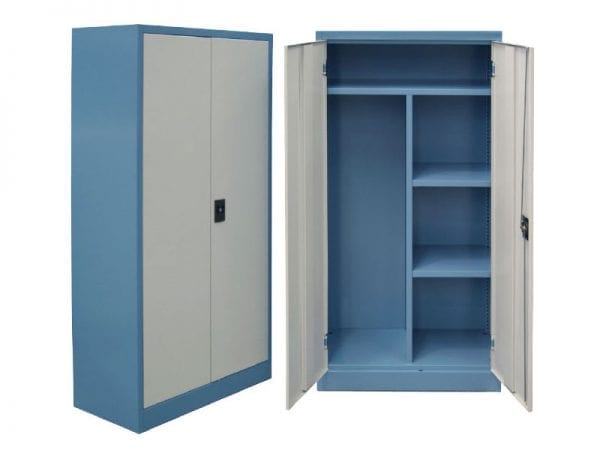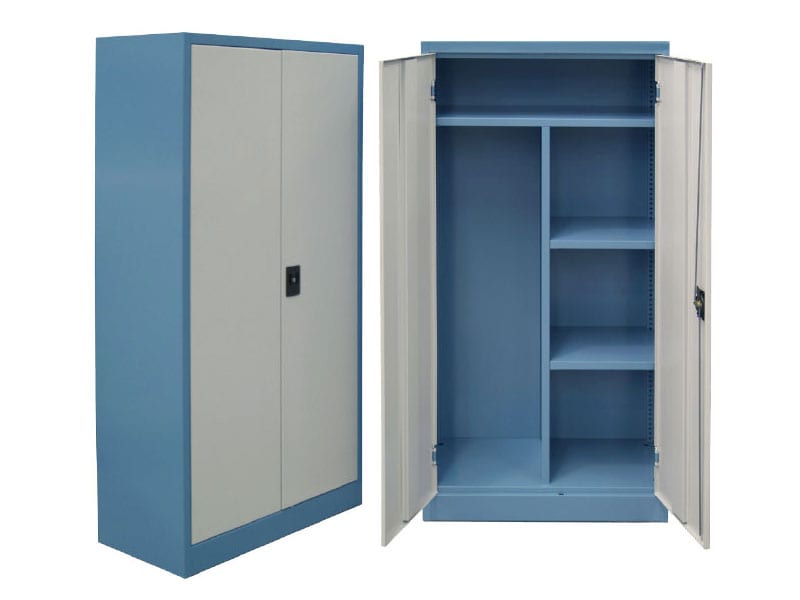 Our Heavy Duty Industrial Cupboards withstand the toughest environments thanks to their robust steel construction. Available in a range of configurations, these cupboards are so versatile they can be customised to your workplace. Simply rearrange internal shelves at any time to create a storage solution specific to your equipment.
Each cupboard is fitted with reinforced doors that provide maximum security and protection. Furthermore, the cupboard's three-point locking system ensures against intrusions and unauthorised access. That means, with key activation the cupboard has a multi-point lock. Unlike single-point locking, this innovation ensures the top and bottom of the door are also simultaneously secured.
Heavy Duty Industrial Cupboards are available in three configurations – Industrial, Factory and Implement – and they are equipped with either a slope or flat top. 
Additional Information

High-quality industrial cupboards with maximum security features!
As one of the strongest cupboards on the market, our robust Industrial range provides secure storage and protection in any workplace. Each cupboard is built to last and equipped with many durable features. All components are complete with a powder-coated finish and each unit is supplied with two keys for access.
Features:
Safe, secure storage.
Maximise storage space.
Strong, durable and built to last.
1.2 mm robust steel sheet construction.
Three-point locking system
Supplied with two keys
Colour Finish:

Body – Wedgewood Blue
Doors – APO Grey
Shelves – APO Grey
This heavy-duty range is available in three different models to suit varying needs, including Industrial, Factory and Implement. At any time the interior of these cupboards can be rearranged and extra shelving is available.
Industrial Cupboards are is supplied standard with five (5) adjustable shelves and eight (8) Size S3Z plastic bins. As standard, Factory Cupboards are equipped with four (4) adjustable shelves. Finally, Implement Cupboards are standard with one (1) fixed full shelf and two (2) adjustable half shelves with a central divider. This sectioned configuration creates open storage for long items like brooms, vacuum cleaners, etc. All our cupboards feature heavy-duty shelves, which are adjustable at 50 mm increments and capable of supporting up to 120 kg per shelf (evenly distributed). 
Specifications: 
| | | | |
| --- | --- | --- | --- |
| Code | Type | Top | Dimensions (W x D x H) |
| S822001 | Industrial | Slope | 900 x 450 x 2000 mm |
| S822002 | Factory | Slope | 900 x 450 x 2000 mm |
| S822004 | Implement | Slope | 900 x 450 x 2000 mm |
| S822005 | Factory | Flat Top | 900 x 450 x 1850 mm |
| S822007 | Implement | Flat Top | 900 x 450 x 1850 mm |
| S822008 | Industrial | Flat Top | 900 x 450 x 1850 mm |
Require another storage solution?
View our entire range of Cupboards, Cabinets and Lockers. Alternatively, view our plastic storage containers to add organisation to your Industrial Cupboard!
Product Variations
Image
Description
Product Code
Price (excl. GST)

Industrial Cupboard
Sloping top containing five adjustable shelves & eight S3Z plastic bins

S822001

Factory Cupboard
Sloping top containing four adjustable shelves for general storage

S822002

Implement Cupboard
Sloping top with one fixed full shelf and two adjustable half shelves with a central divider creating a location for long items like brooms etc.

S822004

Engineers Cupboard
Flat top with five adjustable shelves and 10 x RK321 plastic bins

S822006

Factory Cupboard
Flat top containing four adjustable shelves for general storage

S822005

Implement Cupboard
Flat top with one fixed full shelf and two adjustable half shelves with a central divider creating a location for long items like brooms etc.

S822007

Additional Shelves
Full width

S822530

Engineers Cupboard
Flat top with five adjustable shelves and eight S3Z plastic bins

S822008