Parts Trays and Shelving Kits
+ Add to Quote Request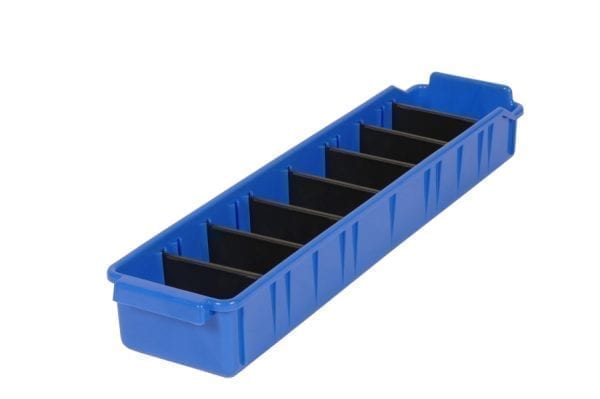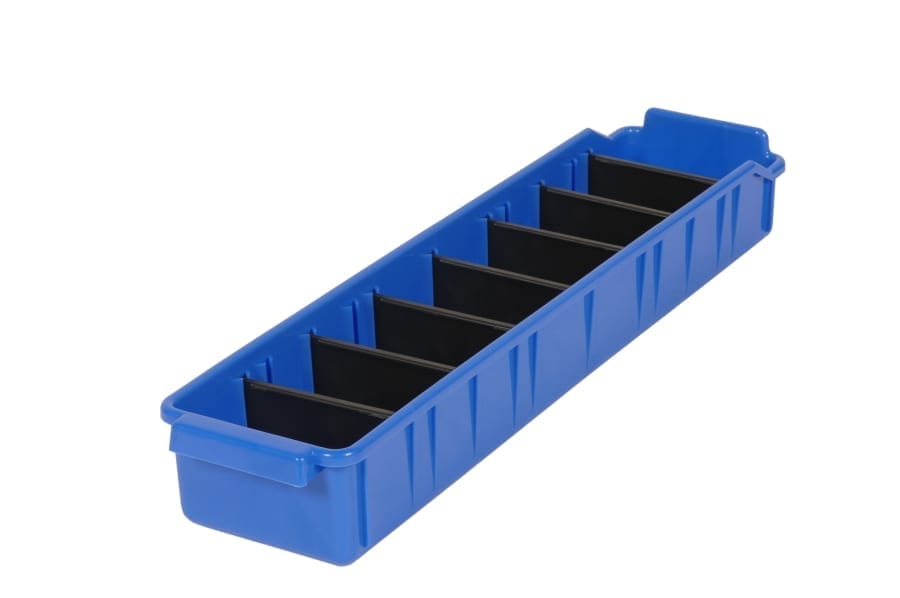 These parts trays provide high storage high-density storage of small to medium size parts and have large flat front faces for fitting adhesive labels. They are durable with a wide range of compartment sizes by adding extra dividers that lock into divider slot with locking tabs. The rear up-stand allows the container to hang off the front edge of shelf above for single-handed picking of parts or viewing the contents. The range consists of seven sizes with five, 415mm deep, sizes that suit our 900mm x 400mm panel shelving. Some dividers are supplied with the trays with additional dividers ordered separately. These trays also complement our heavy duty industrial cupboards.
There are also two open front picking bins that fit our panel shelving.
There are also five shelving kits complete with these parts trays available and 2 shelving kits without trays for other storage purposes. They are 900 x 2175 x 400mm WxHxD. Open front bins also five shelving kits available. They use the same panel shelving as the parts trays.
THESE PRODUCTS ARE ONLY AVAILABLE IN CARTON LOTS
Also view our RK Containers – Spare Part Trays & our Semi Open Front Picking Bins
Product Variations
Image
Description
Product Code
Price (excl. GST)

100 x 315 x 110 mm (WxDxH) with 2 – SATD1 dividers
Fits 9 wide on 900mm shelf. Carton lots of 24

SAT31

100 x 415 x 60 mm (WxDxH) with 3 – SATD0 dividers
Fits 9 wide on 900mm shelf. Carton lots of 24

SAT40

100 x 415 x 110 mm (WxDxH) with 2 – SATD1 dividers
Fits 9 wide on 900mm shelf. Carton Lots of 24

SAT41

150 x 415 x 110 mm (WxDxH) with 2 – SATD2 dividers
Fits 6 wide on 900mm shelf. Carton Lots of 12

SAT42

220 x 415 x 135 mm (WxDxH) with 2 – SATD3 dividers
Fits 4 wide on 900mm shelf. Carton Lots of 12

SAT43

300 x 415 x 135mm (WxDxH) with 2 – SATD4 dividers
Fits 3 wide on 900mm shelf. Carton Lots of 6

SAT44

150 x 615 x 110 mm (WxDxH) with 3 – SATD2 dividers
Fits 6 wide on 900mm shelf. Carton Lots of 12

SAT62

Open front picking bins 219 x 400 x 200 mm (WxDxH) No dividers available
Fits 4 wide on 900mm shelf. Carton lots of 14

SAP43

Open front picking bins146 x 400 x 200 mm (WxDxH) No dividers available
Fits 6 wide on 900mm shelf. Carton lots of 21

SAP42

Dividers for SAT40 trays
Carton lots of 24

SATD0

Dividers for SAT31 & SAT41 trays
Carton lots of 24

SATD1

Dividers for SAT42 & SAT62 trays
Carton lots of 24

SATD2

Dividers for SAT43 trays
Carton lots of 12

SATD3

Dividers for SAT44 trays
Carton lots of 12

SATD4

Shelving Kit with 6 Shelves

SBS201

Shelving Kit with 8 Shelves

SBS203

Shelving Kit with 14 Shelves and 72 x SAT40 Parts Trays

SBS219

Shelving Kit with 12 Shelves and 72 x SAT41 Parts Trays

SBS227

Shelving Kit with 12 Shelves and 48 x SAT42 Parts Trays

SBS237

Shelving Kit with 10 Shelves and 24 x SAT43 Parts Trays

SBS245

Shelving Kit with 10 Shelves and 18 x SAT44 Parts Trays

SBS255

Shelving Kit with 8 Shelves and 18 x SAP42 OPEN FRONT picking bins

SBS263

Shelving Kit with 8 Shelves and 36 x SAP42 OPEN FRONT picking bins

SBS264

Shelving Kit with 8 Shelves and 12 x SAP43 OPEN FRONT picking bins

SBS273

Shelving Kit with 8 Shelves and 24 x SAP42 OPEN FRONT picking bins

SBS274

Shelving Kit with 8 Shelves and 18 x SAP42 and 12 x SAP43 OPEN FRONT picking bins

SBS283

Components kit. 2 x side panels & cross braces

SBSM

Shelf kit of 6 Shelves plus kickplate

SBSP