Parts Trays and Shelving Kits
+ Add to Quote Request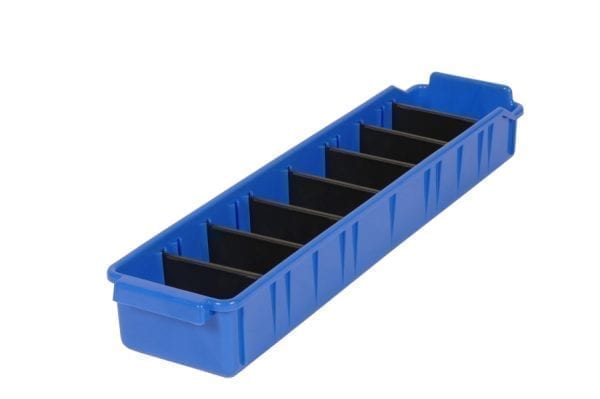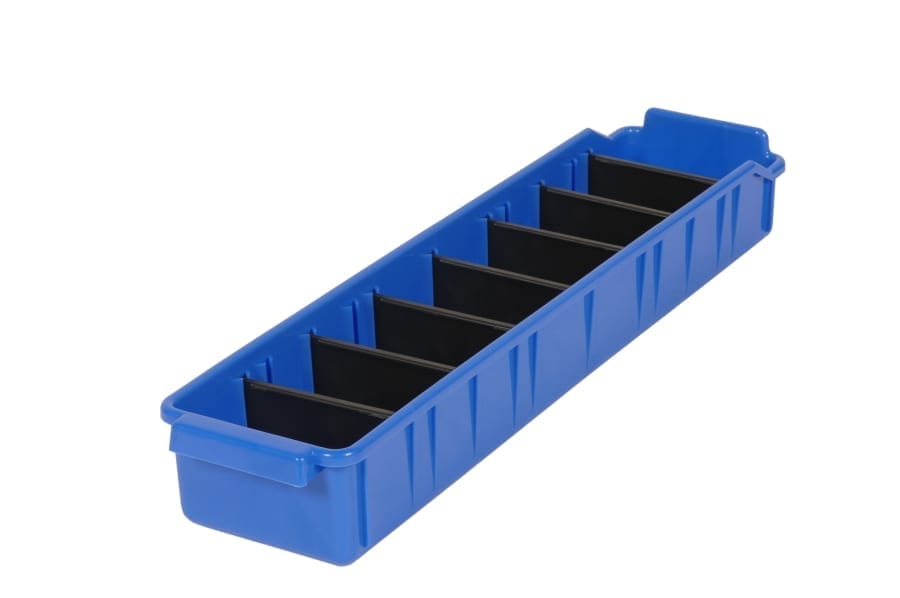 Our Parts Trays and Shelving Kits provide high-density storage of small to medium size parts. They have large flat front faces for fitting adhesive labels, which allows for easy identification of stock. Each tray is durable and a wide range of compartment sizes can be achieved by adding extra dividers that lock into the divider slot with locking tabs. The rear up-stand allows the container to hang off the front edge of the shelf above for single-handed picking of parts or viewing the contents.
The entire range consists of seven sizes with five models 415 mm deep. These sizes suit our 900 mm x 400 mm panel shelving. Some dividers are supplied with the trays with additional dividers ordered separately. These trays also complement our heavy-duty industrial cupboards.
There are also two open front picking bins that fit our panel shelving. 
There are also five shelving kits complete with these parts trays available and 2 shelving kits without trays for other storage purposes. They are 900 x 2175 x 400 mm (W x H x D). Open front bins also have five shelving kits available. They use the same panel shelving as the parts trays.
Please Note: These products are only available in carton lots.
Continue browsing our other spare parts trays like our RK Containers, Spare Part Trays and our Semi-Open Front Picking Bins.
Product Variations
Image
Description
Product Code
Price (excl. GST)

100 x 315 x 110 mm (WxDxH) with 2 – SATD1 dividers
Fits 9 wide on 900mm shelf. Carton lots of 24

SAT31

100 x 415 x 60 mm (WxDxH) with 3 – SATD0 dividers
Fits 9 wide on 900mm shelf. Carton lots of 24

SAT40

100 x 415 x 110 mm (WxDxH) with 2 – SATD1 dividers
Fits 9 wide on 900mm shelf. Carton Lots of 24

SAT41

150 x 415 x 110 mm (WxDxH) with 2 – SATD2 dividers
Fits 6 wide on 900mm shelf. Carton Lots of 12

SAT42

220 x 415 x 135 mm (WxDxH) with 2 – SATD3 dividers
Fits 4 wide on 900mm shelf. Carton Lots of 12

SAT43

300 x 415 x 135mm (WxDxH) with 2 – SATD4 dividers
Fits 3 wide on 900mm shelf. Carton Lots of 6

SAT44

150 x 615 x 110 mm (WxDxH) with 3 – SATD2 dividers
Fits 6 wide on 900mm shelf. Carton Lots of 12

SAT62

Open front picking bins 219 x 400 x 200 mm (WxDxH) No dividers available
Fits 4 wide on 900mm shelf. Carton lots of 12

SAP43

Open front picking bins146 x 400 x 200 mm (WxDxH) No dividers available
Fits 6 wide on 900mm shelf. Carton lots of 12

SAP42

Dividers for SAT40 trays
Carton lots of 24

SATD0

Dividers for SAT31 & SAT41 trays
Carton lots of 24

SATD1

Dividers for SAT42 & SAT62 trays
Carton lots of 24

SATD2

Dividers for SAT43 trays
Carton lots of 12

SATD3

Dividers for SAT44 trays
Carton lots of 12

SATD4

Shelving Kit with 6 Shelves

SBS201

Shelving Kit with 8 Shelves

SBS203

Shelving Kit with 14 Shelves and 72 x SAT40 Parts Trays

SBS219

Shelving Kit with 12 Shelves and 72 x SAT41 Parts Trays

SBS227

Shelving Kit with 12 Shelves and 48 x SAT42 Parts Trays

SBS237

Shelving Kit with 10 Shelves and 24 x SAT43 Parts Trays

SBS245

Shelving Kit with 10 Shelves and 18 x SAT44 Parts Trays

SBS255

Shelving Kit with 8 Shelves and 18 x SAP42 OPEN FRONT picking bins

SBS263

Shelving Kit with 8 Shelves and 36 x SAP42 OPEN FRONT picking bins

SBS264

Shelving Kit with 8 Shelves and 12 x SAP43 OPEN FRONT picking bins

SBS273

Shelving Kit with 8 Shelves and 24 x SAP42 OPEN FRONT picking bins

SBS274

Shelving Kit with 8 Shelves and 18 x SAP42 and 12 x SAP43 OPEN FRONT picking bins

SBS283

Components kit. 2 x side panels & cross braces

SBSM

Shelf kit of 6 Shelves plus kickplate

SBSP