Drum Lifting Sling with Ratchet
+ Add to Quote Request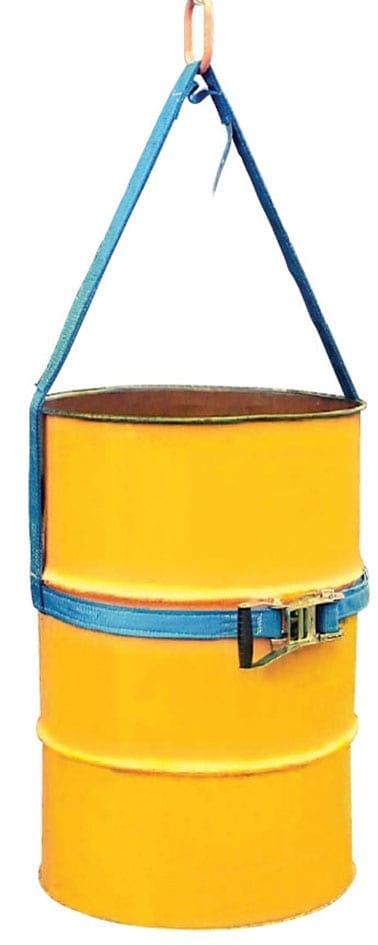 A lightweight and compact alternative to mechanical rim gripping devices, the Drum Lifting Sling (with Ratchet) easily transports 205-litre steel drums vertically. As an effortless way of handling bulky drums and awkward items, these slings make loading processes more efficient and safe. The operator simply attaches the secure sling to the centre of the drum and tightens the ratchet assembly. The upper chime on the drum prevents the drum from slipping to safely move it to a new location.
Available in two models, these Drum Lifters are a popular option for secure materials handling. They are lightweight, made from 100% polyester webbing and even allow for easy pouring from drums. Choose from either our DLS500 with a 500 kg capacity or a DLS1000 model for a 1000 kg capacity. 
Drum Slings are a great option for handling heavy loads as they ensure drums are kept at a regular height during transportation with less damage done to the drum or its contents.
Additional Information
Safe and efficient drum handling.
Our Drum Lifting Sling is an efficient way to move drums. Made of polyester webbing, they harness and hook to hold a drum in place, while the top sling section easily attaches to a forklift, crane, or another piece of equipment. Polyester webbing has an advantage over typical drum handling equipment in that it is lightweight and easy to use and store when not in use. For enhanced mobility, the design includes a slight stretch to adapt to the load. Two models are available – DLS500 (500 kg capacity) or DLS1000 (1000 kg capacity). Both are with a metal head ring and ratchet.
Features: 
Easier and efficient loading and handling.
Strong polyester webbing for the strap, which ensures less damage to the drum or its contents.
Suits 205 L drums.
Allows easy pouring from drums.
Allows for effortless movement of drums around a worksite.
Lightweight and safe for loading Work Load Limit (WLL) up to 500 kg or 1000 kg (depending on model).
Please Note: Steel Drums are not included. 
Continue browsing other solutions.
Have a look at some of our other Overhead Drum Lifting products!
Product Variations
| | | | | |
| --- | --- | --- | --- | --- |
| | Drum lifting sling with ratchet 500kg | DLS500 | | |
| | Drum lifting sling with ratchet 1000kg | DLS1000 | | |