Gates Boom Gate Loading Dock
+ Add to Quote Request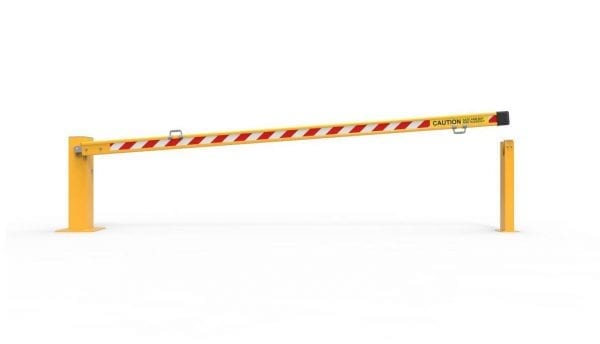 Prevent loading dock accidents with the Dock-Safe Manual Boom Gate. This safety barrier is designed for elevated and loading dock areas, as it stops accidents and potential fall hazards. Ideal for warehouse, factories and distribution centres, the manual boom gate is the ultimate device in pedestrian and traffic segregation.
Supported by an adjustable spring assist, the boom can be easily released and lifted by one person. When operations have finished, the boom returns to its original position, forming a safety barrier. When the area is not in use, it is recommended the boom is locked in the down position as a protective barrier.
The Dock-Safe Manual Boom Gate is great for industrial applications and is usable anywhere that access should be controlled.
Additional Information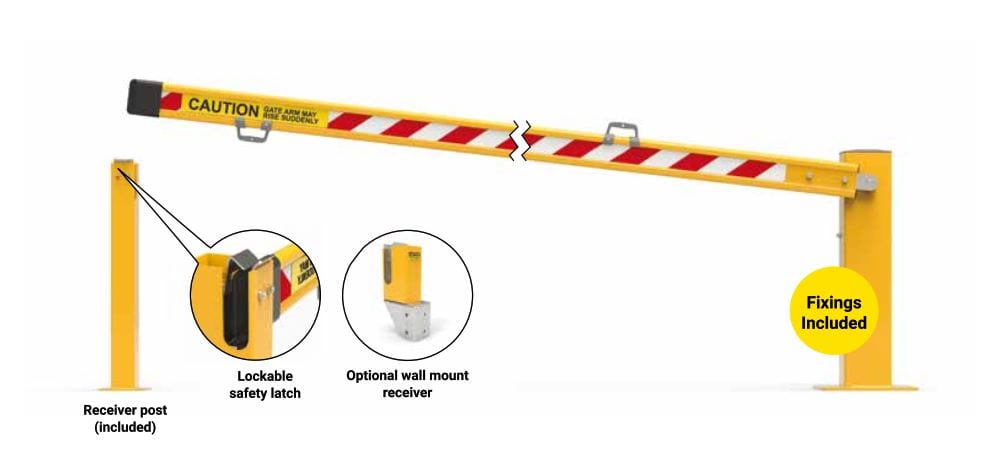 Prevent falling accidents and restrict access with our Manual Boom Gate!
The Dock-Safe is designed as a safety barrier that restricts unauthorised access, ensures safety segregation and prevents fall accidents or other hazards. Ideal for industrial application, it's easy to install and has an aluminium construction with high-visibility reflective panels. Additionally, the gate bollards protect sensitive roller door tracks and the vertical lift requires a very small footprint.
Features: 
Manual boom gate for open doorways.
Prevents elevated loading dock accidents and restricts access or traffic as required.
Adjustable spring-assisted, vertical lift.
Modular design that requires a very small footprint.
Gate bollards protect sensitive roller door tracks.
Supplied as a standard 4.5-metre rail, however, can be cut to any length.
Robust aluminium rails with a hi-vis reflective panel for safety.
Full installation services are available.
Kit supplied includes gate post, boom and receiver post.
Specifications:
Operation – Lift with spring assistance
Construction – Steel posts with aluminium rail
Gate Swing – 90 degrees vertically
Gate Stop – Built-in
Maximum Opening – 5000 mm (can be cut down to suit)
Minimum Opening – 3000 mm wide
Mounting Type – Surface-mounted posts
Rail Type – Aluminium 145 mm x 40 mm
Rail Height – 950 mm (above floor)
Overhead Clearance – Boom length plus 1000 mm
Finish – Powder-coated with reflective panel
Weight – 85.2 kg (DSBG5000)
Continue browsing our great selection!
View more our Safety Gates range and find an option that suits your pedestrian and traffic segregation requirements.
Product Variations
| | | | | |
| --- | --- | --- | --- | --- |
| | Spring assisted Dock-Safe boom gate kit | DSBG5000 | $3,147.00 | |
| | Optional Wall Mount and Post Receiver | DSBG-WR | $397.00 | |