Dock Bumpers
+ Add to Quote Request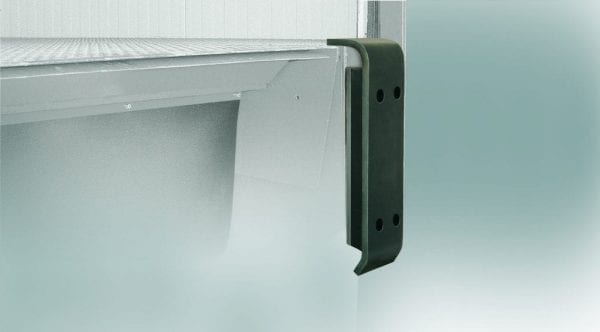 The perfect way to protect your loading bays!
Often buildings can suffer repeated impacts when trucks reverse in loading bays. Over time these impacts can cause costly damages.
We have standard and heavy duty & 2 versions of steel faced rubber dock bumpers designed to protect buildings under normal conditions, where bumpers are required. They provide three roles:
1 – Absorb the shock when vehicles arrive at dock with thick rubber.
2 – Spread the pressure of the impact over a wider surface with its large steel surface
3 – Resist wear caused by the friction of the vehicle against the buffer as it moves up & down during loading/unloading.
What's more the solidity and size of our standard & heavy bumpers encourages drivers to adopt a lighter approach when reversing in the docks.
The steel cover wraps around the dock – avoiding any possibility that the truck might catch the top of the bumper while lowering. The steel covers spring back into shape after the shock. Assembly by vulcanisation – parts are un-separable. They have a slim profile.
Product Variations
Image
Description
Product Code
Price (excl. GST)

Steel faced bumper 150 x 500 x 130mm
(each) Two fixing angles & 6 x M20 x 160 Tru Bolts

MDB155D

Polyurethane face rubber composite bumper 250 x 460 x 100mm (each)

MDB254

Dock Bumper Rubber Laminated 300 x 254 x 114mm
(each)

DR3025

STEEL FACED DOCK BUFFERS [pair]
150 x 479 x 55mm

MDB490

D section bumper 50 x 50 x 300 (0.56kgs)

DR50300

D section bumper 50 x 50 x 610 (1.12kgs)

DR50610

D section bumper 50 x 50 x 910 (1.7kgs)

DR50910

D section bumper 100 x 100 x 300 (2.3kgs)

DR100300

D section bumper 100 x 100 x 610 (4.6kgs)

DR100610

D section bumper 100 x 100 x 910 (6.9kgs)

DR100910

D section bumper 200 x 200 x 900 (35kgs)

DR200900

B section bumper 55 x 160 x 1000 (5kgs)

DR160