Concrete Collection Trays
+ Add to Quote Request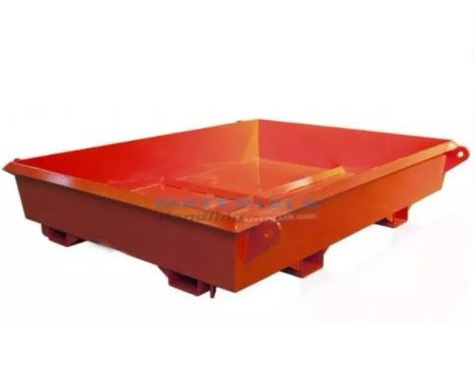 Limit environmental damage with a protective Concrete Collection Tray. Situated underneath a concrete pump, these trays collect spills, concrete waste and washout water in order to minimise potential hazards. They securely pool contents safely, all while removing risks around a worksite. They are a great tool for reducing unnecessary spills.
Featuring a low-profile design and robust construction, the Concrete Collection Tray can be put to work wherever a concrete pump is being used. Two models are available depending on your requirements  – codes MCC110 and MCC215. The MCC215 can handle up to 1500 kg. Both trays are finished with a bright enamel paint design.
Fitted with fork pockets and crane lugs, the trays can be quickly moved around on site. They also feature tapered sides to assist in waste collection. Disposable bin liners (code: MCCDPL) are also available.
Additional Information
Protect your working environment with a Concrete Collection Tray!
With a reinforced base, this tray is your ultimate waste prevention tool when collecting spillages. It features fork pockets and crane lugs, so it can easily be moved around the site to keep up with demand. Alternatively, the tray can be fitted with an optional wheel kit. Two models are available – MCC110 and MCC215 – to facilitate varying workplace requirements.
MCC110 Specifications:
Dimensions: 1860 mm (L) x 1560 mm (W) x 360 mm (H)
Safe Working Load: 1000 kg
Unit Weight: 150 kg
Capacity: 0.50 m3
Enamel painted finish
Pocket Centres: 870 mm
MCC215 Specifications:
Dimensions: 2070 mm (L) x 1570 mm (W) x 400 mm (H)
Safe Working Load: 1500 kg
Unit Weight: 215 kg
Capacity: 0.85 m3
Enamel painted finish
Pocket Centres: 870 mm
HCG: 785 mm
Include an optional plastic liner
An optional disposable liner can be fitted to both bin models. It is designed to improve concrete collection and make waste management fast, easy and cost-effective. The liner is simple to install to either tray. It reduces leaks, increases the longevity of the tray and lowers the cost of washing out excess materials. The MCCDPL Plastic Liner meets EPA regulations and instils a quick method for dumping waste.
Why use a concrete collection tray?
A concrete collection tray is designed to prevent concrete spills and contain washout water when using a concrete pump. This is important for a variety of reasons, but essentially it's because of the problems that result when either cured or uncured concrete is allowed to remain within the environment.
Whilst cured concrete clearly serves a set purpose – as foundations, driveways or patios – if left to cure where it falls under the pump, it can be unsightly and even a hazard to pedestrians and traffic. Then there's uncured concrete or washout water that can also become an environmental problem by entering either the stormwater drains or freshwater streams.
Using a concrete collection tray, negates both of these problems as it allows the contractor to contain spills and completely remove the uncured concrete and washout water from the area.
Preventing spills with a concrete collection tray
Contractors and subcontractors are expected to ensure that no concrete is wasted or left on the road or ground, once the delivery is complete. Residents, homeowners, business owners, shopping centre managers and the local council are not equipped to deal with leftover concrete or washout water that has been spilt or left on site.
If this concrete runs into stormwater or freshwater streams, it will become an environmental disaster. A concrete collection tray prevents this from occurring as it contains all spills in its containment tray.
Avoiding unsightly hazards
Spilt, cured concrete can often be seen abandoned throughout building sites and it isn't a pretty sight. Depending on the amount of concrete that has been left onsite, it can become a hazard to traffic and pedestrians. When it's left on a homeowners property or on the road, it becomes a problem that now involves the homeowners and even the local council.
There's no excuse for not leaving a site clean and tidy. This is where a concrete collection tray makes perfect sense because there's no worry about leaving the site with spilt uncured concrete. It's all contained within the tray and can be disposed of safely by the contractor.
Protecting the environment
Not many people realise that the contamination of freshwater streams by uncured concrete is a big problem. This hazard can cause some significant environmental issues, even killing aquatic life. This is because concrete contains lime, which dissolves easily in water, and is a strong alkaline solution, which quickly burns and kills fish, insects and plants. This can occur when uncured concrete, dust or even finely ground concrete enters waterways.
Any uncured concrete or concrete particles that enters the stormwater system will discharge into the environment, resulting in contaminated water. Even washing the delivery chute or a wheelbarrow that was used to transport concrete from a truck to the site can cause the same problems.
All of this makes a concrete collection tray an essential piece of equipment for all concrete contractors and subcontractors.
Need other Waste Management options?
View our wide range of Spill Containment items to ensure your workplace is maintaining safety and reducing risks or continue browsing our extensive range of Concrete Solutions. 
Click the PDF button to learn more.
Product Variations
| | | | | |
| --- | --- | --- | --- | --- |
| | Concrete collection tray | MCC215 | $2,250.00 | |
| | Concrete collection tray | MCC110 | $1,450.00 | |
| | disposable plastic liner for trays | MCCDPL | $20.00 | |