Compact Housekeeping Carts & Accessories
+ Add to Quote Request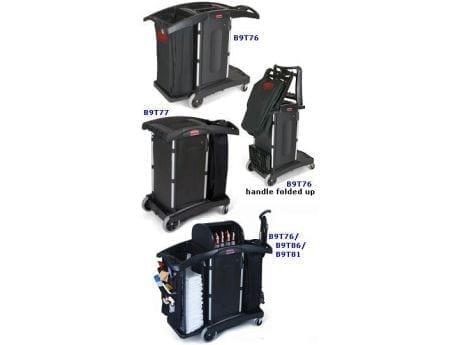 Compact Folding Housekeeping Cart Code B9T76
* 28% more compact when folded-up.
* 37% more compact footprint folded-up than our standard size B6189.
* Cabinet area (406w x 787h x 685d).
* Locking cabinet doors on both sides of cart.
* Can fit 2 x 9.5litre B9T84 or 4 x 4.8litre B9T83 removable disinfecting caddies.
* Non-rusting and easy-to-clean aluminium and structural web plastic construction.
* Features 100mm swivel castors and 200mm wheels.
* Lobby mop, broom, dust pan or vacuum holder.
* Includes a H.D. zippered compact fabric bag B9T80 with waterproof PVC lining.
Turn-down Housekeeping Cart Code B9T77B6189
* Includes locking cabinets doors and one compact fabric bag
Product Variations
Image
Description
Product Code
Price (excl. GST)

High Security Cleaning Cart
LxWxH (mm): 419x363x635
Colour: Black

B9T75

Compact Housekeeping Carts
LxWxH (mm): 1314x558x1118
Colour: Black

B9T76

Vinyl Replacement Bag
High Capacity: 128.7 Litres
HxWxD (mm): 508 x 279 x 762
Colour: Yellow

B9T80

Fabric Replacement Bag
Dimensions (mm): 508x279x762
Capacity: 8.87 Litres
Colour: Black

B9T81

29 Litre Organising Bin
LxWxH (mm): 2791 x 445 x 356
Colour: Yellow

B9T84

Locking Cabinet Door Kit
Dimensions (mm): 250x838x406
Colour: Black

B9T85

Locking Security Hood
Dimensions (mm): 241x432x483
Colour: Black

B9T86

Triple wire poly liner holder
L x W x H (mm): 322 x 141 x 50
Weight: 2kg

B9T89

Fabric 9 Pocket Organiser
LxWxH (mm): 660x502x38
Colour: Black

B9T90

Fabric Mesh Linen Bag
LxWxH (mm): 838x267x429
Colour: Black

B9T91

Slim Jim Waste Container
Dimensions (mm): 508x279x762
Capacity: 87 Litres

M3540