Utility Service Carts and Accessories
+ Add to Quote Request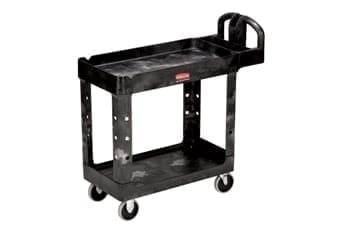 We have a variety of standard and heavy-duty Utility Service Carts on offer to suit your needs.
Each cart is made from a durable construction plastic material that minimises noise. This also ensures it is long-lasting and won't rust, dent, chip, peel or require painting. The rounded corners on the trolley will protect walls and furniture from damage. The lightweight nature makes it easy to operate and handle. Convenient handles and compact size enhances manoeuvrability, via non-marking castors
Our B3457 Utility Cart comes equipped with lockable doors and a sliding drawer. The two heavy-duty carts with high load capacity mean they can transport heavy loads around any environment with ease.
For uneven ground choose the optional 200mm diameter pneumatic castor kit.
Product Variations
Image
Description
Product Code
Price (excl. GST)

Utility Cart – 2 Shelf
Dimensions (mm): 990x454x845
Capacity: 227kg
Colour: Black

B4500

Utility Cart – 2 Shelf
Dimensions (mm): 1149x657x845
Capacity: 227kg
Colour: Black

B4520

Utility cart – 3 shelf
Dimensions (mm): 854x473x959
Capacity: 90kg
Colour: Black

B3424

Utility cart with lockable doors and drawer
Dimensions (mm): 854x473x959
Capacity: 90kg
Colour: Black

B3457

Refuse Bin
Dimensions (mm): 559x432x305
Capacity: 30 litres
Colour: Black

B3353

Utility Bin
Dimensions (mm): 267x432x308
Capacity: 15 litres
Colour: Black

B3354

Heavy Duty Adaptable Cart
Small Black

1997206

Heavy Duty Adaptable Cart
Medium Black

1997208

ACCESSORY HOOKS FOR HEAVY DUTY ADAPTABLE UTILITY CART PACK OF 4 RED

1997227

HEAVY DUTY ADAPTABLE UTILITY CART EXTENDED BASE MEDIUM LADDER HOLDER BLACK

1997230

Pneumatic castor kit 200mm diameter

B4592

Drawer for B4520

B4593