Mail Trolley Prestar
+ Add to Quote Request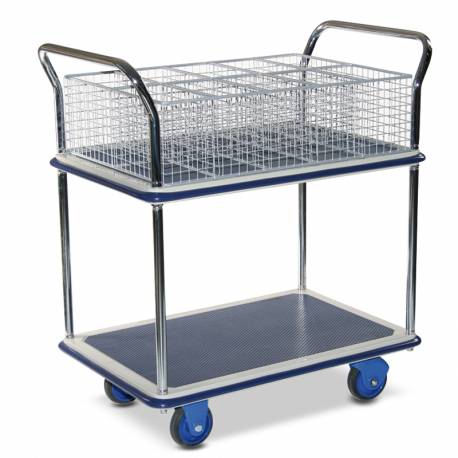 The Prestar Mail Trolley is an industrial quality trolley that is used across many industries. As a great handling solution, it increases user efficiency by providing sortation compartments for large amounts of office mail and files. The upper wire basket is available with either 10 or 6 slots (10 compartments is pictured) and employees can easily sort and distribute items as required.
Commonly used in offices, workplaces and other similar environments, this platform trolley also has an additional lower deck for the storage and transportation of other goods. The cart has a solid construction, as per the reputable Prestar brand. Avoid imitation models that compromise safety features, as our Prestar Mail Trolley offers a 5-year warranty and a long-lasting design.
Additional Information
Sort and distribute important files with the Prestar Mail Trolley!
Mail Trolleys are constructed with a steel pressed metal base, a rubber bumper, and anti-peel, non-slip matting. The trolley has two handles for dual directional operation and supports loads up to 200 kg. Such a trolley increases efficiency in any workplace, assisting with picking, sorting and delivering duties. It has robust features that make it a standout in the Prestar Platform Trolley range. Additionally, the carts quality castors allow it to move with its operator and it makes the perfect companion to office tasks.
Prestar Mail Trolley BNFMAIL Specifications: 
Working Load Limit (WLL) – 300 kg
Platform Size – 910 x 610 mm
Platform Height – 210 mm
Handle Height – 970 mm
Unit Weight – 42 kg
Castors – 130 mm
Available with either 6 or 10 Hole compartments (in wire basket)
Find another trolley for your handling needs. 
View our Prestar Platform Trolley range, which offers a wide selection of solutions for varying materials handling requirements.
Click the PDF button to learn more.
Product Variations
Image
Description
Product Code
Price (excl. GST)

Single deck platform trolley with mail compartments
300kg Capacity
910 x 610mm Platform size
210mm Platform height
970mm Handle height
42kg Unit weight
130mm Castors

BNFMAIL

Single deck platform trolley with mail compartments
300kg Capacity
910 x 610mm Platform size
210mm Platform height
970mm Handle height
42kg Unit weight
130mm Castors

BNFMAIL10