Coloured Bin Cabinets
+ Add to Quote Request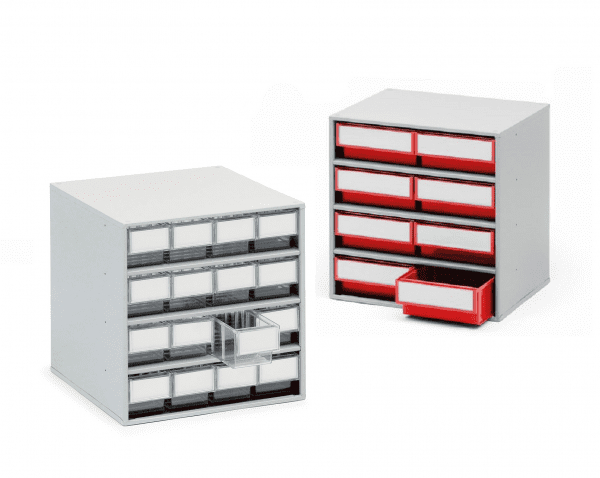 It has never been so simple to store large items! The bright colours of our Coloured Bin Cabinets make stacking and arranging items super easy. You can create a flexible and exchangeable storage system that can be moved or restructured to suit your requirements.
Each container has a corrugated base to simplify picking and sorting through the smallest of parts. The bin is also designed with a full-width label and a fully protective shield. Grey epoxy enamelled steel frames exist in two different sizes, with a depth 300 or 400 mm.
The cabinets can be piled vertically or hung on walls. Available colours include red, blue, green and clear and each cabinet is constructed from clear polystyrene. Other accessories that we have on offer include dividers and retaining bars.
Some models are available in anti-static models and are primarily suited for electronic industries.
Product Variations
Image
Description
Product Code
Price (excl. GST)

Colour – Clear
Material – Polystyrene
Frame Dimensions DxWxH mm – 300x400x395
Bin Code/ Quanity/DxWxH mm – S3020/ 8 / 257x167x70
Divider Code (separately ordered – made to match) – SD20

S08301

Colour – Clear
Material – Polypropylene
Frame Dimensions DxWxH mm – 300x400x395
Bin Code/ Quanity/DxWxH mm – S3020/ 8 / 257x167x70
Divider Code (separately ordered – made to match) – SD20

S08305

Colour – Blue
Material – Polyproplyene
Frame Dimensions DxWxH mm – 300x400x395
Bin Code/ Quanity/DxWxH mm – S3020/ 8 / 257x75x70
Divider Code (separately ordered – made to match) – SD10

S08306

Colour – Clear
Material – Polypropylene
Frame Dimensions DxWxH mm – 400x400x395
Bin Code/ Quanity/DxWxH mm – S4020/ 8 / 357x167x70
Divider Code (separately ordered – made to match) – SD20

S16301

Colour – Red
Material – Polypropylene
Frame Dimensions DxWxH mm – 300x400x395
Bin Code/ Quanity/DxWxH mm – S3010/ 16 / 257x75x70
Divider Code (separately ordered – made to match) – SD10

S16305

Colour – Blue
Material – Polypropylene
Frame Dimensions DxWxH mm – 300x400x395
Bin Code/ Quanity/DxWxH mm – S3010/ 16 / 257x75x70
Divider Code (separately ordered – made to match) – SD10

S16306

Colour – Clear
Material – Polystyrene
Frame Dimensions DxWxH mm – 400x400x395
Bin Code/ Quanity/DxWxH mm – S4020/ 8 / 357x167x70
Divider Code (separately ordered – made to match) – SD20

S08401

Colour – Red
Material – Polypropylene
Frame Dimensions DxWxH mm – 400x400x395
Bin Code/ Quanity/DxWxH mm – S4020/ 8 / 357x167x70
Divider Code (separately ordered – made to match) – SD20

S08405

Colour – Blue
Material – Polypropylene
Frame Dimensions DxWxH mm – 400x400x395
Bin Code/ Quanity/DxWxH mm – S4020/ 8 / 357x167x70
Divider Code (separately ordered – made to match) – SD20

S08406

Colour – Clear
Material – Polystyrene
Frame Dimensions DxWxH mm – 400x400x395
Bin Code/ Quanity/DxWxH mm – S4010/ 16 / 357x75x70
Divider Code (separately ordered – made to match) – SD10

S16401

Colour – Red
Material – Polypropylene
Frame Dimensions DxWxH mm – 400x400x395
Bin Code/ Quanity/DxWxH mm – S4010/ 16 / 357x75x70
Divider Code (separately ordered – made to match) – SD10

S16405

Colour – Blue
Material – Polypropylene
Frame Dimensions DxWxH mm – 400x400x395
Bin Code/ Quanity/DxWxH mm – S4010/ 16 / 357x75x70
Divider Code (separately ordered – made to match) – SD10

S16406

Colour – Clear
Material – Polypropylene
Frame Dimensions DxWxH mm – 400x400x395
Bin Code/ Quanity/DxWxH mm – S4040/ 4 / 400x186x180
Divider Code (separately ordered – made to match) – SV40

S04401

Colour – Red
Material – Polypropylene
Frame Dimensions DxWxH mm – 400x400x395
Bin Code/ Quanity/DxWxH mm – S4040/ 4 / 400x186x180
Divider Code (separately ordered – made to match) – SV40

S04405

Colour – Blue
Material – Polypropylene
Frame Dimensions DxWxH mm – 400x400x395
Bin Code/ Quanity/DxWxH mm – S4040/ 4 / 400x186x180
Divider Code (separately ordered – made to match) – SV40

S04406

Retaining Bars for Coloured Bin Cabinets 4 pieces

SA400

Divider for S1630 and S1640 series

SD10

Divider for S0830 and S0840 series

SD20

Divider for S0440 series

SV40