Collapsible Stillage Cage
+ Add to Quote Request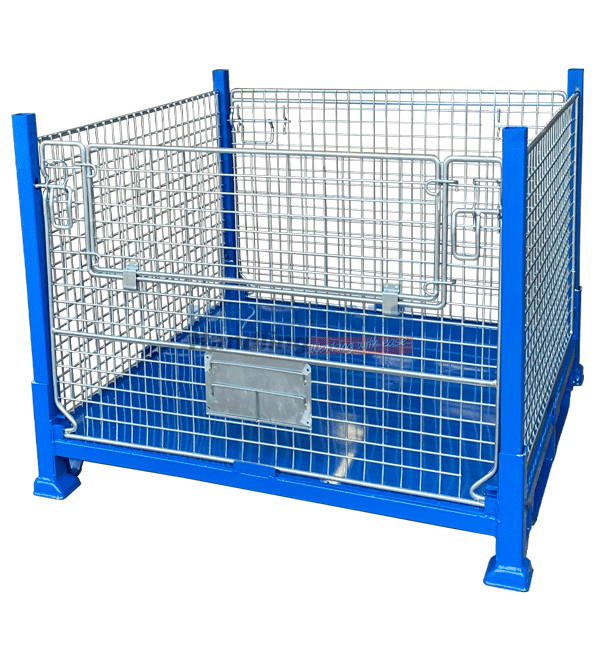 Our Collapsible Stillage Cages are innovatively designed mesh storage cages, perfect for warehousing, retail, manufacturing, transport and production applications. With a well-constructed, multi-purpose structure, the cages have robust zinc-finished panels and are completely collapsible! The front and rear panels are removable allowing for convenient and economical storage. This makes it ideal for transport, racking or as a stand-alone cage.
When fully loaded, this SMMC01 Stillage Cage can be stacked two cages high and the SMMC02 can stack 4 high (on top of each other). They also feature drop-down gates for quick and easy access to the base, even when the cage is stacked or stored. Assembly is also convenient as no tools are required when constructing or dismantling the cage.
The SMMC01 Collapsible Stillage Cage has a Working Load Limit (WLL) of 1000 kg. The SMMC02 Collapsible Stillage Cage has a Working Load Limit (WLL) of 1050 kg. Optional wheel kits are available.
Additional Information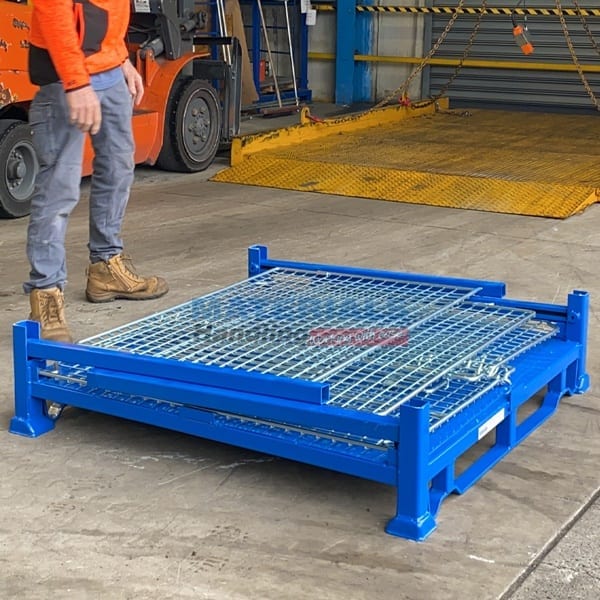 A quick and useful collapsible Stillage Cage!
This Stillage Cage is a pallet-sized mesh cage with removable front and rear panels. It's also a convenient option for storage, especially in pallet racking. A tag holder sits on the front of the cage to assist with the labelling of goods and products. Its collapsed height of only 248 mm saves space and makes it a great warehouse solution, especially when transporting around or to and from a worksite.
Reduces packing and handling risks
The use of these Collapsible Stillage Cages reduces the chance for injury, especially when packing and handling goods, equipment, tools, stock, work kits, and other items. This is because they are uniquely designed to ensure users can quickly access goods. When not in use, they can be stored away and collapsed for convenience. 
Complete collapsible design
The central hinges on both the front and back of the gates allow them to fold down completely. This allows works to access the top layer of goods. Cage gates may also be removed, enabling access to the lowest layer of goods and easing cage loading. This collapsible gate design ensures stored items and equipment can be retrieved quickly, easily, and safely.
Save space and time
When compared to knockdown pallet cages, these collapsible stillage cages save time and can be constructed in seconds, providing optimum efficiency. They may be folded and stacked to make the most of your warehouse space by being able to collapse them rapidly.
Increased safety with anti-tipping bars
Anti-tipping bars keep the cage from sliding off the forklift's tip. This functionality is essential for both moving around your business and loading into trucks and storage racks.
Secure storage on pallet racking
These cages have a one-of-a-kind positive locking base that enhances security. It also ensures safe storage on Australian Standard pallet racking.
Able to be stored outside
With the optional lockable lids and PVC weather coverings, this mesh cage may also be used for outdoor storage. This is a great alternative for long-term storage, drop-off locations, on-site storage, or if your warehouse is running out of space. These cages also have an environmental benefit in that they allow you to limit your consumption of single-use plastics in your logistical operations.
A collapsible cage built for convenience!
With our Collapsible Stillage Cages, we have two models available – SMMC01 for single storage or SMMC02 for double the width. Optional metal sheet flooring is also available (code: SPCMF). View a great summary of the safety benefits these mesh cages offer. 
Features:
Suitable for racking or stand-alone applications – stackable, collapsed or assembled.
Has a drop-down gate for easy access to the base of the cage, even if the unit is stacked.
Stackable two cages high (when fully loaded).
Pallet rack safe with unique positive locking base design.
Anti-tip base design.
Quick and simple assembly that doesn't require any additional tools; collapse/assemble in seconds.
Half fold-down and fully removable front and rear gates, and the cage can completely collapse down for storage.
It can be transported by a forklift or pallet trolley – 4-way forklift access and pallet truck entry.
Front tag holder is included for labelling and signage of the cage.
Zinc-plated finish panels with a powder-coated frame.
Optional wheel kit is available (150 mm diameter rubber swivel castors; 2 have brakes).
Technical Specifications: 
Working Load Limit (WLL) – 1000 kg; evenly distributed
Internal Clearance single – 1045 x 1045 x 740 mm
Overall Dimensions single – 1180 x 1180 x 920mm high
Overall Dimensions double – 2200 x 1158 x 1035mm high
Mesh Dimensions – 50 x 50 x 3.5 mm
Collapsed Height single – 248 mm
Unit Weight single – 94 kg
An optional SPCMF Sheet Metal Floor can be provided with the single Collapsible Stillage Cage. It adds protection for goods and prevents objects from slipping through the cage.
View our great storage solutions!
We have a great range of Stillage Cages available for all your storage and materials handling needs.
Click the PDF button to learn more.
Product Variations
Image
Description
Product Code
Price (excl. GST)

Mesh Cage with Folding Sides
WLL: 1000 kg

SMMC01

Optional sheet metal floor
For SMMC01 stillage cages

SPCMF

Mesh Cage with Folding Sides
Double Width WLL: 1050 kg

SMMC02