Bin Blaster
+ Add to Quote Request

Effectively clean and wash down wheelie bins with our innovative Bin Blaster. Drawing hydraulic power from the water supply, this device ergonomically lifts and tilts bins for easy manual wash-down. Water and debris can be collected and emptied with ease, thus improving your waste management processes.
The Bin Blaster safely handles wheelie bins of any size (80-1100 litres). With the turn of a lever, the device lifts and tips the bins to an ergonomic height. No clamping or modification is required. Gone are the days of manually tipping a bin onto its side, lifting it to drain water and potentially scratching or damaging it's exterior or injuring the employee.
This device is available as either an electric version (with a removable 12v battery pack) or a hydro option, which is powered by mains water pressure (price is the same for both versions). Bin Blaster's design ensures its durable and can be easily moved around a worksite.
Additional Information
Improve Waste Management with the handy Bin Blaster!
This device works with all common wheelie bins. It features simple and easy to use controls, with braked castor wheels for additional control and comfort. The unit can fold flat within minutes for easy transportation and its durable with its hot dipped galvanised steel construction.
When in use, bins are lifted past horizontal positioning for ergonomic cleaning capabilities. Its standard 'antler' bin-hitch system ensures no bin clamping and the device is operated by its control lever. A simple turn lifts the wheelie bin for wash-down. Its extendable drip tray and debris bucket assist with collecting and protecting drain systems from large rubbish. Both the electric and hydro Bin Blaster models are operated without main electricity, so they can be used anywhere and without risk of electric shock.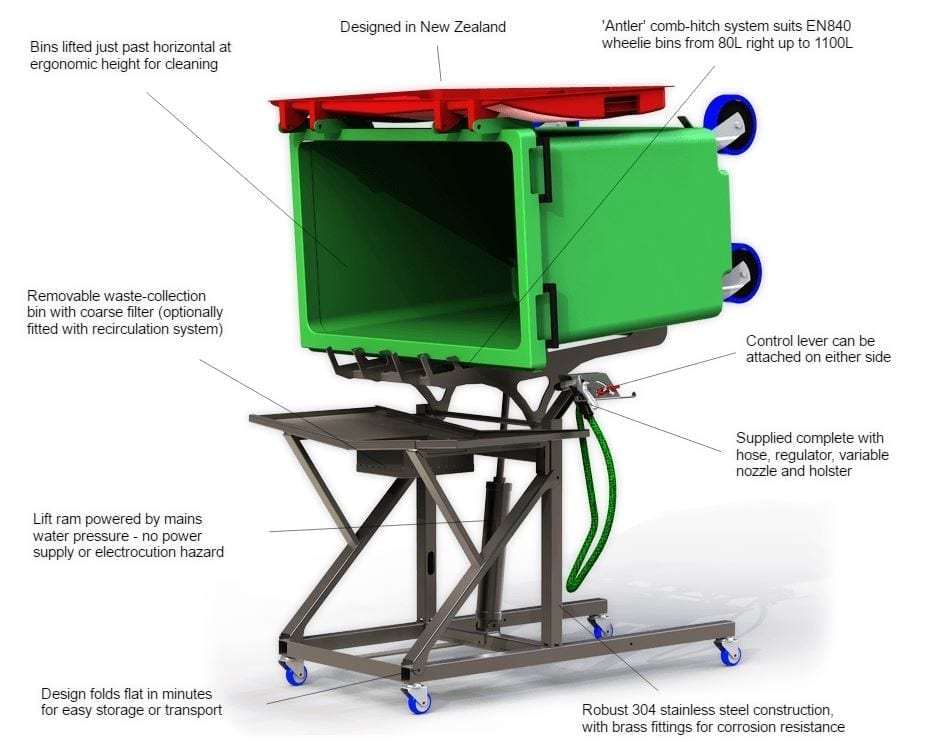 MBB1100 Specifications: 
Tipping Height – 1 m
Height (lowered) – 1120 mm
Width – 1340 mm
Depth – 1400 mm
Weight – 95 kg
Maximum Lift Capacity – 80 kg (requires 400kPa water pressure for hydro version)
Bin Compatibility (litres) – 80, 120, 140, 240, 360, 660, 1100
Handles 100 bins per day
Outdoors-rated
Optional Wheelie Bin Cradle (2-wheel or 4-wheel), Trash Cart Cradle, Eurobin Cradle and Foodcap Capsule Cradle available.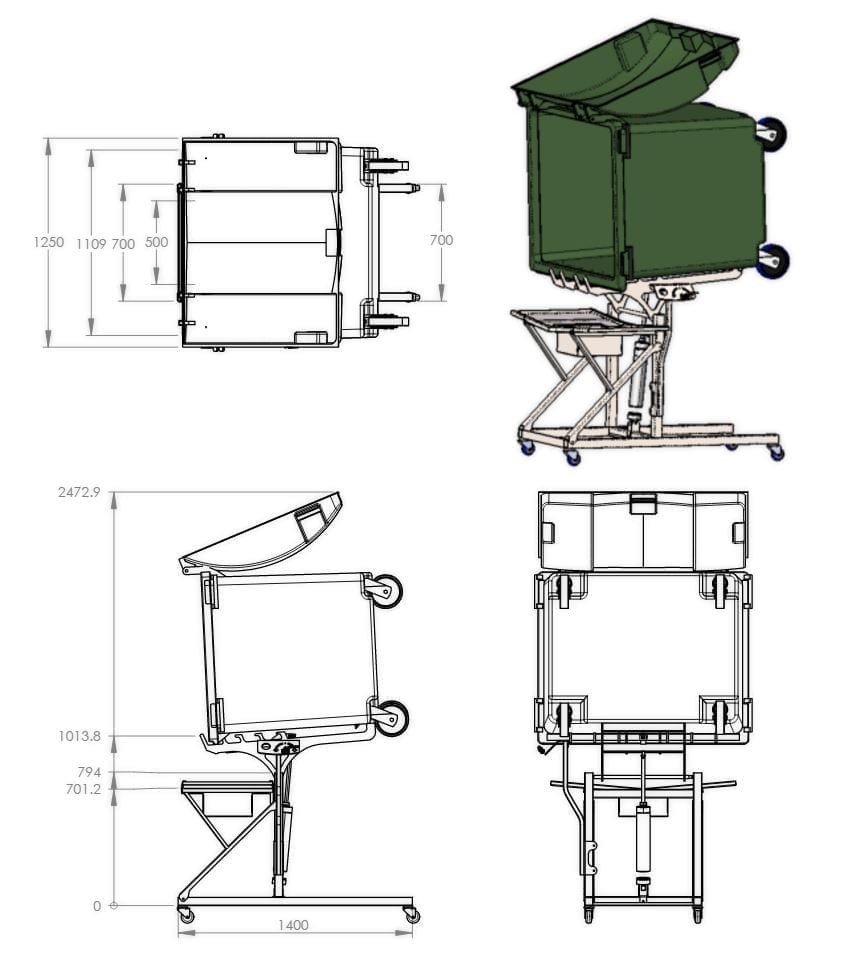 The Bin Blaster is supplied complete with a hose, regulator, variable nozzle and holster.
Find other cleaning solutions! 
Browse our Waste Management Cleaning range.
Product Variations
| | | | | |
| --- | --- | --- | --- | --- |
| | Bin Blaster wheelie bin cleaner | MBB1100 | | |