Permanent Lifting Magnets
+ Add to Quote Request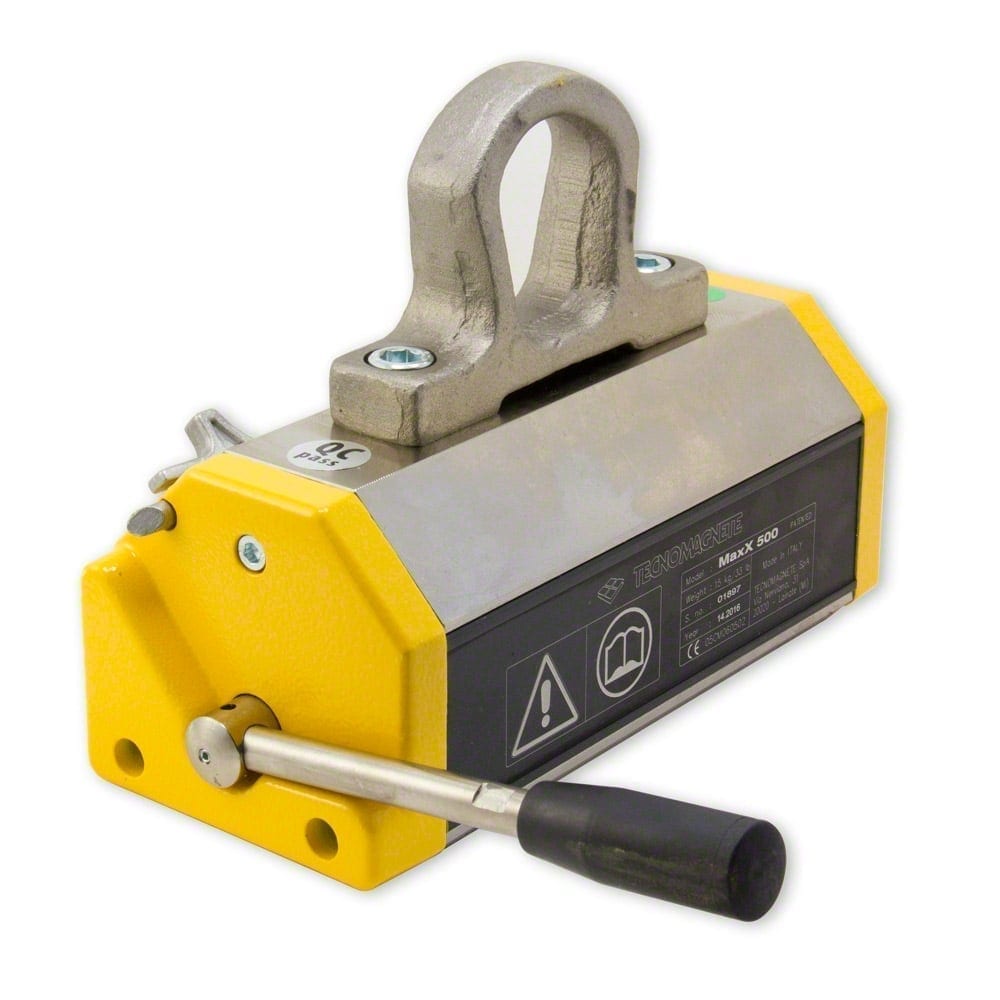 If you lift steel plates, rounds or tubes, there is a simpler, more efficient way to get the job done – without slings and chains! Our series of Permanent Lifting Magnets use the latest rare earth technology, making them small and lightweight, but able to lift astonishing capacities.
Permanent Lifting Magnets are ideal for many applications in the modern workshop. You do not need an external power source to use the units. On-off operation is actuated by hand lever with a spring-loaded release mechanism for added safety.
Additional Information
Hand controlled magnetic lifters – a small tool with major lifting force!
Permanent Magnetic Lifters are powerful, compact and extremely reliable. They concentrate their magnetic field within the work zone, making them ideal for handling a large variety of goods. Rated with a safety factor of 3, these classic products are robustly designed for high-quality use. The units have very little magnetic field dispersion into nearby objects or other work pieces.
What model suits your requirements?
Lifting sheets and thin steel materials? Forget old technology magnets and look toward our LTG thin-gauge series.Specifically designed for thin-gauge low profile sheets these magnets have a shallow magnetic field to allow handling sheets from stacks without gripping the piece below.
For vertical and horizontal handling try our bolt-on vertical lifting magnet bracket! These unique devices may be used for safe vertical handling or for lifting the plate from horizontal to vertical.
Our Permanent Magnetic Lifters have revolutionised the world of holding and lifting!
These magnetic lifters are the most practical, safe and economical way to handle goods. They have brought incredible value to a number of industries. A single operator can handle a load with ease and we have a number of models available to suit your organisation today. Contact one of our sales representatives for more information.
Product Variations
Image
Description
Product Code
Price (excl. GST)

Thin gauge lifting magnet 150kg
Designed for thin profile steel materials

LTG150

Thin gauge lifting magnet 300kg
Designed for thin profile steel materials

LTG300

Lifting magnet 125kg

LX125

Lifting magnet 250kg

LX250

Lifting magnet 500kg

LX500

Lifting magnet 1000Kg

LX1000

Lifting magnet 1500kg

LX1500

Lifting magnet 2000kg

LX2000

Vertical Bolt on Bracket
Capacity 250kg
Fits Magnet LX250

LVS250

Vertical Bolt on Bracket
Capacity 500kg
Fits Magnet LX500

LVS500

Vertical Bolt on Bracket
Capacity 1000kg
Fits Magnet LX1000

LVS1000