Hand Pallet Trucks
+ Add to Quote Request
Hand Pallet Trucks are the most essential and most common warehouse tool! Also known as a Pallet Jack or Pallet Trolley, these solutions are commonly used to move pallets and palletised loads. With a high-quality design, they easily make a reliable workshop assistant. Our extensive range is designed to suit various requirements across your organisation.
Our Pallet Trucks are supplied with a heavy-duty powder coat finish and fitted with polyurethane wheels for smooth handling on concrete surfaces. The front load rollers are a single wheel to easily roll over the bottom board of standard Chep, Loscam and other Australian-style pallets. They also feature an ergonomic handle for comfortable operation.
The standard model, which is found in most Australian applications, is commonly 685 mm wide with 1150 mm long forks. However, for those using EURO pallets or skids, we have the 450 or 520 mm narrow models available. Food grade applications, cold and freezer storage will find the galvanised and stainless options helpful.
Additional Information
Handle more with our Hand Pallet Trucks
This Pallet Jack is the perfect choice for your pallet handling because it has a large capacity of 2500 kg. It's equipped with an ergonomic control handle, industrial polyurethane rollers, and a sealed hydraulic pump with a hand control valve for lowering, among many other safety features.
The entry and exit rollers reduce the operator's physical exertion while also protecting the load and pallet. Underneath the chassis is a fully adjustable pushrod. The control handle lever includes three positions for lifting, transporting and lowering functions.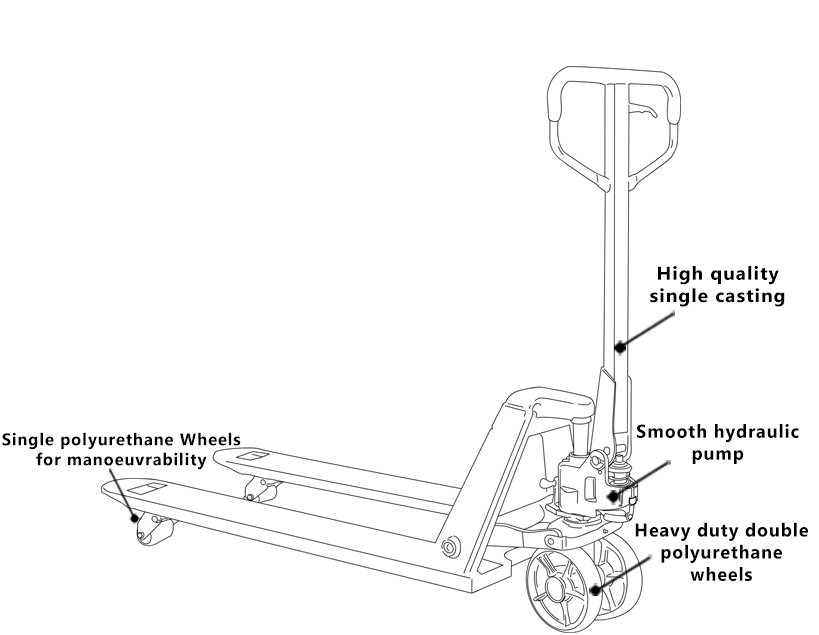 High-quality pallet truck with excellent and innovative design.
Professional storage and handling aid.
Ideal for a variety of manual handling tasks over short distances in warehouses, factory plants, and stores.
Reliable, strong and torsion-resistant steel profile.
Finished with quality powder-coat.
Excellent manoeuvrability with effortless steering and control.
Chromed bearing joints ensure quiet operation.
A long-service life.
Specifications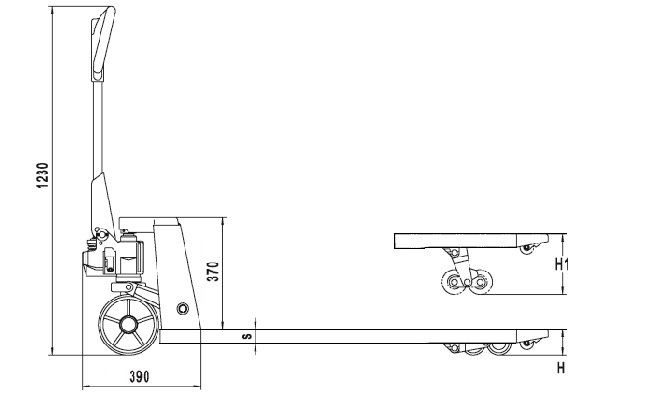 Require another solution? 
Continue browsing alternative products, like our Pallet Handling solutions.
Product Variations
Image
Description
Product Code
Price (excl. GST)

Standard
Capacity: 2500kg
Fork height range: 75-185mm

M20L

Quick Lift Pallet Truck
Capacity: 2500kg
Fork Height Range: 75/185mm

M20LQ

Narrow
Capacity: 2500kg
Fork Height Range: 75-185mm
Fork width: 450mm

M20S

Narrow
Capacity: 2500kg
Fork Height Range: 75-185mm
Fork width: 520mm

M20M

Low Boy
Capacity: 1500kg
Fork height range: 51-165mm

M20LB

Low Boy
Capacity: 1500kg
Fork height range: 51-165mm
Fork width: 520mm

M20LBN

Short Stubbie
Capacity: 2500kg
Fork height range: 75-190mm
Fork Length: 800mm
Fork width: 450mm

M20S9

Short Stubbie
Capacity: 2500kg
Fork height range: 75-190mm
Fork Length: 800mm
Fork width: 520mm

M20S8

Super Long
Capacity: 2000kg
Fork Height Range: 85-200mm
Fork Length: 1800mm
Fork width: 685mm

M20LSL

Sideways Rolling
Capacity: 1500kg
Fork Height Range: 85-210mm

M20L2

Galvanised
Capacity: 2500kg
Fork Height Range: 85-200mm

M20LG

Stainless Steel
Capacity: 2000kg
Fork Height range: 75-190mm

M20LSS