Crowd Control Fencing
+ Add to Quote Request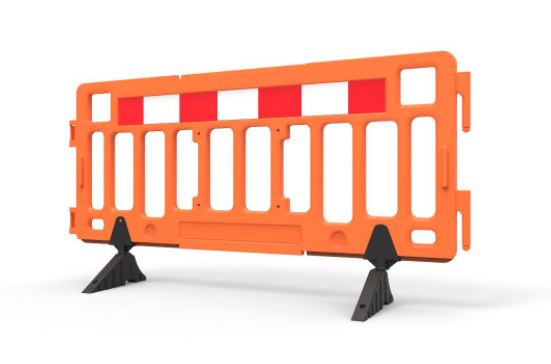 Our Crowd Control Fencing is a low-cost, modular plastic barrier that may be used to restrict crowds or close off industrial locations. Made of tough polythene, it features a high-visibility reflective strip on one side for hazard warning. These barriers can be constructed per your requirements. Their modular design allows them to be interconnected and shaped accordingly.
These Crowd Control Barriers are an economical, portable and versatile solution. Workers can easily move them due to their lightweight design and they can be set up quickly. When in use, rubber feet make them sturdy and their plastic construction is durable. For stacking, the black recycled rubber feet pivot to the flat position and the fencing easily stores away.
Crowd Control Fencing is available in two sizes and in either yellow or orange safety colouring.
Additional Information
A quick and easy plastic barrier!
Our plastic Crowd Control Fence is a quick solution for managing traffic and pedestrians. Its solid design makes it incredibly durable. The barrier is also extremely lightweight, meaning it can be moved and positioned around a site easily. Additionally, workers can handle and transport panels via optional forklift stillage. This ensures installation of the Crowd Control Fencing is simple and efficient as the stillage can hold up to 20 panels at a time. 
Features: 
An easy to use, plastic barrier.
High visibility design, available in two colours (orange and yellow).
Super tough and durable.
Made from strong polyethylene.
Black recycled rubber feet rotate for flat packing.
Lightweight for portability and quick installation.
Equipped with reflective panels for hazard warning.
Available in two sizes.
Specifications: 
Material – Moulded polyethylene
Finish – Solid build with hi-vis colouring in either yellow or orange.
Height – 1000 mm
Length – Two sizes available: 1100 mm or 2000 mm
Weight – 9 kg or 12 kg (depending on length selected)
Require an alternative barrier?
Continue browsing our wide range of Portable Safety Barriers for your perfect solution.
Product Variations
Image
Description
Product Code
Price (excl. GST)

Plastic Fence Barrier with Rubber Foot 1100 x 1000 mm
Hi-vis Orange with Reflective Panels

PEF1100

Plastic Fence Barrier with Rubber Foot 1100 x 1000 mm
Hi-vis Yellow with Reflective Panels

PEF1100Y

Plastic Fence Barrier with Rubber Foot 2000 x 1000 mm
Hi-vis Orange with Reflective Panels

PEF2000

Plastic Fence Barrier with Rubber Foot 2000 x 1000 mm
Hi-vis Yellow with Reflective Panels

PEF2000Y