Carton Taping Machines
+ Add to Quote Request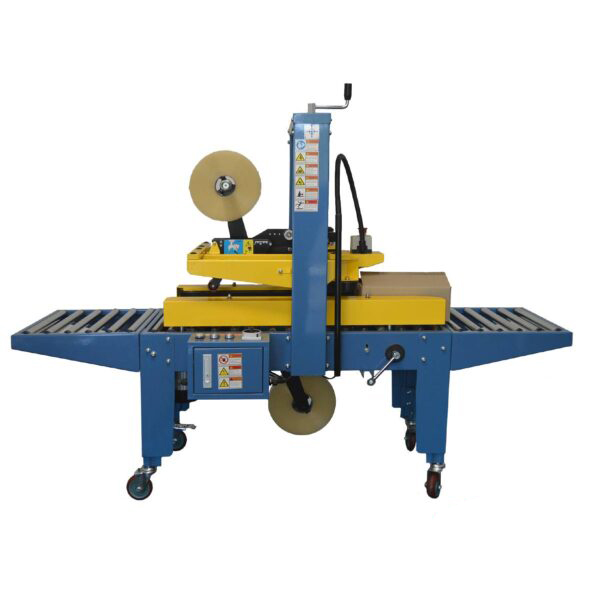 Carton Taping Machines automate your boxing and packaging processes, saving you time and money. These systems are built to last and are designed to provide years of trouble-free service. They are used to close cartons that have the same height and width. The unit's flexible and considered design will allow users to operate it with ease.
Carton Sealing Systems seal the top and bottom of a carton at the same time and at a fast and efficient rate. Its uncomplicated operation and two side-drive belts allow the device to push the heaviest of boxes through the system. Castors let you easily move the machine about the workspace, giving you more options and increasing flexibility of use.
With these machines, you can speed up the entire packaging process and increase production rates without hiring staff or expanding your facility. Carton Sealers are cost-effective to run, making them one of the most efficient and safe packaging solutions available.
Additional Information
Our range of Carton Taping Machines provide you with the safety solution to your packaging needs. These sealers are incredibly economical to run and easy to operate.
How simple you ask?
Well for uniform cartons, all the operator needs to do is input the size of the box and fold down its cardboard flaps. The machine is then ready to seal at the press of a button. For random carton sizes, all the operator needs to do is fold down the carton flaps. The machine will then automatically adjust its drive guide and upper sealing to suit the size of the package.
Product Variations
| | | | | |
| --- | --- | --- | --- | --- |
| | Carton Sealing Machine 480 W X 480 mm H | PCS100 | | |
| | Carton Side Sealing Machine 480 W X 480 mm H | PCS110 | | |
| | Carton Sealing Machine 600 W X 600 mm H | PCS150 | | |
| | Carton Sealing Machine 300 W X 300 mm H | PCS70 | | |