Bin Press and Compactor
+ Add to Quote Request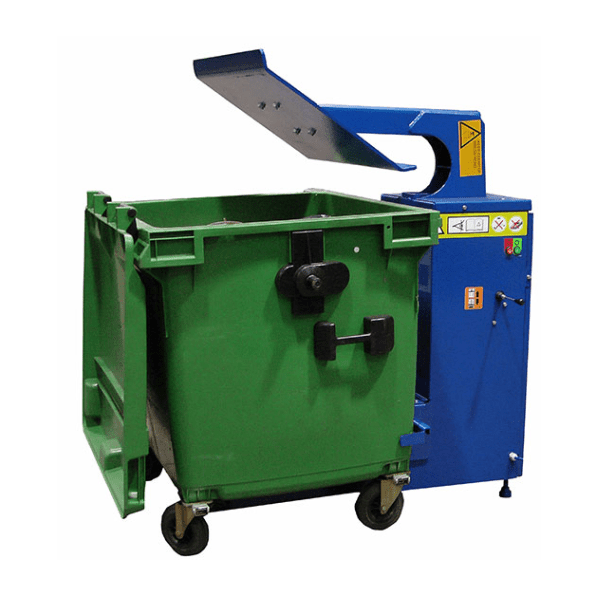 Reduce and control waste with our Bin Press and Compactors. Available to suit both 240 L and 660/1100 L bins, these devices minimise waste collection costs without changing processes. With easy operation features, Bin Compactors increase safety across any working environment.
Effectively manage your waste procedures with these convenient, practical and effective solutions. By compacting waste, you can reduce the number of times your bins need to be emptied. As a result, these waste disposal units save time and costs. They are suitable for use in retail outlets, offices, hospitality establishments, warehouses and similar facilities.
Additional Information
Improve your waste management with a Waste Compactor! 
Our Bin Compactors eliminate unsafe processes and loose materials. They easily compact materials to fit neatly in a bin. This provides additional space to fill the contents of the bin further, utilising its maximum capacity. They are available in two models – to suit 240 L bins or a larger design to suit 660/1100 L bins.
Bin Press (240 L) Features: 
This model is a large-capacity bin press suited to 240 L bins. It features a compaction rate of 5:1.
Ideal for garage forecourts, retail outlets, offices and small hospitality establishments.
High compaction force ratio 5:1.
Suitable for standard 240 L wheelie bins.
Top loading.
Bin fully enclosed for safe compaction.
Low operating height.
An insert to compact waste into a bag is also available.
Bin Press (660/1100/L) Features: 
An even larger model that is convenient to use. It suits 660 L and 1100 L bints with a compaction rate of 3:1.
Ideal for warehouses, retail outlets, healthcare facilities and other similar establishments.
A compaction ratio of 3:1 (depending on the material).
Suitable for standard 660 L or 1100 L bins. Adaptors are available for use on 660 L bins.
Reduces the frequency of daily and weekly waste collections.
Base lifting plate ensures bin wheels are not damaged during compaction.
The two-handed operation ensures safer use in any working environment.
Specifications: 
Suitability
Height
Width
Depth
Weight
Power Supply
Noise Level
For 240 L
2.360 m
0.780 m
0.780 m
234 kg
220-240 V
Single Phase
70 dB
For 660/1100L
2.120 m
1.160 m
1.150 m
270 kg
240 V
Single Phase
72 dB
Require another solution?
Browse our entire range of Waste Management and Cleaning Equipment.
Click the PDF button to learn more.
Product Variations
| | | | | |
| --- | --- | --- | --- | --- |
| | Bin Press 240 Litre | MWP240 | | |
| | Bin Press 660 Litre | MWP660 | | |
| | Bin Press for 1100 Litres | MWP1100 | | |