Modular Wire Shelving
+ Add to Quote Request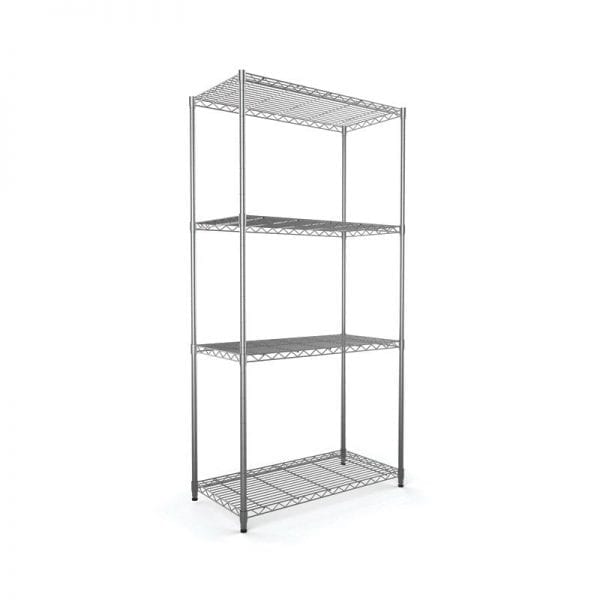 Our Modular Wire Shelving is a durable system that is ideal for cool-rooms, commercial kitchens, hospitals, warehouses, storerooms, retail shelving and many other commercial and industrial applications. It features a strong and modular design, with tubular posts and height-adjustable shelves in a variety of sizes. 
Supplied as a flat-pack, this storage solution offers a great, versatile range, which is to mix and match. The unique shelving means shelves of the same dimension can be assembled together in any combination. It's also quick and easy to assemble or dismantle.
For maximum protection, the wire construction is zinc-plated and finished with an epoxy powder-coat. All components are further electro-plated and clear-coated. This adds durability to the shelving and ensures it's protected against corrosion. Our Modular Wire Shelving holds up to 200 kg per shelf.
Additional Information
Modular Wire Shelving that suits a variety of workplaces!
This Shelving system is functional and unique. It can be easily dismantled, repositioned and assembled, all while maintaining complete structural integrity. In particular, the support posts come with adjustable feet for levelling on uneven surfaces and are available in a number of optional heights. Additionally, shelves are supplied in a set of four, however, any number of shelves can be used.
Standard shelving is available in seven different sizes that can be matched with any four post heights, thus producing shelving from 1370 mm to 2130 mm. Flat shelves can be mixed and partnered with other shelf styles, which include wine storage shelves (a safe way to store and cradle wine bottles) and sloping display shelves (for simplified restocking, with rear load/front pick gravity rotation). Display baskets are also available for pre-packaged products or grab and go merchandise.
Features:
Heavy-duty and modular construction.
Finished with clear epoxy powder coat, over durable zinc plating.
Suitable for coolrooms and commercial kitchens.
Easy to assemble, reposition and dismantle.
Wide range of sizes is available.
Supports up to 200 kg per shelf.
Adjustable, levelling feet; with optional castors.
Optional extras help secure your Wire Shelving Systems. 
Add on a variety of optional accessories to customise your wire shelving. For instance, on flat shelves, parter it with an S-hook to replace posts and lower costs. This also increases layout flexibility. Locking castors also improve mobility and maintain stability.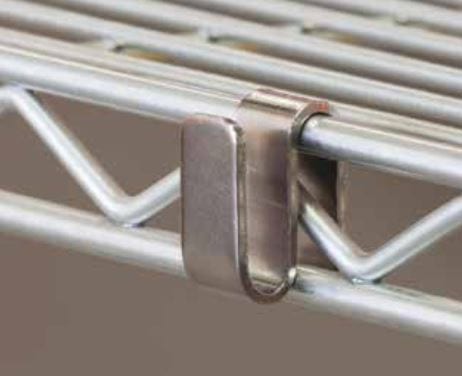 Require another storage solution?
View our wide range of Storage Equipment for some great products.
Product Variations
| | | | | |
| --- | --- | --- | --- | --- |
| | Wire Shelf 355 x 1220 mm | WS1448 | | |
| | Wire shelf 355 x 1830 mm | WS1472 | | |
| | Wire shelf 530 x 1220 mm | WS2148 | | |
| | Wire shelf 530 x 1535 mm | WS2160 | | |
| | Support post 1370 x 25 mm high | WSP54 | | |
| | Support post 1600 x 25 mm high | WSP63 | | |
| | Support post 1830 x 25 mm high | WSP72 | | |
| | Support post 2130 x 25 mm high | WSP84 | | |
| | Locking Castor Wheel | WSLC | | |
| | Non-locking Castor Wheel | SWSC | | |
| | "S" hook (joiner) | WSH11 | | |