Keg Trolleys
+ Add to Quote Request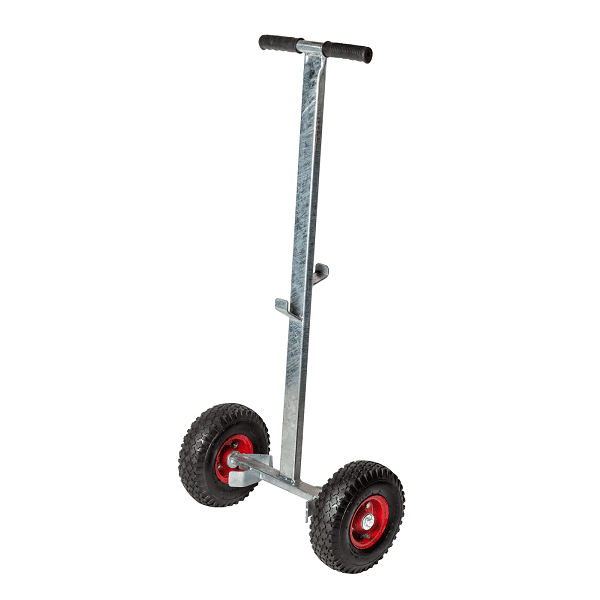 Easily move beer kegs with our innovative Keg Trolleys. These devices make manual handling tasks effortless, safe, and help prevent back injuries or strains. Their design acts as a safeguard against accidents, especially for cellar staff that frequently moves heavy kegs.
Keg Trolleys feature a durable steel and anti-corrosive construction, which is made from quality materials. The design is ergonomic and patented, creating an extremely sensible solution when transporting most Australian kegs. The heavy gauge toe plate can support a capacity up to 160 kg and the design has two hooks for varying keg sizes.
All Keg Trolleys are fitted with 260 mm pneumatic tyres, with deep groove bearings to assist in pushing the trolley. Each trolley is so easy to use that it'll have you saying 'cheers' in no time! This is an occupational health and safety essential for many hospitality industries.
Additional Information
Keg Trolleys are specially built to move any type of keg!
Our Keg Trolleys easily move over varied surfaces and are highly manoeuvrable. The devices feature an ergonomic, versatile and patented design that prevents back and repetitive strain injuries. With an incredible load capacity of 160 kg, they easily beat competitive products, thanks to their unique abilities that assist in increasing safety benefits. All Keg Trolleys are fitted with premium pump up wheels and the unit features two hooks, for use on different height kegs.
BHTKP260 Specifications: 
Ergonomic, patented design
Durable steel, anti-corrosive
A heavy gauge toe plate supports capacities up to 160 kg
Reinforcing gussets at T-Junction strengthen for everyday use
Stainless Steel finish
Toe Plate Width – 60 mm
Dimensions – 270 (L) x 570 (W) x 1170 (H) mm
Shipping Weight – 8.0 kg
Colour – Silver
Wheels – 260 mm Pump Up Wheels
Find another manual handling solution!
Browse our Hospitality and Housekeeping Trolleys for a range of products that will help you move goods with ease.
Product Variations
| | | | | |
| --- | --- | --- | --- | --- |
| | Dual Size Keg Trolley Silver Pnuematics | BHTKP260 | | |
| | Stainless Keg Trolley Puncture-Proof Pnuematics | BHTK-SS | | |