Insulated Cool Bins
+ Add to Quote Request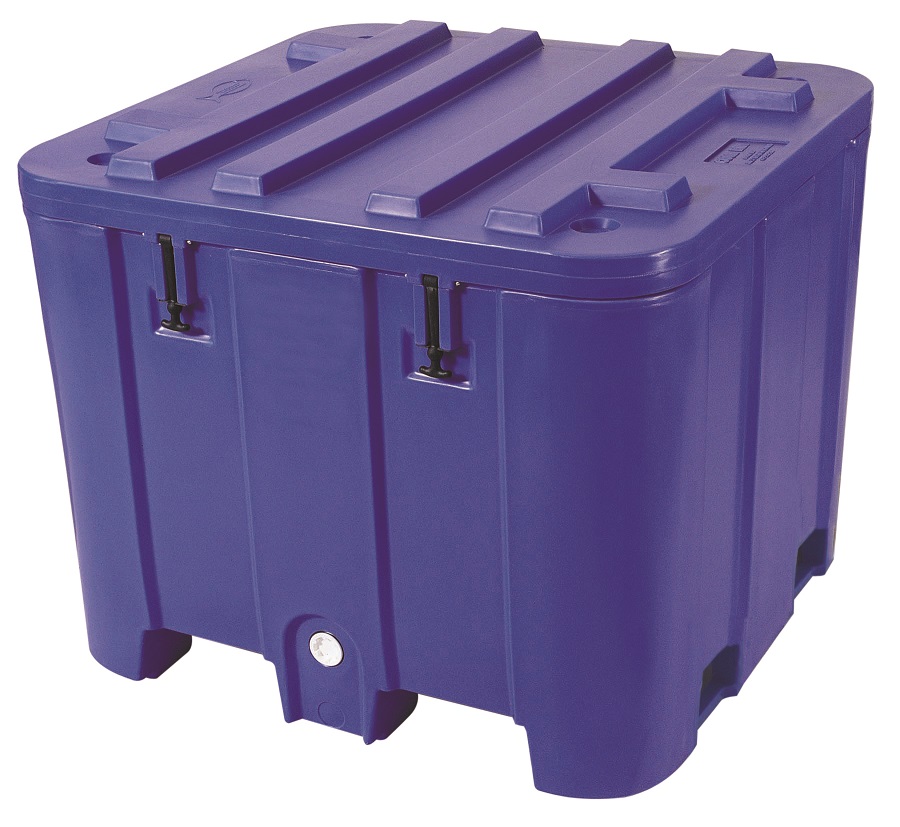 Our Insulated Cool Bins are a fresh approach to food transport and storage. The range of insulated bins is ideal for preserving freshness in seafood, meat, vegetables, fruit and poultry. They are double walled and insulated with 50 mm polyurethane foam, with the lids secured by four rubber straps. They have lid seals, a drain plug, concealed handles and hinged lids are an option (standard on the 75 and 130 litre units).
Additional Information
75 and 130 litre Cool Bins – The compact size of these insulated cool bins make them ideal for many commercial, domestic and industrial applications. They have hinged lids and an optional tray.
250 litre Cool Bins – Designed for the transport/storage of smaller loads where space and ease of handling are primary concerns. Options include a trolley base and hinged lid. This bin is forklift compatible.
Pallet size Cool Bins – Primarily designed for transporting seafood and meat. These units are ideal for large volume/quantity applications. They are forklift compatible and bins with suffix "R" are 4 way access that allows them to be rotated.
The products are manufactured from rotationally moulded food grade Polypropylene and High Density Polyethylene.  These products meet the requirements AS2070-1999 Plastics Materials For Food Contact Use.
Click the PDF button to learn more.
Product Variations
Image
Description
Product Code
Price (excl. GST)

Insulated Bin 75 L NO Tray
900 x 550 x 380mm External l x w x h

SE936C

Insulated Bin 130 L NO Tray
900 x 550 x 550mm External l x w x h

SE1140C

Tray for insulated bin 75L/130L and E0936 Utility Box

SE938BL

Insulated Bin 250 L with Lift Off Lid
1260 x 690 x 695mm External l x w x h

SE947

Insulated Bin 250 L with Hinged Lid
1260 x 690 x 695mm External l x w x h

SE947H

Insulated Bin 500 L 2 way
1170 x 1140 x 820mm External l x w x h

SE1191

Insulated Bin 500 L Rotatable (4 way)
1170 x 1140 x 820mm External l x w x h

SE1191R

Insulated Bin 750 L 2 way
1170 x 1140 x 980mm External l x w x h

SE764

Insulated Bin 750 L Rotatable (4 way)
1170 x 1140 x 980mm External l x w x h

SE764R

Insulated Bin 1000 L SQUAT 2 way
1457 x 1170 x 1000
mm External l x w x h

SE1206

Insulated Bin 1000 L SQUAT Rotatable (4 way)
1457 x 1170 x 1000
mm External l x w x h

SE1206R

Insulated Bin 1000 L 2 way
1740 x 1040 x 1090mm External l x w x h

SE1192

Insulated Bin 1000 L Rotatable (4 way)
1740 x 1040 x 1090mm External l x w x h

SE1192R

Insulated Bin 1700 L 2 way
2250 x 1140 x 1060mm External l x w x h

SE1224