Pallet fork
Pallet forks are an essential piece of equipment in any workspace, warehouse or factory that uses and moves around pallets.
There are a wide variety of pallet fork attachments out there all ranging in height, width, weight, carrying capacity, material and application of use. Even the number of 'forks' can vary with some pallet forks boasting just two prongs and others with up to 5.
Pallet forks are mostly made from high quality steel, including the ones here at Materials Handling.
Find out more about our range of pallet forks and hooks today!
What sizes do pallet forks come in?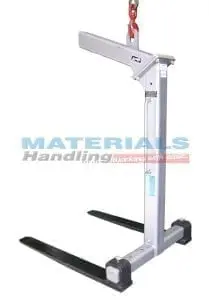 Pallet forks come in a wide range of sizes. The general industry standard of carrying capacity is somewhere between 1,400 and 3,000 kilograms. 
Depending on what sort of material and loads you're moving and transporting, will determine which kind of pallet fork is right for you.
How wide is a pallet fork?
Small pallet forks generally start at around 1,200 millimetres in width, while the larger models can get to twice that at 2,400 millimetres width. 
When you're choosing the right pallet fork for your particular application make sure you consider the layout and space of not just your pallets but your worksite. You will need to be able to easily manoeuvre the pallet fork through the space.
How to choose the right pallet fork?
Standards
The first thing to do when choosing your pallet fork, is to conduct due diligence on the supplier. Make sure the manufacturer of the fork meets all of the required industry standards including:
Take the time to discuss their quality control processes and measures before you buy. Ask them about the materials they use, the inspections they carry out and more.
Rating
All pallet forks should come with an individual rating. This rating will give you an indication of what sort of work it is capable of doing safely. Part of this rating will include whether it is 20-inch or 24-inch load centre rating. It's really important that the pallet fork you choose meets the rating requirements of the job at hand. 
Quality
Your pallet fork is likely going to be subject to extensive use so you need to be reassured that your equipment will be able to last and be durable under the wear and tear.
Speak to the experts
The best way to make sure you choose the right pallet fork is by speaking to the experts. The team here at Materials Handling are always available to speak to you about any questions, concerns or applications. So get in touch with our team today!