Move people with Domino
With several technological advancements, The Domino Stair Climbing Robot is now able to assist people up and down staircases. Aptly named the Domino People, this device equips the same traditional features of the stair climbing robot but with an ability to support personnel.
As a new type of stair climber, the Domino People comfortably carries both motorised and hand-operated wheelchairs for the elderly and disabled. This device is the perfect electric solution for people with impaired mobility. It can easily negotiate staircases of all types without the passenger having to leave the wheelchair.
Using three puncture-resistant wheels, the stairclimber glides up and downstairs and over slopes. It also has two independent motors that allow the portable unit to change direction and conquer any elevation, even spiral staircases.
Using state-of-the-art technology, the robot automatically tilts to ensure its passenger remains secure at all times. This leaves the operator to steer the device using the joystick and the rider to feel comfortable during use. Still included are the Domino People's innovative crawler track system that provides a strong grip on staircases, making transportation safe and effortless. The tracks work independently to ensure maximum stability on stairs of any height and material.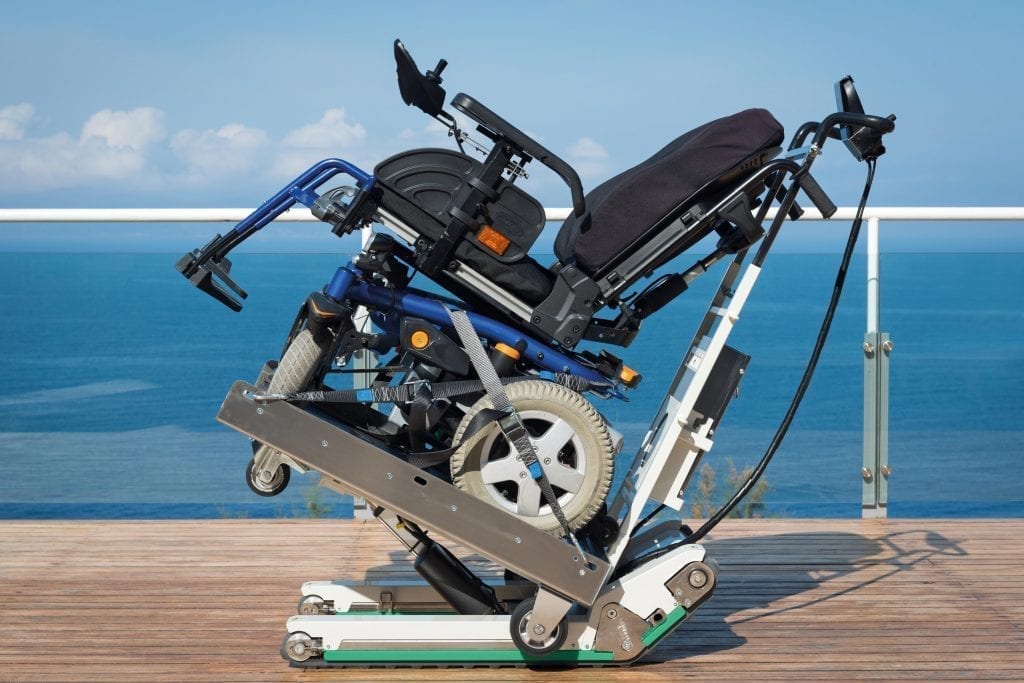 Compared to other traditional fixed stairlifts, Domino People wins out with its flexibility and convenience. This all shown in its many incredible safety features, as its independent high-performance tracks for both indoor and outdoor use, and how the device can be used and stored away as required. In situations where no elevator or lift is available, Domino People is the perfect solution as it doesn't require anything fixed to operate. It doesn't interfere with any existing building infrastructure.
Two models are available. The biggest Domino People can carry both manual and electric wheelchairs weighing up to 400 kg. The Slim version is narrower and designed to carry manual wheelchairs weighing up to 160 kg.
Domino People can be customised to suit differing needs and requirements.
Learn more about the wide range of features included in the new Domino People and start 'working with ease…'.