Stop the pandemic this World Day for Safety and Health
Tuesday, 28 April marks the World Day for Safety and Health at Work and Workers' Memorial Day. In light of recent events and the COVID-19 outbreak, 2020's theme aims to promote safe work practices to save lives and stop the pandemic.
Recognising the great challenges faced by governments, employers, workers and societies, this day will focus on addressing the outbreak of infectious diseases at work and what businesses can do to ensure strict hygiene practices. It will also aim to raise awareness in the adoption of safety and the vital role that Occupational Health and Safety plays in any organisation.
In the last couple of months, organisations have rapidly changed. Under new work health and safety regulations, employers have a duty of care for the safety of their workers. Such duty extends to managing their risk of exposure to the coronavirus. Some practices that can be quickly employed include:
Ensuring good hygiene and cleanliness in the workplace;
Implementing physical distancing;
Using personal protective equipment as appropriate;
Ensuring employees stay home if sick or present any contagious symptoms;
Support and protect vulnerable workers;
Stay up to date with relevant information and statistics; and
Keep things in perspective for mentally healthy employees.
At Materials Handling Pty Ltd, the organisation already puts safety at the forefront of its business practices, taking great pride in controlling risks through its safety management system, adhering to relevant Australian and International safety standards and regularly maintaining hygiene processes in their offices and warehouse areas.
With World Day for Safety and Health at Work and Workers' Memorial Day in full swing, everyone is encouraged to take reasonable precautions and raise awareness where they can.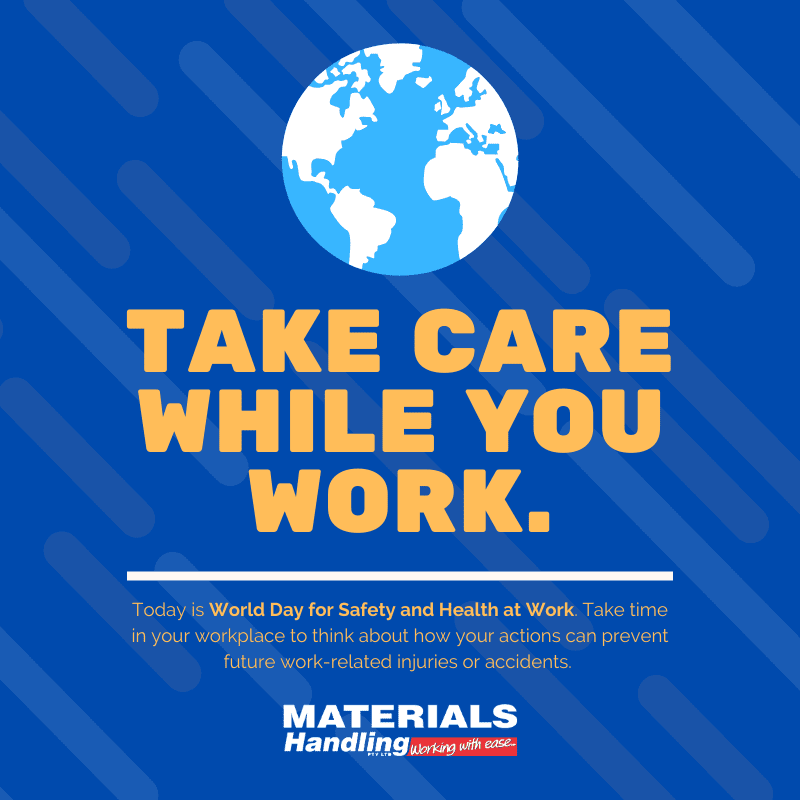 To get involved, ensure your workplace is promoting the importance of Work Health and Safety physically and virtually, view information for workplaces on COVID-19, share relevant information with colleagues and friends or host a workplace meeting about safety.
For more information on managing the risks of COVID-19 and work health and safety, visit Safe Work Australia's website. Materials Handling Pty Ltd also offers an extensive range of Workplace Safety Solutions to minimise workplace injuries or accidents.