VacuBoy 90 Degree Lift and Tilt
+ Add to Quote Request
VacuBoy 90 Degree Lift and Tilt easily lifts and tilts products from horizontal through 90 degrees to the vertical. It handles aluminium, plastic and steel plates, scaled and corroded steel sheets, chequer plate, glass and window panes, stone slabs, laminated boards, sandwich panels and much more, without damage. VacuBoy is easy to control via the ergonomic handle with push buttons for the tilt function and safety monitoring of the vacuum release.
The suspension point is adjustable to accommodate the dynamic load throughout the tilting arc. The lifter is painted safety yellow and is supplied with an integrated safety vacuum tank and safety monitoring system. The adjustable and articulated suction plates can be isolated for even more flexibility. The oil less vacuum pump means low maintenance and secure holding of the work piece.
Additional Information
Options are an optical warning system, higher pump efficiency, holder for pendants, variable length main and cross beams, integrated crane controls, automatic suction and release controls and water separator for moist or wet work pieces.
Ask our sales facilitators to recommend a unit to suit the application.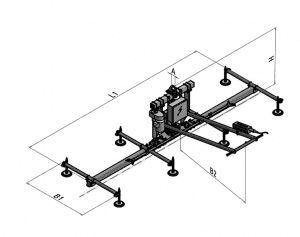 Product Variations
Image
Description
Product Code
Price (excl. GST)

Capacity (kg) 2000/1000
Model VB100M/12-90E
Suction Plates 12 x FSRL 280

L32020003

Capacity (kg) 2000/1000
Model VB100M/12-90E
Suction Plates 12 x FSL 290

L32020004