Sentry Mezzanine Safety Gate
+ Add to Quote Request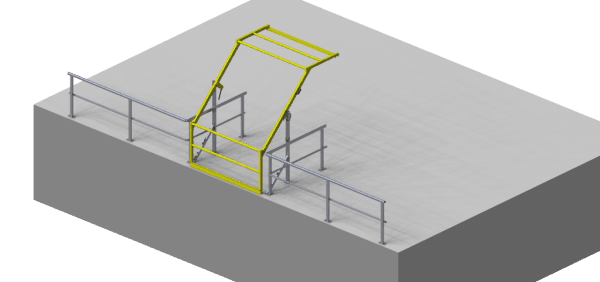 The Sentry Safety Gate provides controlled and safe access to elevated mezzanine levels and work areas. Utilising a gas strut lift, this pallet loading gate protects workers from falls and ensures the safety of operations in any loading dock area. With a lightweight and high strength aluminium design, this gate restricts danger zones and eases processes.
Each Safety Gate is finished in a high-alert safety yellow for optimum visibility. Supplied in a modular, flat-packed kit, the gate structure can be rapidly assembled and quickly installed. Two versions are available to suit varying requirements, including a single pallet MGW392 model and a dual pallet MGW393 wider version.
The Sentry Safety Gate provides effective fall protection for all personnel and ensures safe loading/loading of palletised components on mezzanine levels.
Additional Information
Protect workers in your loading dock area with the Sentry Mezzanine Safety Gate. 
This safe loading gate structure protects employees and workers against potential falls. The system includes gas strut operation and a toe board attachment if required. Side protection guardrails can also be combined with the gate to provide further protection along edges or either side of the safety gate. All components have been designed in accordance with relevant Australian Standards and OHS Codes of Practice/Guidelines.
Features: 
Swing gate design with toe board and supports.

Ensures a high level of safety and fall protection for workers operating in danger areas.
Lightweight, aluminium design that is durable and strong.
Modular construction; supplied as a flat-pack kit that can be quickly assembled and installed (also ensures economical transport).
Finished in a safety yellow colour for optimum visibility.
Innovative gas strut lift that is easy to operate and can be locked into place via a locking pin.
Two models are available to suit requirements including a s

ingle 2000 mm wide model and a dual pallet 3000 mm wide option.

Designed to conform with Australian Standard (AS1657 Fixed Platforms, Walkways, Stairways and Ladders) and relevant statutory OHS Codes of Practice/Guidelines.
MGW392 Specifications: 
Opening Width – 2000 mm
Opening Height (Gate Open) – 2420 mm
Gate Support Height – 1700 mm
Guardrail Height Above Floor (Gate Closed) – 1000 mm
Swing Gate Weight – 20 kg
Gate Supports Weight (x 2) – 19 kg
Fixings –

Timber Fixing – 9.5 mm Strap Toggle
Concrete Fixing – M12 Mechanical Concrete Anchor
Metal Fixing – M12/40 mm structural bolt and nut set.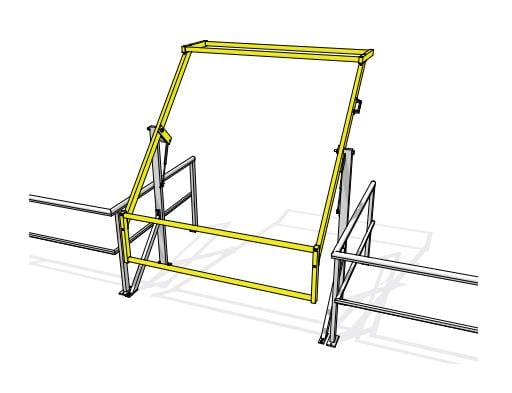 Optional wider model available MGW393 with an Opening Width of 3000 mm and overall weight of 38 kg, as well as 2000 mm long side handrails MGW1. The Sentry Mezzanine Safety Gate does not provide fall protection on two sides, and should such protection be required, additional handrail system would require installation separately to the gate.
Looking for something else?
View our wide selection of Safety Barriers and Gates to find another great solution.
Click the PDF button to learn more.
Product Variations
| | | | | |
| --- | --- | --- | --- | --- |
| | Sentry Mezzanine Safety Gate one pallet wide | MGW392 | | |
| | Sentry Mezzanine Safty gate two pallet wide | MGW393 | | |
| | Side handrail 2000mm long (1 side only) | MGW1 | | |