Quikstak Semi-Electric Stacker
+ Add to Quote Request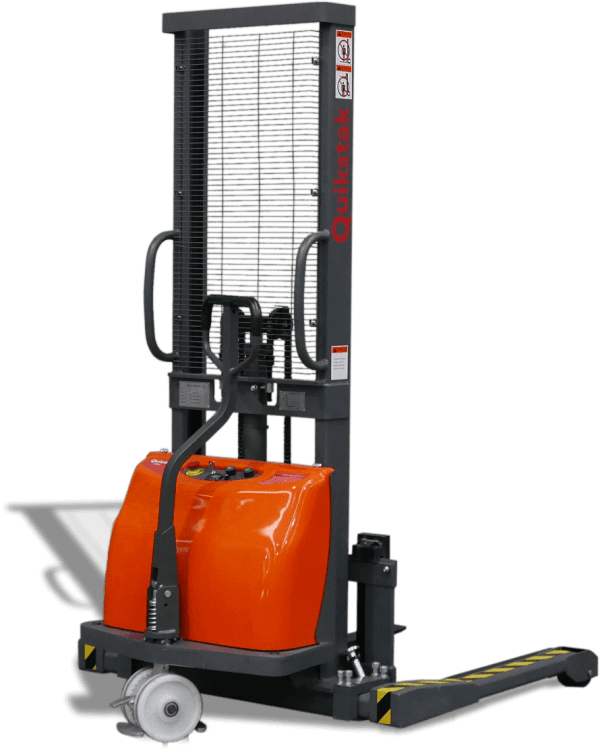 The Quikstak Semi-Electric Stacker is an automatic pallet stacker with a huge difference. Built with an innovative design, the device combines effortless movement with an extensive lifting capacity (of 1000 kg). It lifts to 1600 mm as standard, however, the unit can be customised to lift up to 3000 mm.
The Quikstak S10 range can also be fitted with an optional Magic-Eye infrared sensor system. This allows the unit to automatically detect the working height during stacking. The unique functionality automatically adjusts the Quikstak forks to maintain an ergonomic and safe working height. The Magic-Eye benefits any operator immensely, as it removes excessive manual handling strains and improves loading/unloading procedures. 
As a whole, the Quikstak is an ingenious solution that features a range of safety benefits. It is reliable, complies with relevant safety standards and is a trusted brand for many industries.
Additional Information
Introducing the Quikstak S-Series…
Quikstak S10 Semi-Electric Stackers are equipped with a range of safety features!
The device is supplied with a standard 'easy-roll' nylon steered wheel, which helps control travel direction. It can be used indoors, outdoors and across uneven surfaces. A fascia panel assists operation with lifting, lowering, emergency stop, battery indicator, key switch and hour-meter controls. Under the hood, the S10 Quikstak is fitted with a sealed gel battery and hydraulic mechanisms. Both the forks and straddle legs are adjustable to suit a range of pallet sizes.
Overall features include:
1000 kg rated load capacity
Standard lift height 1600 mm, optionally adjusted to 2500 or 3000 mm
Built-in limit switch and overload protection valve
Optional magic-eye infrared load height adjustment for stacking
Built in accordance to international quality and safety standards
Robust manual tiller and large mast-mounted grab handles
Fascia-mounted control panel with raise/lower buttons, emergency stop trigger, battery indicator, key-switch to turn on device and hour-meter
Electronic control unit
24 V / 120 Ah battery with built-in charger
Forged forks with an adjustable width (from 295 – 930 mm)
Straddle legs with adjustable width from 1132 – 1532 mm; ideal for tight aisles in warehouses
Large diameter steered rear wheel for easy movement across any surface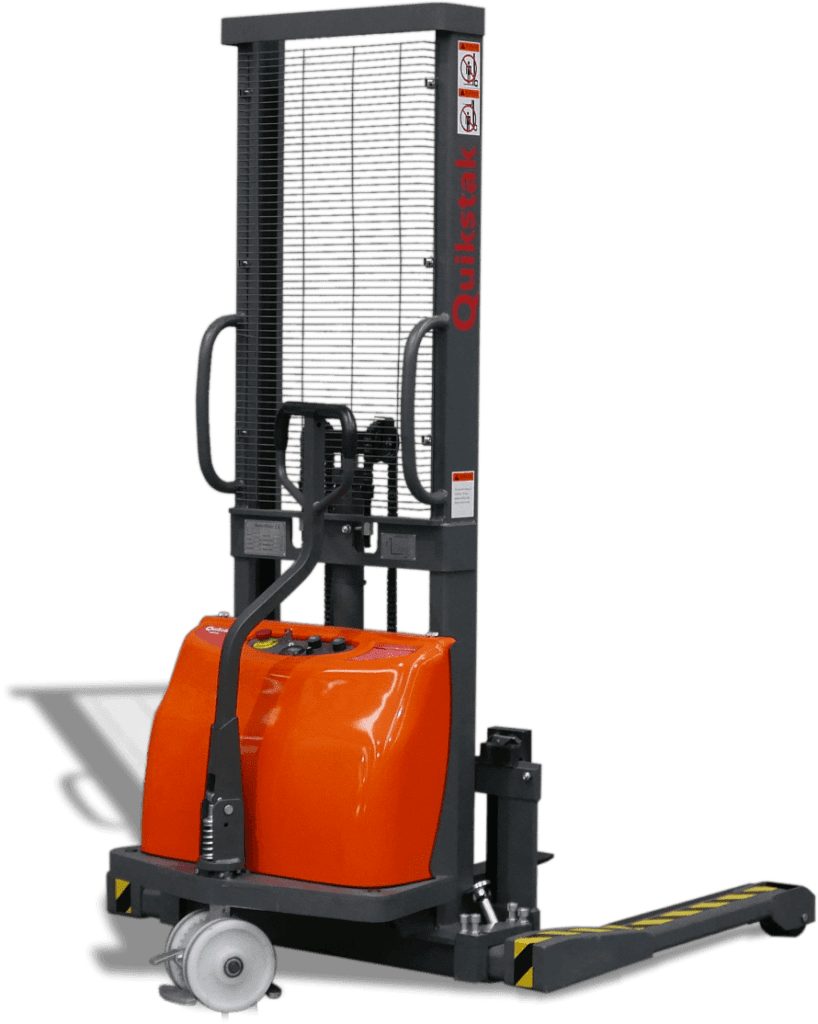 Magically upgrade your Quikstak!
The Magic-Eye Infrared Sensor is a unique addition to any Quikstak model. With a patented and original design, it uses infrared sensors to automatically adjust the fork height, while a product is being loaded/unloaded onto pallets. This ensures the operator is not exposed to manual handling injuries like over-reaching, bending and lifting. The Magic-Eye increases productivity and efficiency in the workplace. Its safety benefits outweigh other options on the market, as it works with layers as thin as 5 mm (like sheets of plywood and glass).
A great range with the Quikstak S10.
| | | | | | |
| --- | --- | --- | --- | --- | --- |
| Code | Magic-Eye | Lift Height | Capacity | Length | Width |
| S1016A | Yes | 1600 mm | 1000 kg | 1735 mm | 1132 – 1532 mm (adjustable) |
| S1016B | No | 1600 mm | 1000 kg | 1735 mm | 1132 – 1532 mm (adjustable) |
| S1025A | Yes | 2500 mm | 1000 kg | 1735 mm | 1132 – 1532 mm (adjustable) |
| S1025B | No | 2500 mm | 1000 kg | 1735 mm | 1132 – 1532 mm (adjustable) |
| S1030A | Yes | 3000 mm | 1000 kg | 1735 mm | 1132 – 1532 mm (adjustable) |
| S1030B | No | 3000 mm | 1000 kg | 1735 mm | 1132 – 1532 mm (adjustable) |
View our alternative Electric Stackers for another solution to pallet loading and unloading. Featuring the same benefits as the S10 Series, the SP10 and SP15 Series features an innovative power drive.
Click the PDF button to learn more.
Product Variations
Image
Description
Product Code
Price (excl. GST)

Quikstak Semi-Electric Stacker
1600mm lift height with magic-eye
1000kg capacity

S1016A

Quikstak Semi-Electric Stacker
1600mm lift height
1000kg capacity

S1016B

Quikstak Semi-Electric Stacker
2500mm lift height with magic-eye
1000kg capacity

S1025A

Quikstak Semi-Electric Stacker
2500mm lift height
1000kg capacity

S1025B

Quikstak Semi-Electric Stacker
3000mm lift height with magic-eye
1000kg capacity

S1030A

Quikstak Semi-Electric Stacker
3000mm lift height
1000kg capacity

S1030B