MatHand Dock Scissor Hoists
+ Add to Quote Request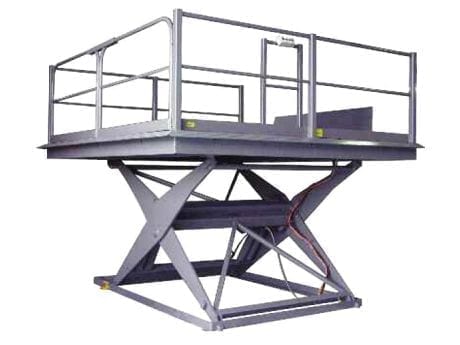 Our MatHand Dock Scissor Hoists provide a safe and efficient means of transferring loads between an elevated dock, a truck and levelled floors. Available with either a surface mounted or flush pit mounted construction, these units are incredibly durable and robust.
Dock Scissor Hoists can be edge-mounted, recessed into a dock face or used where there is no elevated dock. These Hoists play an extremely important role in loading dock safety. Such devices bridge the gap between link delivery drivers and unloading/loading vehicles safely. They ensure these task can be performed safely and securely.
MatHand Dock Scissor Hoists are the perfect solution for workplaces with large variations in vehicle heights at the loading dock. Keep browsing our range and view some of our other container loading and unloading devices. 
Additional Information
MatHand Dock Scissor Hoists are used in a variety of industries. 
Because of their versatile nature, these products are available in various configurations (of differing capacities and sizes). They can be fully customised to suit many requirements and a wide range of applications. Currently, MatHand Scissor Dock Hoists have been adopted in retail, warehousing and residential industries. They are ideal for loading/unloading groceries, bulky goods, equipment and wheeled items like pallet jacks, trolleys and wheelie bins.
Dock Scissor Hoists can be customised to your workplace requirements!
Depending on the actual conditions and requirements, the hoist platforms can be fitted with handrails, boom gates and manual or powered bridge plate ramps to span the gap between the end of the truck and the platform.
Vertical operation of the platforms is done at the press of a low voltage press button without exertion, requiring only minimal training. Interlocked boom gates can be fitted to the upper dock level to safely protect personnel when the platform has left that level.
Because of the collapsed height of surfaced mounted units, they may require an access ramp for loading/unloading at the bottom level.  The surface mount is the perfect solution if sub-surface conditions dictate that a pit is not feasible.
MatHand Dock Scissor Hoists are manufactured in a range of sizes and permutations to suit the general conditions of facilities in Australia.  It is most likely that an ideal unit can be specified, engineered, manufactured and installed to suit any existing and planned future requirements. No pit is required with low profile platform variations.
Not sure if this solution suits you?
View our 800 mm and 1600 mm travel Compact Goods Hoists that can be used in dock access applications.
Click the PDF button to learn more.