Galvanised Security Storage Cabinets
+ Add to Quote Request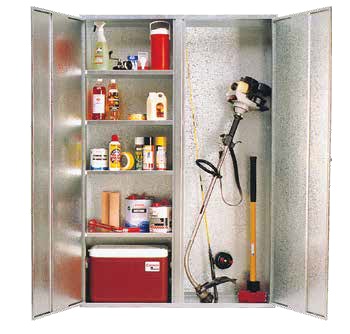 Protect and store your tools, uniforms and equipment with our Galvanised Security Storage Cabinets. A cost-effective and efficient solution for keeping workshop necessities secured, these lockers are available in various configurations to suit any workplace,
Made with a heavy-duty, corrosive-resistant galvanised finish, the cabinets are strong and dependable. They feature a vermin-proof, lockable design and have strong L-shaped handles for easy opening. As a versatile solution, the cabinets comply with relevant Australian Standards for safety and quality.
Additional Information
Lockable Galvanised Security Storage Cabinets protect clothing and equipment. 
A strong and safe solution for securing items, these lockers are ideal for keeping bulky, heavy, tough and valuable items locked away. Featuring a high resistance to corrosion, Galvanised Security Storage Cabinets are suitable for storing hazardous substances as well. These are a cost-effective and versatile storage option, with custom-built options available.
Features: 
Lockable heavy-duty design, with optional vertical storage spaces (for mops, brooms, shovels, etc.).
Lockable doors.
High resistance to corrosion.
Vermin-proof.
Multiple level storage (including base) depending on model.
Made in Australia.

Looking for something else?
View our wide range of Dangerous Goods Stores to protect your workplace.
Click the PDF button to learn more.
Product Variations
Image
Description
Product Code
Price (excl. GST)

Half width cabinet 5 shelf levels
17555x615x380mm (HxWxD)

S92315

Half width cabinet 5 shelf levels
17555x615x530mm (HxWxD)

S92318

Half width cabinet no shelves
17555x615x380mm (HxWxD)

S91315

Half width cabinet no shelves
17555x615x530mm (HxWxD)

S91318

Shelves half width 5 levels & broom cabinet
1755x855x330mm (HxWxD)

S91001

Shelves half width 5 levels & broom cabinet
1755x1155x330mm (HxWxD)

S91005

Shelves half width 5 levels & broom cabinet
1755x855x530mm (HxWxD)

S91055

Full width shelves 5 levels 2 doors
17555x855x330mm (HxWxD)

S92001

Full width shelves 5 levels 2 doors
1755x1155x380mm (HxWxD)

S92005

Extra large 5 levels 2 doors
17555x1155x530mm (HxWxD)

S92055

Counter height cabinet half width shelf
3 levels
1125x855x330mm (HxWxD)

S91211

Counter height cabinet half width shelf
3 levels
1125x1155x380mm (HxWxD)

S91215

Counter height cabinet half width shelf
3 levels
1125x1155x530mm (HxWxD)

S91218

Counter height cabinet full width shelf
3 levels
1125x855x330mm (HxWxD)

S92211

Counter height cabinet fullf width shelf
3 levels
1125x1155x380mm (HxWxD)

S92215

Counter height cabinet fullf width shelf
3 levels
1125x1155x530mm (HxWxD)

S92218