EPJ Mounted Vaculex Vacuum Order Picker
+ Add to Quote Request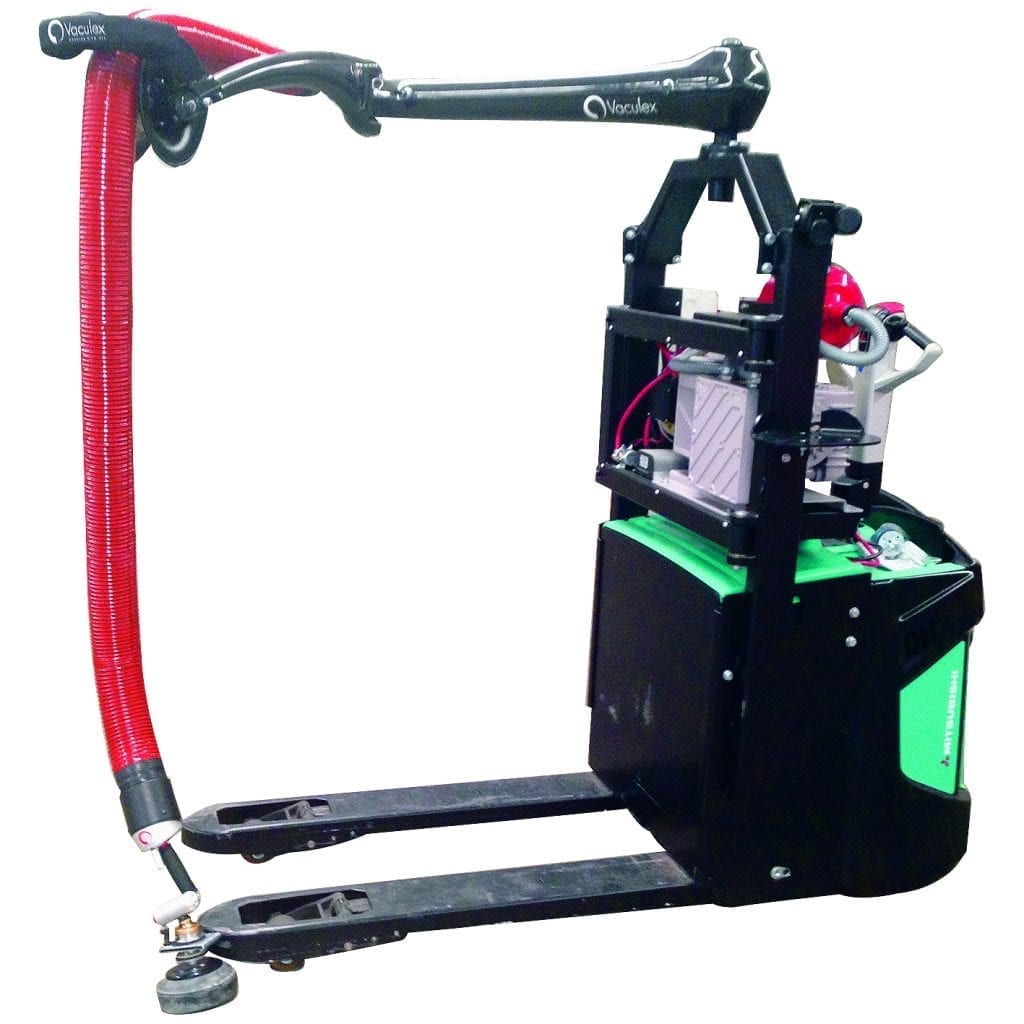 Using vacuum lifter to pick from pallet racking? We've got you covered! Introducing the groundbreaking Electric Pallet Jack (EPJ) Mounted Vaculex Vacuum Order Picker.
Here at Materials Handling, we have developed a unique and ergonomic handling device to eliminate manual handling in Warehouse and Distribution Centres. There are many organisations seeking to improve their workplace processes and improve their manual handling and lifting efforts. Our EPJ Mounted Vaculex allows you to safely and easily pick products from pallets on the floor level of pallet racking.
We have also developed a version to unload goods from shipping containers without effort.
This device is not just a mobile handling device. It is designed to extend under the racking beam and over the pallets on the floor. A truly innovative device developed with futuristic technology and the highest efficiency in mind.
Additional Information
How does it all work?
We have designed a single-handed, effortless, battery operated vacuum lifter attached to an EPJ (electric pallet jack). It utilises the technology of Vaculex Vacuum Tube Lifters specifically developed for express parcel baggage handling.
Vaculex are accepted as the number one solution for logistics and distribution centres and airport baggage handling solutions worldwide. Their systems are completely modular, allowing for much needed versatility in an organisation to mould a unit to specific requirements.
This EPJ Mounted Vaculex utilises a unique patented Vaculex TPH solution. The key is the horizontally retracting lift tube to reduce the headroom. The Vaculex TPH allows a complete lift stroke of 1600mm and when mounted to the futuristic carbon fibre articulated arm the handling solution is first class- like a balloon on a string! There is no effort involved and little resistance when in operation.
It is so easy to use and can help you pick products from floor level!
See the videos as proof of its simple operation and learn the true meaning of working with ease!
EPJ Mounted Vaculex Drawings and Additional Specifications: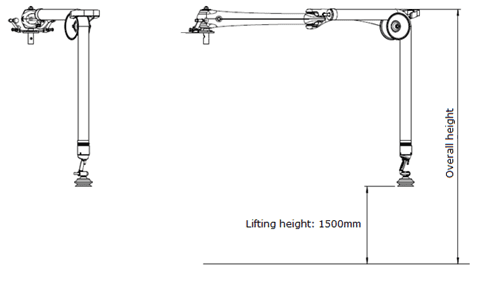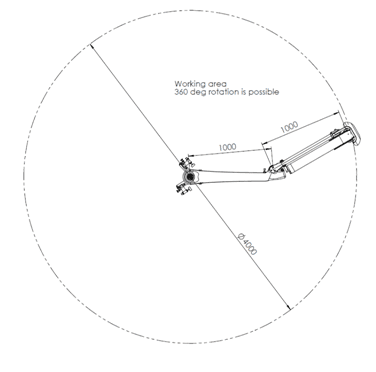 EPJ Mounted Vaculex Exclusive Features:
Vaculex 100mm lift tube with horizontal retraction over TPH roller
Articulated Carbon fibre jib crane AC402R (own mass 8.8kg)
Working radius 2000mm with endless 360-degree endless slewing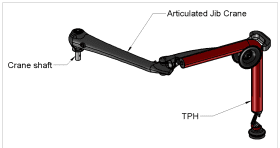 Vaculex TP Control Unit
Single hand ergonomic control
Fitted with a suction head to suit your application
Max capacity 40kg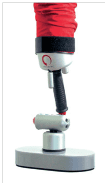 Vacuum Pump 2.2kW, 24VDC
Mounted on-board pallet truck with hinging frame for maintenance
Vaculex filter canister for protection from dust and debris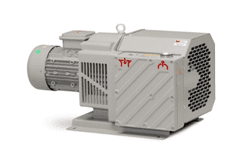 Parking Station
Locating plate to rest suction cap and secure with magnets
Conveniently located push button start/stop enclosure
Proximity sensor for safety and energy saving
Adjustable timer cuts power supply to pump if inactive for a period of time
Interlock with drive function to prevent movement unless Vaculex is parked
Benefits of the EPJ mounted Vaculex
There are many benefits to using an EPJ Mounted Vacuum Order Picker. Not only does it improve handling and lifting techniques, but it also allows your operators to achieve more in their day.
Single handed operation
This device is twice as efficient. Designed for easy and fast single hand operation, mounted Vaculex models allow for simple movement and effective parcel handling.
Ergonomic handling
The Electric Pallet Jack (EPJ) Mounted Vaculex Vacuum Order Picker brings an innovative new design to the table offering unrivalled ergonomic handling. Ideal for frequent use, workers will find operating and moving the Vaculex around the workplace easier and more intuitive than any other similar handling system.
Workplace safety compliant
Completely safe to operate, the EPJ mounted system is 100% compliant with occupational workplace health and safety standards. Functions like the proximity sensor add to the extra safety and security on offer with this technology.
Improve manual handling efficiency
We're not just talking about easier manual handling and lifting in your warehouse and worksite, we're talking about end-to-end increases in efficiency. It's never been easier to do more by doing less. Whether your team is picking up items directly from the floor or from pallets are various height levels, improve your manual handling efficiency with the Vaculex.
Less effort required
This innovative device allows you to lift more and handle with care for streamlined distribution. With models to suit unloading contents and goods in a variety of applications, there's an effective solution for any manual handling operation you need.
Extend over pallets
The arm fully extends under a racking beam and over pallets on the floor. This means that if you need to reach to get parcels, boxes and goods, you don't have to exert yourself at all. It's easy to use and simple to operate, especially when picking orders in any working environment.
State-of-the-art technology
We know how frustrating unreliable technology can be. Designed and manufactured using state-of-the-art equipment, Vaculex technology offers unrivalled handling operation in the market. Materials Handling is the trusted supplier of a range of well known brands and companies, and our EPJ mounted Vaculex is no different from our other high quality and completely dependable recruitment.
Battery operated
Boasting high powered battery operation, the Vaculex is guaranteed to keep pace with your team. Combine this with an adjustable timer to ensure the power supply is cut after a specified period of inactivity, it's a safe, efficient solution for all sorts of handling applications.
Floor level manual handling
Many similar systems offer constrained or limited functionality and movement. The Vaculex from Materials Handling couldn't be more different. With floor level manual handling functions there's nothing you won't be able to reach and lift with our vacuum system.
Intuitive control unit
It's no good having a vacuum picker if you don't know how to operate it! Fortunately, the control unit on the Vaculex is completely intuitive and easy to use. Your workers will find operating the system simple and hassle-free from the very beginning.
Robust design
Thanks to a considered design and filter canister, the Vaculex is completely protected from dust, debris and other particles that might be flying around your warehouse or worksite. This keeps its internal components free of obstructions and prevents any loss in functionality or efficiency.
Energy saving
The proximity sensor offers even more than just safety features: The energy saving functionality allows you to really get more bang for your buck bringing down your energy costs and improving your environmental footprint.
Want to see more?
View the same Vaculex technology being used on ParceLift Intelligent Lifters for Telescopic Conveyors. Alternatively, view our entire Vaculex range.
Product Variations
| | | | | |
| --- | --- | --- | --- | --- |
| | EPJ mounted Vaculex | LVAC | | |