Car Stacker Parking and Storage Systems
+ Add to Quote Request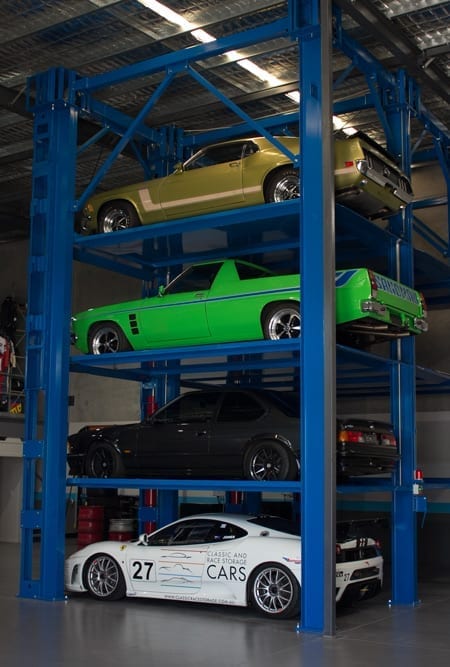 Materials Handling P/L supplies, installs & services mechanical car stackers, car elevators, auto parking lift systems & turntables for vehicle storage & display. With over 3 decades of experience in the handling and specialty storage business, we strive to meet parking space requirements with our standard car stacker models and major under-ground and above-ground & Puzzle, auto retrieval, parking systems tailored to customer requirement.  Our range includes both dependant stackers (a car may have to be moved to retrieve the other) or independent stackers (provide access to both the top and bottom vehicles, allowing the top car to be retrieved without having to move other vehicles). We boast our unique quality control systems and on time delivery history & excellent warranty. Our capabilities are also our ability to design and supply turn-key, fully automated parking solutions on any scale. These stackers are an efficient, safe & most effective way to multiply the number of parking areas available. The 3 & 4 high stackers can triple or quadruple the capacity of typical parking areas. They are widely used in car dealerships, car auction storage, public & commercial parking areas. With the escalating cost of real estate, these devices provide a great ROI (return on investment). Do your own sums. It will surprise! 
We an also supply customized car turntables with a variety of surface options, within the following parameters:
Diameters 1.2 to 35 metres – Speed 0.2-2 rpm – Capacities 1 to 20 tonne.
Our car stackers have structural and mechanical certification as per the requirements of AS1418.1/.8 and associated standards.
See below for individual PDF's on the models noted in red.
Additional Information
View the wide range of Car Stacker Parking and Storage solutions!
We provide a range of systems to assist a variety of requirements in many varying workplaces. These solutions are engineered to accommodate both above and below ground installations. They include:
Two Post – Low Headroom Version
2 Tonne
Model TPTP-2
Two Post – Standard Version
2 Tonne
Model 1127
Smart Stacker – Independent 2-Car Stacker
2 Tonne
Model DFF
Four Post – Heavy-Duty Version
3 Tonne
Model 2130
Four Post – Heavy-Duty Version
3.6 Tonne
Model 2236
3 and 4 High – For multiple bay installations and vehicles
3 Tonne
Model 3130 and 3230
Puzzle Lift – Fully Automated
Above and below ground, multi-directional movement
Model BDP
Pit Lift – Underground Stacker
2-Level
Model Pit Lift, 2-Level
Pit Lift – Underground Stacker
3-Level
Model Pit Lift, 3-Level
Car Elevator – Floor to floor
2 tonne to 10 tonnes
Models FP-VRCE (four posts) and S-VRC (scissor)
Fully Automated
Parking towers for a small footprint parking solution
Model Puzzle Automated
Robot AGV – Automated Guided Vehicle
Car parking and retrieval system
Model PXD-YF
Vehicle Turntables
For moving cars with ease
Model CTT
Video coming soon!
A range of supporting User Guides, Drawings and Specifications can be downloaded from the link above.
Looking for another storage solution? 
View our entire range of Storage Equipment and see how we will have you 'working with ease…'.