Car Stacker Parking and Storage Systems
+ Add to Quote Request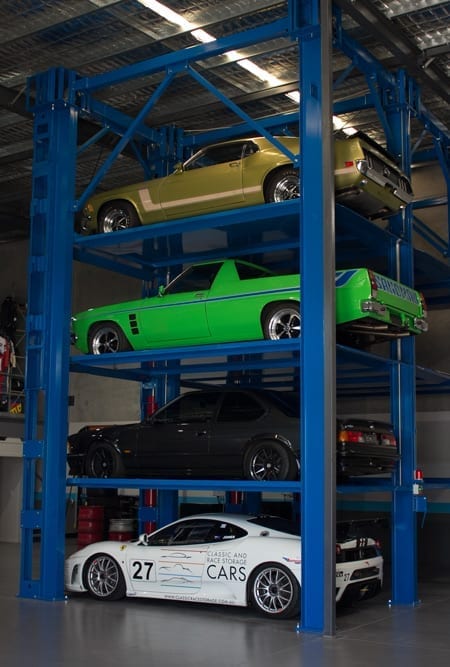 We supply, install and service mechanical car stackers, car elevators, auto parking lift systems and turntables for vehicle storage and display. With over three decades of experience in materials handling and specialty storage, we strive to enhance parking space requirements. Our wide selection of Car Stackers offers major underground, above-ground, puzzle, and auto-retrieval parking systems tailored to customer specifications.
Our range includes both dependent stackers (where a car may have to be moved to retrieve the other) or independent stackers (a system that provides access to both the top and bottom vehicles, allowing the top car to be retrieved without having to move other vehicles). We boast our unique quality control systems and on-time delivery history with an excellent warranty.
Please Note: We only provide systems for commercial and industrial facilities. Due to minimum order quantities, we do not supply or service domestic installations.
See individual PDFs below or view videos of each model (park numbers noted in blue).
Additional Information
Increase safety, security and storage with our Car Parking Systems. 
With our Car Parking Stackers and Systems, we can design and supply turn-key, fully automated parking solutions on any scale. These car stacking machines are an efficient, safe and effective way to multiply the number of parking areas available. The 3 & 4 high car stackers can triple or quadruple the capacity of any typical parking areas.
Such systems are widely used in car dealerships, car auction storage, public and commercial parking areas. With the escalating cost of real estate, these devices provide a great Return On Investment (ROI). They feature structural and mechanical certification as per the requirements of AS1418 and associated standards.
Explore our car stacker storage systems
We have a variety of car stacker systems to suit all situations. From low headroom options to independent 2-car storage systems, heavy duty versions, 4-high multiple bays, pit mounted stackers, turntables and fully automated options. Here are some of the key points of these different car storage system options.
Two Post Car Parking Lift – Low Headroom car stacker
The advantages of this low headroom two post car parking lift are numerous. One standout feature is its low operational costs, as a result of using gravity to drive the platform downwards, rather than electricity. This means that your power bills will be greatly reduced when compared to many other models. Another cost-saving benefit is that the upright posts can be shared when multiple stackers are installed side by side. This can benefit the area when space is limited.
Another benefit of this low headroom car stacker is the hydraulic driving mode that provides smooth and rapid parking and retrieval of the cars. If there is an electricity blackout, you can still retrieve the stacked cars by simply using the manual override. Safety is assured due to the extremely strong structure of this stacker and the installation of dynamic locking tabs on the posts to protect the cars from accidental damage. Built under the CE standard and with more than 10 safety features, this is one of the safest car stackers on the market.
The two post car parking lift is protected by professional packaging during transit and the delivery process is managed by our experienced logistics team. With a detailed installation manual and explicit instruction video, setting up this two post car parking lift is very simple, requiring no special knowledge or skills.
Features for this car park stacker include:
Specialised design to suit low ceiling heights and maximise vertical space.
10 degree tilting platform.
Dual hydraulic lifting cylinders enabling direct drive for added convenience and ease.
Electric key operation for security, safety and peace of mind.
Automatic shut-off occurs if the key switch is released by an operator.
Can be operated through both electrical and manual locks.
Intricately engineered mechanical anti-falling lock on the top position for additional safety.
Protected from overloading or exceeded capacity by the hydraulic system.
Produces an exceptionally low amount of noise.
Simple operation and installation to ensure efficient use.
Two Post Car Parking Lift – Standard car storage system
The advantages of this standard two post car parking lift make it an extremely popular option with both residential owners and commercial operators – although it's more often purchased for personal use. That's because this is an ultra-quiet car stacker with buffered hydraulic cylinders that hardly make any noise when the cars are stacked or retrieved. It's also very easy to use, because all you need to do is simply turn the key switch on the control panel and it's ready for operation.
The popularity of this two post car parking lift with homeowners is also due to the fact that the lifting height can be adjusted to allow for ceiling height limitations. The quality of workmanship on this standard car stacker is also second to none, due to the entire structure being cut by laser with more than 60% welded by robotic equipment. This precision manufacturing process offers a trouble-free car stacker that's designed for both function and appearance. It also comes with a premium powder coating finish as a standard feature.
This standard two post car parking lift is also very safe and extremely reliable to operate, due to a double safety feature, which includes a limit switch on the post and an anti-drop device. With part of the structure already pre-installed at the factory, installation of this standard car stacker is a stress-free process. This car stacker is also available in different finishes and a waterproof treatment, as additional options.
Features for this car park stacker include:
Robust design for durability and reliability in commercial and industrial use.
Galvanised platform ensures long term operation without compromising structural or mechanical integrity.
Deck is corrugated and made from anti-slip material for increased protection for both vehicles and drivers.
The hydraulic power pack and control panels are housed individually for seamless operation.
Anti-corroding pole with piston to offer long term viability and operation.
Assured platform balance thanks to a synchronised chain.
Innovative middle post sharing feature to save space and reduce costs.
Symmetrical design for aesthetic and functional purposes.
Operational without going under the platform thanks to a special control arm design.
Electric key switch offers safety and security.
Automatic shut-off feature if key switch is released.
Manual lock release.
Platform height is adjustable to suit a variety of vehicle sizes.
Smart Stacker – Independent 2 car option
This independent stacking solution is ideal for large spaces, but where you want to load and unload a vehicle to the upper level without needing to remove the car on the ground level. For this to happen, the upper level of the car stacker reverses, then travels down to the ground and rotates 90 degrees. The car can then be retrieved and a new vehicle loaded, raising up to its original position.
Four post – Heavy duty stacker
These heavy duty dependent car stackers are suitable for sedans and small SUVs and have a loading capacity of 3000 kg. The four posts give them the extra strength to park and retrieve heavier or wider vehicles on the higher level and it can fit cars to a height of 2100 mm on the ground level (heights of 2700 mm can also be accommodated as an optional extra). These are high-end units for big cars and are also available in a 3600 kg version for even bigger vehicles.
Features for this car park stacker include:
Structure is self-standing and self-supported.
Industry-grade design and fabrication for heavy duty use.
Hydraulic cylinder and steel chains drive system designed for large vehicles.
Increased safety with a double chain design.
Button switch release triggers automatic safety shut-off.
Diamond steel plate is of a high quality for durability.
Hydraulic system is high precision and highly stable.
Enhanced safety features.
Three and four high – Multiple bay options
These dependent car stackers are four post systems that can store three or four cars, one on top of the other. They can also be stacked side by side using shared posts, so that each additional side stack has two posts, whilst being attached to two of the posts of the previous stack. They are ideal for auction houses, dealerships and parking units, however, if the raised cars need to be retrieved, all lower stacked vehicles need to be removed first. With a loading capacity of 3000 kg on each platform, these systems are ideal for sedans, SUVs, vans and pickup trucks.
Features for this car park stacker include:
Designed for commercial use with durable and high quality materials.
Structure is self-standing and self-supporting.
Multiple configuration compatible: can be used as a stand alone structure or in combinations of rows.
Chocks included for both front and rear wheels.
All steel ropes boast a capacity that is seven times the industry rated capacity.
Electric key switch control designed for optimal safety and security.
Manual lock can be released by a handle.
Powered by independent electric-hydraulic pump units.
Hydraulic system features a protection against overloading.
Key switch release engages an automatic shut-off for added safety.
Single hydraulic cylinder and heavy duty steel lifting cable ensures smooth and safe operation.
Puzzle lifts – above and below ground stackers
These independent car storage systems can be installed above or below ground, as well as offering a combination option. Vehicles move side to side and up and down through the stacks automatically making it easier to load or retrieve vehicles. This is a fully automated system that restacks vehicles as necessary to maximise the use of space.
Features for this car park stacker include:
Design is commercial grade for durability and ensured safety with heavy usage.
Galvanised platform boasts a wave plate design for secure parking.
Capable of extending 15 levels above ground for sedans.
Capable of extending 5 levels above ground for SUVs.
Compatible with 3-level underground car park stackers.
Hydraulic cylinder operates with a steel rope drive for smooth, safe operation.
Hydraulic system includes overloading protection.
Lift speed is enhanced in both upwards and downwards directions.
Variable speed control through a patented hydraulic system.
Central hydraulic power pack and control panel.
Pit lifts – 2 or 3 level underground stackers
When you don't want a parking garage above ground, the solution is a pit lift. These independent car storage solutions are available in 2 or 3 levels, stacking each car above the other, but underground, rather than above ground. Upper cars need to be removed first, however, before the lower cars can be retrieved. They are suitable for limited spaces, where there isn't sufficient room to store more than one car in a given space.
Get in touch to find the right car park stacker for you
If you need assistance in finding the right car park stacker to suit your commercial or industrial needs, contact us today.
Car & Truck Turntables
Turntables can be supplied with customised features and surface options, within the following parameters:
Diameter of the table (from 1.2 to 35 metres)

Turning speed (0.2-2 RPM)

Capacity from 1 ton to 20 tonne

Rotation 90, 180, 360 degrees
Car elevators – moving from floor to floor
With a specially reinforced platform, these elevators are strong enough to lift all types of vehicles, even forklifts from one floor to another. They are ideal for dealerships, auction houses and commercial buildings. With a maximum lift of 12 meters and capacities that range from 2000 kg to 10,000 kg, they are suitable for a variety of applications where vehicles are moved from one floor to another.
See our Car Stacker Parking and Storage solutions in action!
We provide a range of systems to assist a variety of requirements in many varying workplaces. Many of our solutions are engineered to accommodate both above and below ground installations. Browse our varying designs, shown below.
Two Post – Low Headroom Version
2 Tonne
Model TPTP-2
Two Post – Standard Version
2 Tonne
Model 1127
Smart Stacker – Independent 2-Car Stacker
2 Tonne
Model DFF
Four Post – Heavy-Duty Version
3 Tonne
Model 2130
Four Post – Heavy-Duty Version
3.6 Tonne
Model 2236
3 and 4 High – For multiple bay installations and vehicles
3 Tonne
Model 3130 and 3230
Puzzle Lift – Fully Automated
Above and below ground, multi-directional movement
Model BDP
Pit Lift – Underground Stacker
2-Level
Model Pit Lift, 2-Level
Pit Lift – Underground Stacker
3-Level
Model Pit Lift, 3-Level
Car Elevator – Floor to floor
2 tonne to 10 tonnes
Models FP-VRC (four posts) and S-VRC (scissor)
Fully Automated Puzzle Stacker
Park and retrieve automatically
Model Puzzle Automated
Robot AGV – Automated Guided Vehicle
Car parking and retrieval system
Model PXD-YF
Puzzle Parking Systems (PPS)
Park and retrieve automatically
Model PPS
Vehicle Turntables
For moving cars with ease
Model CTT
A range of supporting User Guides, Drawings and Specifications can be downloaded by the PDF link above and below.
Looking for another storage solution? 
View our entire range of Storage Equipment and see how we will have you 'working with ease…'.