Automated Guided Vehicles – AGV – For Heavy Loads
+ Add to Quote Request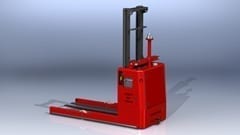 Solving AGV Movers are designed for continuous industrial operation, for moving heavy loads, up to 160tonne, long distances and serving automated production processes. Control systems are usually fitted with a graphic PC display with an integrated memory for registering tasks and events to assist fault finding. Customised, fully-automated, driverless vehicles for continuous 24/7 operation in factories and warehouses, capable of transporting loads of up to 160 tonne.  Programmable and adaptable for future expansion. These  AGVs are based either on air flotation bearings or on wheels.
All servicing points are easily accessible and the latest computer technology advises operators of maintenance requirements. Automated Guided Vehicles (AGV) are used for heavy load handling such as paper rolls, steel coils and in motor assembly lines. AGV systems allow an efficient and modern way of transporting heavy materials in production processes and assembly lines.
Advantages
Integral safety systems such as bumpers, lights and emergency stops
Efficient and continuous operation, 24-hours a day
Less material-damage due to safe and precise handling
A clean and safe working environment
Unmanned operation reduces the labour costs
Monotonous labour can be avoided
For details on air skate systems that move loads up to 1000 tonne, please view our Air Film Movers.
To view more videos on Air Film Movers & AGV's click here
To view photo gallery & industries that use Air Film Movers click here