Airport Baggage Handling with Vaculex
+ Add to Quote Request

Vaculex vacuum lifters are an ideal solution for baggage handling in airports and cargo terminals.
It is a known fact that a huge number of items are handled at airports every day and these tasks are completed manually. Injuries can result from repetitive stress, manual handling and incorrectly moving heavy objects. Vaculex Vacuum Lifters are a proven solution that are specifically designed for airports and baggage handling. They help eliminate manual handling injuries from any workplace.
Ergonomic Vacuum Lifting increases productivity, efficiency and minimises strains/injuries. Our Vaculex baggage handling solutions can be installed and used virtually anywhere. Even narrow spaces with low headroom are covered. Where there is a need for an intelligent lifting device – Vaculex has the solution for you.
Additional Information
It's an arduous and potentially unsafe task, when moving thousands of pieces of luggage and baggage worldwide. Unloading and loading bags for hours can cause fatigue and employee health risks (like bad posture or musculoskeletal disorders).
Use Vaculex when handling Airport Baggage.
Vaculex has simplified this process and reduced the effort required with manual handling. Baggage becomes almost weightless, as it can be moved into position with a single hand that engages the vacuum lifting device. Independent ergonomics analysis shows that the risk for personal injury can be decreased by up to 80% by using Vaculex Airport Baggage Handling solutions. When it comes to Airports we have a number of solutions available.
We have options to assist in operations at airports and relative industries. With a variety of methods to assist in the handling of heavy objects, you can guarantee Vaculex will save you time and energy. Transform your processes into a seamless ergonomic vacuum lifting solution and reap the benefits. Some examples of these systems in action are below.
Loading Baggage from Chute to Open Cart
At many airports, checked baggage is dropped via an automatic conveyor chute for sorting. The luggage is then moved from this chute into carts or barrows, which are transported to an aircraft. These ergonomic lifting systems easily handle heavy bags. Even the most inconvenient and limited working spaces can benefit from these devices. See the Vaculex TP and Traversing Jib Crane in action.
Moving Baggage from Open Cart to Conveyor
When it's time to unload baggage from an aircraft, items are loaded onto carts that are transported to terminals for passenger collection. In a terminal luggage will be loaded between carts and conveyor systems. Our specially developed lifting systems are ideal for high work loads and bags up to 45 kg. View operators using the Vaculex TP partnered with our smart lightweight crane.
Baggage Handling within Checked Baggage Reconciliation Areas
Baggage that is suspicious is diverted to a Checked Baggage Reconciliation Area (CBRA) and must be lifted/moved for screening (prior to luggage being transferred to outgoing conveyor). Vaculex specially designed vacuum lifting solutions for this area to enable transferring and lifting of bags without injury. With consideration to confined spaces, tight working heights and building columns (requiring flexibility), Vaculex improves productivity within airport processes.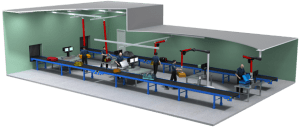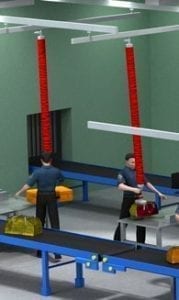 The most common solution from Vaculex, ideal for areas with a normal ceiling height. The Vaculex TP and Bridge Crane is being used in this depiction.
Vacuum Lifting for Air Cargo Handling 
We provide solutions for building and breaking down air cans as well as the loading and unloading of containers. Vaculex has developed lifting systems to specially move air cargo parcels between ULDs (Unit Load Devices). Moving cargo between pallet type of ULDs (PAG, PYB etc) or open type container ULDs (AKH, AAX) and loading or Unloading Large Container type of ULDs (AMJ, AAX, AAC, AMX, AML, AMJ, AAA, AMD).
Vaculex also provides solutions for Parcel Carriers that can be utilised for Air Cargo Handling. These solutions assist in loading/unloading trailers, as well as incoming and outgoing parcels. With Vaculex lifting systems, there's no need for a strong working force with exceptional high stamina, as the cargo becomes almost weightless and can be moved with one hand.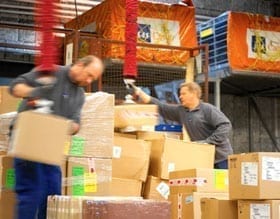 Moving Air Cargo between Pallets or Containers
It is a serious and heavy burden loading and unloading ULDs manually. Such activities cause a lot of stress on the body and can lead to serious injuries. Vaculex has developed a number of solutions to facilitate this problem and ease the handling of goods between ULDs. With focus on the two major types of ULDS – Pallet and Container – Vaculex lifting was able to move goods between devices and reduce manual labour.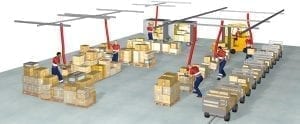 Want to know more?
Vaculex has been implemented in airports across the globe. One of the most recent case studies is with Air Canada. The company wanted to improve their baggage handling processes and reduce injuries in the workplace. Learn more about how Vaculex helped them solve their problem and see the video of Air Canada's first day on the job. Also, download the Airport Technology Special Report by Vaculex, "Next Generation Lifting Solutions for Future Airport Baggage Handling Operations". 
We have a huge range available to you!
To view our Vaculex products, follow the links below:
Vaculex is so light and easily managed. Working speed and productivity within a workplace are maintained, and in many cases increased. Your satisfaction is our responsibility. Our approach is to deliver turnkey solutions where we undertake every step from evaluation, design, installation, training and after sales servicing. Can it be any easier? Please contact our Sales Facilitators for advice and sales.