A-Justa-Foot Equipment Feet
+ Add to Quote Request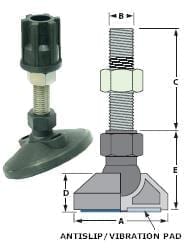 A-JUSTA-FOOT are adjustable feet or legs for levelling all sorts of equipment. They are best suited for commercial, workshop or food industry applications. They are a multi-adjustable pedestal foot, which comes in a variety of models – ball jointed, bolt down, fixed., with or without rubber feet. They are available with steel plated or stainless steel studs.A range of tube adaptors for square or round tube are availale with either stainless or mild steel inserts.
In some sizes a fixed, non-pivoting stem is available.  However, longer stem versions can be supplied if an larger adjustment is required.
Bolt down feet (pads) can be added for additional security and the A-Justa-Foot features specially designed rubber inserts to prevent machinery from moving.
Product Variations
Image
Description
Product Code
Price (excl. GST)

Tube End SQ M/S 19 x M8

AF10/19/M8

Tube End SQ M/S 25 x M10

AF10/25/M10

Tube End SQ M/S 25 x M12

AF10/25/M12

Tube End SQ M/S 25 x M16

AF10/25/M16

Tube End SQ M/S 25 x M8

AF10/25/M8

Tube End SQ M/S 30 x M10

AF10/30/M10

Tube End SQ M/S 30 x M12

AF10/30/M12

Tube End SQ M/S 30 x M16

AF10/30/M16

Tube End SQ M/S 30 x M8

AF10/30/M8

Tube End SQ M/S 32 x M10

AF10/32/M10

Tube End SQ M/S 32 x M12

AF10/32/M12

Tube End SQ M/S 32 x M16

AF10/32/M16

Tube End SQ M/S 32 x M8

AF10/32/M8

Tube End SQ M/S 35 x M10

AF10/35/M10

Tube End SQ M/S 35 x M12

AF10/35/M12

Tube End SQ M/S 35 x M16

AF10/35/M16

Tube End SQ M/S 35 x M8

AF10/35/M8

Tube End SQ M/S 38 x M10

AF10/38/M10