Step Stools
+ Add to Quote Request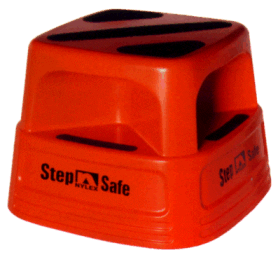 Everyone wants to go about their busy day without taking unnecessary risks. Our range of safety step stools, ensure that you can safely reach for high places. They are proven performers in heavy traffic areas such as libraries, supermarkets, factories and offices. The wide base platforms together with the non-slip steps mean your foot stays where you put it! Anti-skid pads are fitted for extra safety on slippery floors. They come in an extremely visible and safe colour range and are extremely robust. There is a stainless steel version suitable for labs, pharmaceutical, food and clinical areas.
The MWP500 Extra Heavy Duty platform weighs 12kg and has been load tested to 500kg. It is a sturdy UV stable, non-corrosive, moulded, non-slip tread, with handles for easy mobility, making it ideal for mining, earthmoving and transport applications.
View our range of Step Ladders and Stools to see another great solution.
Product Variations
Image
Description
Product Code
Price (excl. GST)

Jumbo poly stool with retracting castors – yellow
380mm top diam
360mm high

MJS150

Square Step Up Step Stool – Orange
370mm square top diam
370mm high

MSSU-ORA

Square Step Up Step Stool – Yellow
370mm square top diam
370mm high

MSSU-YEL

Plastic stool with retracting castors
406mm top diam
330mm high

M2523

Poly stool with retracting castors
315mm top diam
395mm high

MTS150

Giant step stool
750 x 480 x 460mm high
Weight 12kg

MWP500

Metal stool with retracting castors
280mm top diam
355mm high

SBS6106

Plastic stool with retracting castors
280mm top diam
355mm high

SBS6107

Aluminium Step Stool
Chequer plate top 326mm SQ
370mm high

SST370

Aluminium Step Stool
Chequer plate top 326mm SQ
Adjustable Height 430-560mm

SST560

Folding aluminium step 600mm high
245 x 725mm top platform

SSAF600

Folding aluminium step 900mm high
245 x 725mm top platform

SSAF900

Kik stool steel Black w/retracting castors
290mm top diam
350mm high

SKS1001B

Kik stool steel Red w/retracting castors
290mm top diam
350mm high

SKS1001R

Kik stool steel Silvertone w/retracting castors
290mm top diam
350mm high

SKS1001S