Forklift Jibs – Angle Adjustable Short
+ Add to Quote Request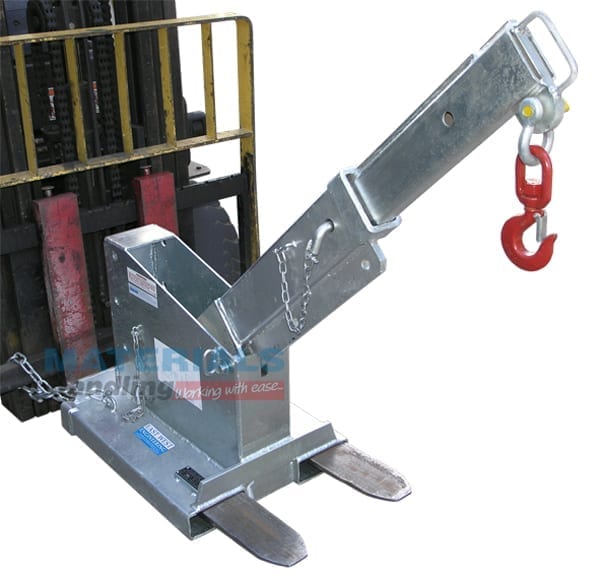 Our Short Tilt Jibs are an ideal forklift attachment that increase lifting capabilities and height. They are ideal for general maintenance activities and lifting applications in confined spaces. 
The slip-on Short Tilt Jib (code: MTJS25) instantly converts a forklift into a small crane suitable for delicate or oddly shaped goods. It features a tilt functionality that allows for extra height.  This compensates for the hook and sling length, which is lost when lifting with a jib attachment.
This unit can be fully extended to 2.02 metres and has a Safe Working Load limit of 2500 kg. Supplied as standard with a heavy-duty zinc plated finish.
Additional Information
Reach new heights with our Short Tilt Jibs for Forklifts!
This slip-on jib protects employees by aiding lifting tasks within workplaces.  It is held to the forklift via a safety chain and has a maximum height of 1.4 metres (that is gained when the tilt jib is fully extended). The overall length of of the jib when closed is 1.35 metres.
MTJS25 Short Tilt Jib Specifications: 
Safe Working Load (SWL) – 2500 kg maximum.
Unit Weight – 130 kg
Load Centre – 825 mm
Pocket Size – 185 mm x 65 mm
Pocket Centres – 362 mm
Horizontal C of G – 650 mm
Vertical C of G – 300 mm
For further lifting positions, extensions and Safe Working Loads (per position), please download the product specifications found above.
Need something other than Short Tilt Jibs?
Browse our Long Tilt Jibs that feature a reach of 3.58 metres when fully extended.
Click the PDF button to learn more.
Product Variations
| | | | | |
| --- | --- | --- | --- | --- |
| | Forklift Extension Jib with Tilt- 2.5T | MTJS25 | $2,050.00 | |