Scissor Grab Lifting Clamps
+ Add to Quote Request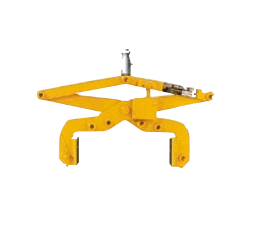 Our versatile Scissor Grab Lifting Clamps are used for a wide variety of lifting applications. Suspend from an overhead hoist and the gripping jaws engage the product from the sides. The heavier the load, the more gripping force is applied. A simple mechanism releases and closes the jaws for each lift cycle.
There are two styles of grippers to lift flat items, like cartons, or round grippers for products like cylinders. The lifting gap ranges shown below for the flat type show the largest gripping range. View the PDF below for all the other gripping ranges available.
Maximum load capacity of 125kg. See PDF specification sheet for more details.
Product Variations
Image
Description
Product Code
Price (excl. GST)

Scissor Grab flat type
180-205mm gripping range
60mm wide grip face

LSZ1201

Scissor Grab flat type
180-205mm gripping range
200mm wide grip face

LSZ1202

Scissor Grab flat type
275-340mm gripping range
60mm wide grip face

LSZ2341

Scissor Grab flat type
275-340mm gripping range
200mm wide grip face

LSZ2342

Scissor Grab round type
40-150mm diameter gripping range

LSZ1R15

Scissor Grab round type
100-300mm diameter gripping range

LSZ2R30

Crane hook adaptor with quick-release coupling
250kg capacity

L71833345

Crane hook adaptor with quick-release coupling
125kg capacity

L71833245

Open hook with quick-release pin
125kg capacity

L56569544

Swivelling load hook with quick-release pin
250kg

L83558444

Load hook with quick-release pin
250kg

L83566544

Scissor Grab replacement latch kit

L56563844