OZBIN Folding Pallet Bin
+ Add to Quote Request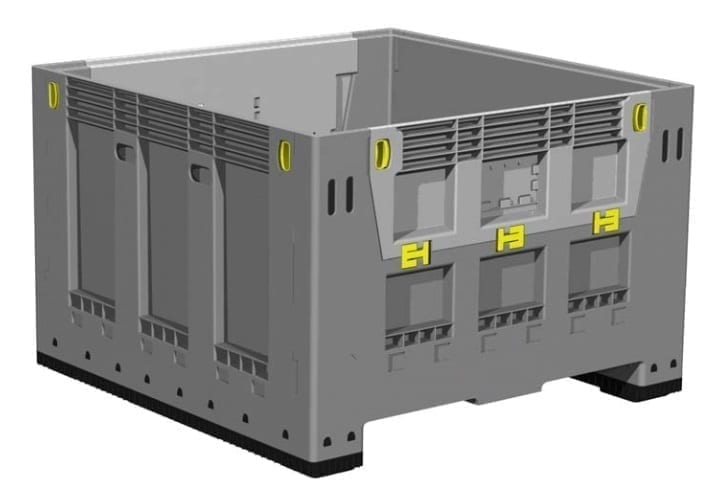 Our OZBIN Folding Pallet Bin offers a versatile and handy solution to storage and materials handling. It is a completely collapsible unit that is lightweight and easy to use. Overall the bin weighs no more than 50 kg and features the ability to be stacked (on top of one another).
Known as the OZBIN, it is available in either a solid or ventilated design. Its plastic construction ensures it is easy to clean, with rounded rims and corners for easy access. The Folding Pallet Bin also has two access doors. It can be collapsed or constructed according to your particular storage requirement.
The OZBIN has a volume capacity of 750 litres. Optional drop-on lids and vented sides are available.
Additional Information
The OZBIN is a great folding bulk storage solution!
Our Folding Pallet Bins are a reusable and beneficial materials handling solution. They offer a range of benefits that suit a number of food, pharmaceutical and industrial applications. The bins can be supplied as a solid unit or alternatively, with vented sides and base for air circulation. This makes them great for use with perishable items. They are efficient, convenient and incredibly useful. Optional lids are also available.
Specifications and Features:
Pallet Bin Weight – 48 kg (solid) , 47 kg (ventilated) or 44kg (half height)
Volume Capacity – 750 litres – half height 470 litres
External Dimensions (mm) – 1162 x 1162 x 780 (high) – half height 560 (high)
Internal Dimensions (mm) – 1090 x 1080 x 635 (high) – half height 400 (high)
Folded Height – 280 mm
Colour – Grey
Material – Polypropylene
Temperature Range – 

20°C to + 40°C

Load Capability – 500 kg (carrying); 3000 kg (static); 1000 kg (dynamic)
Load capacity (half height) – 450 kg (carrying); 2800 kg (static); 700 kg (dynamic)
Easy to clean with rounded edges and corners
Hygienic
Collapsible to save space
2 access drop gates – 860 wide x 300 mm high
Solid or Vented Designs
Optional lids and half heights available
Need other storage alternatives?
Continue browsing our extensive range of pallet bins.
Click the PDF button to learn more.
Product Variations
| | | | | |
| --- | --- | --- | --- | --- |
| | OzBin Folding pallet bin – solid sides | SOZBINS | | |
| | OzBin Folding pallet bin – vented sides | SOZBINV | | |
| | OzBin Folding pallet bin lid | SOZBINL | | |
| | OzBin Folding pallet bin – half height | SOZBINH | | |