Hand Trucks – Steel
+ Add to Quote Request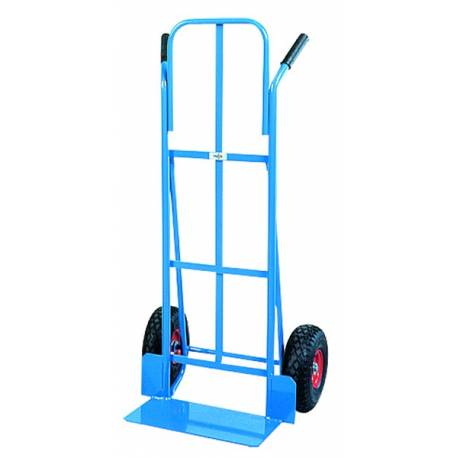 Lifting heavy objects can put strain the back and the shoulders. If you are walking while carrying a heavy load, your vision can be obstructed and this can trigger a fall which may mean severe injury. Our fabricated steel hand trucks are used to manage loads without damaging the body and they lower the risk of injury. Hand trucks are very cost effective and are generally deployed as warehouse supply carts to deliver and organise products whilst transporting materials from point to point. Our range includes light, medium and heavy duty hand trucks together with appliance and refrigerator trolleys that can transport heavy loads and some have stair climbing features.
The two Rotatruck models have a self-supporting, multi-directional, highly manoeuvrable four wheeled base, that increases productivity. The smaller 125mm Rotacaster wheels at the front gives the Rotatrucks greater leverage than traditional 2-wheelers, making it easier to
pull back, park, lever and balance loads.
Click here for:
A – Rotatruck LITE & PRO hand trucks
B – Rotatruck special purpose trolleys
C – Folding hand trucks
D – Powered hand/platform truck
E – Powered stair climbing trolleys
Product Variations
Image
Description
Product Code
Price (excl. GST)

Multi Purpose Hand Truck
Load capacity: 180kg
Handle height: 1255mm
Toe plate: 430 x 250mm
Wheel 250mm pneumatic

BFW70529

Multi Purpose Hand Truck
Load capacity: 180kg
Handle height: 1255mm
Toe plate: 430 x 250mm
Wheel 250mm puncture proof

BFW70530

P Handle Hand Truck
Load capacity: 200kg
Handle height: 1300mm
Toe plate: 430 x 250mm
Wheel 250mm rubber

BFW70534

Case & Crate Trolley
Load capacity: 200kg
Handle height: 1300mm
Toe plate: 485 x 230mm
Wheel 200mm pneumatic

BFW70559

Large Refrigerator Trolley w/ratchet strap
Load capacity: 220kg
Handle height: 1540mm
Toe plate: 455 x 185mm
Wheel: 150mm stairclimber

BFW70503

Large Refrigerator Trolley w/ratchet strap
Load capacity: 220kg
Handle height: 1540mm
Toe plate: 455 x 185mm
Wheel: 250mm pneumatic

BFW70504

Large Refrigerator Trolley w/ratchet strap
Load capacity: 220kg
Handle height: 1540mm
Toe plate: 455 x 185mm
Wheel: 250mm puncture proof

BFW70505

Small Appliance Trolley w/ratchet strap
Load capacity: 220kg
Handle height: 1540mm
Toe plate: 455 x 185mm
Wheel: 150mm stairclimber

BFW70509

Small Appliance Trolley w/ratchet strap
Load capacity: 220kg
Handle height: 1235mm
Toe plate: 455 x 185mm
Wheelr: 250mm pneumatic

BFW70510

Small Appliance Trolley w/ratchet strap
Load capacity: 220kg
Handle height: 1235mm
Toe plate: 455 x 185mm
Wheel diameter: 250mm puncture proof

BFW70511

Rotatruck beverage truck 250kg capacity
Frame Height: 1330mm
Frame Width: 510mm
Toe Dimensions: 510mm x 250mm
Frame Materials: Powder Coated Steel
Unit Weight: 22kg

BRC25

Rotatruck all terrain monster truck 350kg capacity
Frame Height: 1600mm
Frame Width: 660mm
Toe Dimensions: 550mm x 225mm
Frame Materials: Powder Coated Steel
Unit Weight: 27kg
Ratchet strap B9001 NOT included

BRC35

Ratchet Strap Load Restraint

B9001