Hand Chain Blocks
+ Add to Quote Request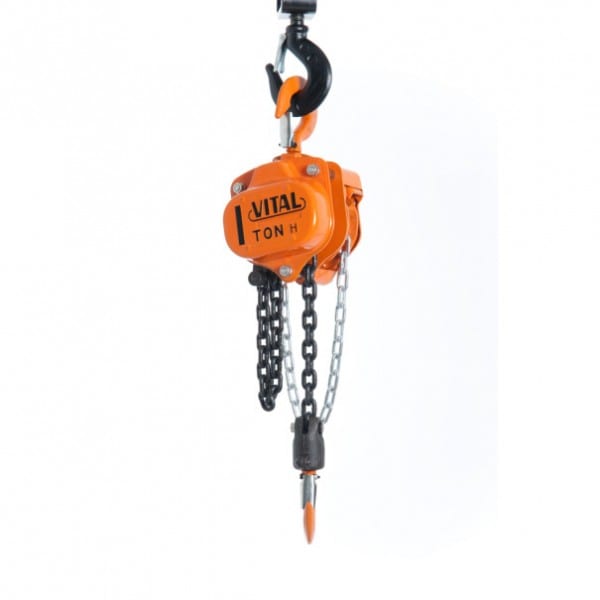 Vital Hand Chain Blocks are heavy-duty and have capacities from 0.5 to 20 tonne. Suited to many applications, they are commonly used in industrial, rural, construction and mining industries. Known for their high quality design, these chain blocks can be supplied with overload protection for added security.
All Vital models are manufactured in accordance with relevant Australian Standards. They are designed for long-term use and can also be supplied with as close or extra close coupled to girder trolleys, to alleviate headroom restrictions. Additionally, these chain blocks have a hardened alloy chain and quality caged needle bearings on load sheave. Furthermore, thrust bearings are on its bottom hook.
View our lightweight LCX Chain Blocks for an alternative lifting solution.
Product Variations
| | | | | |
| --- | --- | --- | --- | --- |
| | Vital 500kg Chain Blocks 3M with Overload | LVCB051 | | |
| | Vital 500kg Chain Blocks 6M with Overload | LVCB052 | | |
| | Vital 500kg Chain Blocks 3M | LVCB053 | | |
| | Vital 500kg Chain Blocks 6M | LVCB056 | | |
| | Vital 1000kg Chain Blocks 3M with Overload | LVCB101 | | |
| | Vital 1000kg Chain Blocks 6M with Overload | LVCB102 | | |
| | Vital 1000kg Chain Blocks 3M | LVCB103 | | |
| | Vital 1000kg Chain Blocks 6M | LVCB106 | | |
| | Vital 1500kg Chain Blocks 3M with Overload | LVCB151 | | |
| | Vital 1500kg Chain Blocks 6M with Overload | LVCB152 | | |
| | Vital 1500kg Chain Blocks 3M | LVCB153 | | |
| | Vital 1500kg Chain Blocks 6M | LVCB156 | | |
| | Vital 2000kg Chain Blocks 3M with Overload | LVCB201 | | |
| | Vital 2000kg Chain Blocks 6M with Overload | LVCB202 | | |
| | Vital 2000kg Chain Blocks 3M | LVCB203 | | |
| | Vital 2000kg Chain Blocks 6M | LVCB206 | | |
| | Vital 3000kg Chain Blocks 3M with Overload | LVCB301 | | |
| | Vital 3000kg Chain Blocks 6M with Overload | LVCB302 | | |
| | Vital 3000kg Chain Blocks 3M | LVCB303 | | |
| | Vital 3000kg Chain Blocks 6M | LVCB306 | | |
| | Vital 5000kg Chain Blocks 3M with Overload | LVCB501 | | |
| | Vital 5000kg Chain Blocks 6M with Overload | LVCB502 | | |
| | Vital 5000kg Chain Blocks 3M | LVCB503 | | |
| | Vital 5000kg Chain Blocks 6M | LVCB506 | | |
| | Vital 7500kg Chain Blocks 3M with Overload | LVCB751 | | |
| | Vital 7500kg Chain Blocks 6M with Overload | LVCB752 | | |
| | Vital 7500kg Chain Blocks 3M | LVCB753 | | |
| | Vital 7500kg Chain Blocks 6M | LVCB756 | | |
| | Vital 10000kg Chain Blocks 3M with Overload | LVCB911 | | |
| | Vital 10000kg Chain Blocks 6M with Overload | LVCB912 | | |
| | Vital 15000kg Chain Blocks 3M | LVCB913 | | |
| | Vital 15000kg Chain Blocks 3M | LVCB915 | | |
| | Vital 15000kg Chain Blocks 6M | LVCB916 | | |
| | Vital 15000kg Chain Blocks 6M | LVCB917 | | |
| | Vital 15000kg Chain Blocks 3M with Overload | LVCB918 | | |
| | Vital 15000kg Chain Blocks 6M with Overload | LVCB919 | | |
| | Vital 20000kg Chain Blocks 3M with Overload | LVCB921 | | |
| | Vital 20000kg Chain Blocks 6M with Overload | LVCB922 | | |
| | Vital 20000kg Chain Blocks 3M | LVCB923 | | |
| | Vital 20000kg Chain Blocks 6M | LVCB926 | | |