Chain Hoists – Manual Block
+ Add to Quote Request
Chain Blocks are suited to many applications, they are commonly used in industrial, rural, construction and mining industries. Known for their high-quality design, these chain blocks can be supplied with overload protection for added security.
All models are manufactured in accordance with relevant Australian Standards. They are designed for long-term use and can also be supplied with as close or extra close coupled to girder trolleys for low headroom applications.
The gear case and hand wheel cover are resistant to external shocks
Double enclosure helps prevent mud and dust from entering internal mechanisms
Double pawl spring for extra reliability
Also available with an overload limiter which prevents hoist overload and protects the operator
Fitted with a secure and reliable mechanical brake
The stopper prevents excessive lowering
Needle and ball roller bearings provide mechanical efficiency with minimum effort
Grade 100 load chain
Available in standard lift heights of 3m and 6m
View our heavy duty Hand Chain Blocks and our lightweight LCX Chain Blocks for an alternative lifting solution.
Additional Information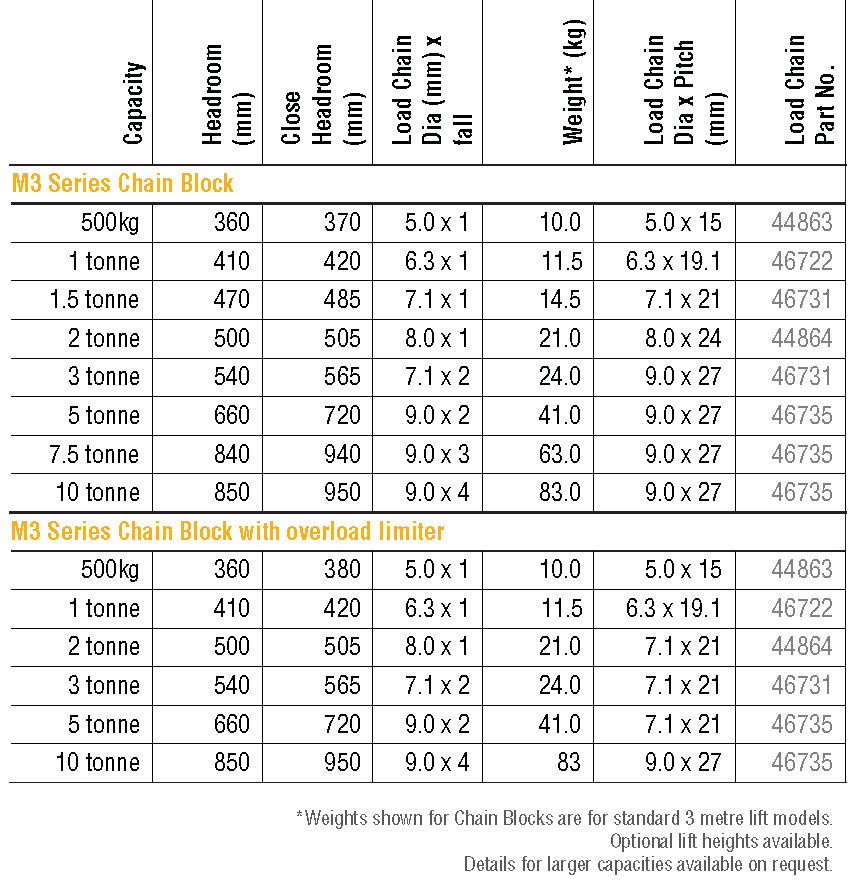 Click the PDF button to learn more.
Product Variations
| | | | | |
| --- | --- | --- | --- | --- |
| | M3 Series Chain Block 500kg 3M | LCB005 | | |
| | M3 Series Chain Block with Overload Limiter 500kg 3M | LCB005-OLL | | |
| | M3 Series Chain Block 500kg 6M | LCB005-6M | | |
| | M3 Series Chain Block with Overload Limiter 500kg 6M | LCB005-6M-OLL | | |
| | M3 Series Chain Block 1000kg 3M | LCB010 | | |
| | M3 Series Chain Block with Overload Limiter 1000kg 3M | LCB010-OLL | | |
| | M3 Series Chain Block 1000kg 6M | LCB010-6M | | |
| | M3 Series Chain Block with Overload Limiter 1000kg 6M | LCB010-6M-OLL | | |
| | M3 Series Chain Block 1500kg 3M | LCB015 | | |
| | M3 Series Chain Block 1500kg 6M | LCB015-6M | | |
| | M3 Series Chain Block 2000kg 3M | LCB020 | | |
| | M3 Series Chain Block with Overload Limiter 2000kg 3M | LCB020-OLL | | |
| | M3 Series Chain Block 2000kg 6M | LCB020-6M | | |
| | M3 Series Chain Block with Overload Limiter 2000kg 6M | LCB020-6M-OLL | | |
| | M3 Series Chain Block 3000kg 3M | LCB030 | | |
| | M3 Series Chain Block with Overload Limiter 3000kg 3M | LCB030-OLL | | |
| | M3 Series Chain Block 3000kg 6M | LCB030-6M | | |
| | M3 Series Chain Block with Overload Limiter 3000kg 6M | LCB030-6M-OLL | | |
| | M3 Series Chain Block 5000kg 3M | LCB050 | | |
| | M3 Series Chain Block with Overload Limiter 5000kg 3M | LCB050-OLL | | |
| | M3 Series Chain Block 5000kg 6M | LCB050-6M | | |
| | M3 Series Chain Block with Overload Limiter 5000kg 6M | LCB050-6M-OLL | | |
| | M3 Series Chain Block 7500kg 3M | LCB075 | | |
| | M3 Series Chain Block 7500kg 6M | LCB075-6M | | |
| | M3 Series Chain Block 10000kg 3M | LCB100 | | |
| | M3 Series Chain Block with Overload Limiter 10 tonne 3M | LCB100-OLL | | |
| | M3 Series Chain Block 10000kg 6M | LCB100-6M | | |
| | M3 Series Chain Block with Overload Limiter 10 tonne 6M | LCB100-6M-OLL | | |