De-Fence Safety Guarding
+ Add to Quote Request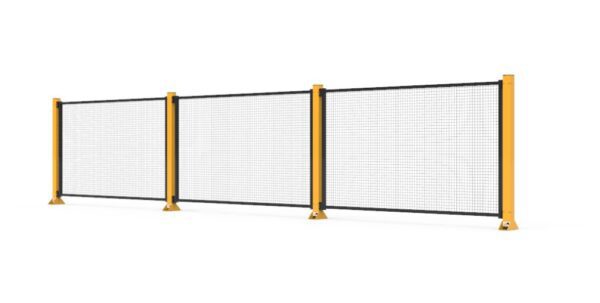 De-Fence barriers are a truly modular safety guarding system. Built to be easy to use, versatile, and adaptable, they suit a wide range of applications and easily configure to requirements. The multi-purpose system not only protects and directs both traffic and people away from hazards or harm, but it also safeguards valuable gear or expensive machinery. This means it suits applications like pedestrian management, forklift separation, machinery guarding and zoning of workspaces.
Several fencing arrangements may be produced using this system's mesh panel sizes, posts, and gates. Posts and panels can be mixed and matched to achieve the desired layout. The system is easy to install with basic tools and accessories. De-Fence can be extended, relocated, or even removed and replaced. It is made of steel and completed with a standard powder coat finish.
Additional Information
A modular guarding and fencing system. 
De-Fence Safety Guarding is the ultimate defence against unwanted hazards. As a panel system, it suits a variety of indoor and outdoor applications, including separating people from moving equipment like forklifts and serving as a safety guard for operating machinery. Compliant with Australian Standard AS 4024.1-2019, De-Fence posts are predrilled on all four sides, ready to accommodate standard panel brackets and accept two standard panels fitted above each other to achieve a vertical safety distance of 2410 mm.
Key Features:
Off the shelf standard panels, posts and accessories.
Ease of installation using basic tools.
Easily extended, relocated or removed and replaced.
All steel construction with standard powder coat finish.
Designed to comply with Australian Standard AS4024.1.
Suits a wide range of applications
De-Fence is adaptable and can be configured in a range of variations. This barrier system suits applications including machinery guarding, pedestrian control fencing, forklift separation, zoning of workspaces, quarantining areas, lockable stores, animal enclosures and automation work cells.
Strong and durable construction
The system has a variety of standard panel lengths ranging from 500 to 2000 mm, as well as welded mesh or polycarbonate infill and two post height options. The Steel Posts are made from RHS tubing, 75 x 75 x 2.5mm thick. They're pre-drilled on all four sides to accommodate steel brackets, and finished in a powder-coated, highly visible safety yellow. They come at two standard heights – 1300 and 2460 mm – with three different welded base plates to choose from.
Note: Single De-Fence and Double De-Fence are fully compatible with each other. Double De-Fence posts will also accommodate single De-Fence panels.
Specifications:
Posts:
Pre-drilled SHS in line and offset end posts.
Material – 75 x 75 x 2.5 mm SHS.
Base plate footprint – In-line post – 200 x 85 x 4 mm.
End post – 200 x 200 x 8 mm.
Finish – Yellow powder coat.
Height – 1300 and 2460 mm.
Width – 75 x 75 mm.
Weight – 7.4 kg (1300 mm high) and 12 kg (2460 mm high).
Installation – 2 off M12 Drop-in shell anchors. 2 off M12x30 Hex. head bolts with washers (Supplied).
Panels:
Modular steel mesh or clear polycarbonate.
Material – Mesh- 50 x 50 x 4mm.
Frame – 38 x 25 x 1.6 mm RHS.
Finish – Black powder coat.
Height – 1150 mm
Width –  2000,1700,1500,1200,1000,750 and 500 mm


Measured centre to centre of the 75mm posts, not the actual panels' width.

Installation –  panel brackets (ordered separately).
Brackets:
Panel to post connecting brackets. (4 types)
Material – 4 mm mild steel.
Finish – Black powder coat.
Weight – 300 grams (approx.)
Installation – 2 off M8x15 Hex, head bolts with washers (Supplied).
Note – Panel brackets are supplied with bushes, bolts and all necessary fittings.
Gates:
Swing gate openings – 1000 and 1500 mm for both the 1150 and 2300 mm high gates 

Sliding gate openings – 1000, 1500, 2000 and 3000 mm for the 2300 mm high gates
Need another fencing or guarding solution?
Browse our extensive range of Safety Barriers for ultimate workplace protection.
Product Variations
Image
Description
Product Code
Price (excl. GST)

De-Fence In-Line Post 75 x 75 x 1280mm – Powder Coated Yellow

DFP1300

De-Fence End Post 75 x 75 x 1280mm – Powder Coated Yellow

DFP1300E

De-Fence In-Line Post 75 x 75 x 2490mm – Powder Coated Yellow

DFP2460

De-Fence End Post 75 x 75 x 2460mm – Powder Coated Yellow

DFP2460E

De-Fence Standard Panel Bracket

DF-SPB

De-Fence Connector Bracket

DF-PCB

De-Fence Self-Closing Gate Bracket

DF-SGB

De-Fence Connection Pin with Bushes

DF-CP

De-Fence Gate Kick Plate 300 x 200 x 3mm

DF-GKP

De-Fence Security Lock-bolt

DF-LB

De-Fence Gate Stop

DF-GS

De-Fence lockable gate latch

DF-LL

De-Fence Panel Joiner – Aluminium Extrusion

DF-PJ

De-Fence Mesh Panel 1150 x 2000mm Post centres
– Powder Coated Black

DFP2000M

De-Fence Mesh Panel 1150 x 1700mm Post centres
– Powder Coated Black

DFP1700M

De-Fence Mesh Panel 1150 x 1500mm Post centres
– Powder Coated Black

DFP1500M

De-Fence Mesh Panel 1150 x 1200mm Post centres
– Powder Coated Black

DFP1200M

De-Fence Mesh Panel 1150 x 1000mm Post centres
– Powder Coated Black

DFP1000M

De-Fence Mesh Panel 1150 x 750mm Post centres
– Powder Coated Black

DFP750M

De-Fence Mesh Panel 1150 x 500mm Post centres
– Powder Coated Black

DFP500M

De-Fence Polycarbonate Clear Panel 1150 x 2000mm Post centres
– Powder Coated Black Frame

DFP2000P

De-Fence Polycarbonate Clear Panel 1150 x 1700mm Post centres
– Powder Coated Black Frame

DFP1700P

De-Fence Polycarbonate Clear Panel 1150 x 1500mm Post centres
– Powder Coated Black Frame

DFP1500P

De-Fence Polycarbonate Clear Panel 1150 x 1200mm Post centres
– Powder Coated Black Frame

DFP1200P

De-Fence Polycarbonate Clear Panel 1150 x 1000mm Post centres
– Powder Coated Black Frame

DFP1000P

De-Fence Polycarbonate Clear Panel 1150 x 750mm Post centres
– Powder Coated Black Frame

DFP750P

De-Fence Polycarbonate Clear Panel 1150 x 500mm Post Centres
– Powder Coated Black Frame

DFP500P