Antistatic Bonding Wires
+ Add to Quote Request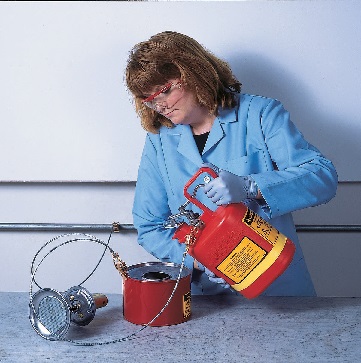 Prevent sparks from static electricity generated by the movement and flow of flammable liquids. Our Antistatic Bonding Wires are effectively grounded, removing static electricity completely.  This product aims to dissipate any electricity that can be generated when transferring flammable liquids.
During waste collection operations, use one antistatic wire to bond from a safety container to a receiving vessel such as a funnel, then properly ground by attaching a second antistatic wire to the drum and then to the earth ground. Standard wire lengths are 1 and 3 metres. For longer reach, use several wires with 6-mm terminal ends.
Drum Fill Gauges for use with vertically-stored drums during waste disposal operations. Avoid overfilling and dangerous overflow – our polyethylene pop-up gauges provide an economical way to prevent accidents.
Product Variations
Image
Description
Product Code
Price (excl. GST)

Vertical drum polyethylene pop-up gauge
20mm dia. – 275mm long

D08531

Antistatic Bonding Wire
1 Metre flexible wire with "C" clamp x hand clamp

D08498

Antistatic Bonding Wire
1 Metre flexible wire dual hand clamps

D08499

Antistatic Bonding Wire
1 Metre flexible wire dual alligator clips

D08500

Antistatic Bonding Wire
3 Metre Flexible Wire Coiled Hand Clamp x 6mm Terminal

D08496

Antistatic Bonding Wire
3 Metre Flexible Insulated Coiled Hand Clamp x 6mm Terminal

D08497

Antistatic Bonding Wire
1 Metre Flexible Wire C Clamp x Alligator Clip

D08501

Antistatic Bonding Wire
1 Metre Flexible Wire Dual Terminals

D08503

Antistatic Bonding Wire
1 Metre Insuated Wire C Clamp x Alligator Clip

D08505

Antistatic Bonding Wire
1 Metre Insulated Wire Dual Terminals

D08506

Vertical drum polyethylene pop-up gauge
20mm dia. – 125mm long

D08530